November 2019
A Success Story from Tutu Rural Training Centre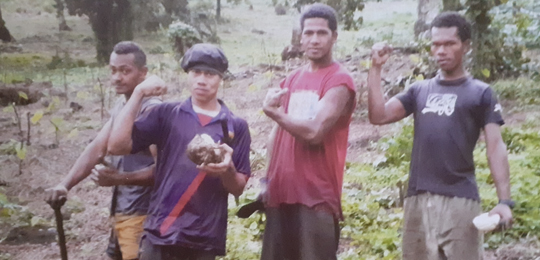 Students of the Young Farmers Course at their taro gardens at Tutu
Fiji's Tutu Rural Training Centre (TRTC) was established under difficult circumstances and built on the time and effort of volunteers from the province of Cakaudrove.
The institution today celebrates the success of its students who have become exemplary members of society.
For one young farmer, working on the family land has rewarded him in ways he never imagined was possible.
"Tutu changed the way I looked at agriculture, its' given me a life of self-sufficiency and independence."
Described as a 'Leader' by former teachers, Mosese Saumaki returned to the village with a masterplan and dived head first into business.
"There's a lot of cultural and traditional obligations that need to be met by our youths and most of it is unwritten."
"We have our duty to the church, the village and the family which we're all bound to by tradition, " he said.
The pressure on youths to meet traditional and cultural obligations would prove to be the winning formula for Saumaki's business.
"Together with the youths, we started a project scheme to plant taro on a semi commercial scale."
"I encouraged them to be part of this project because I could understand the great difficulties they face in the village and these things are never easy," he said.
The project scheme is divided into three core components; church obligations, village obligations and family obligations.
"The boys were inspired by it and since then we've been meeting our monthly targets."
"We're delivering taro for weddings, birthdays and funerals where the demand for it is high, and it's something that keeps us going," he said.
Success of course hasn't come without a few hard decisions for Saumaki.
"At Tutu it isn't all about the plantations but it's also about the development of the mind and spirit which has forced me to make decisions in the best interest of the business."
"I've had to keep my family outside of the daily operations and while that's been tough, it's one of the best decisions I've made," he said.
"I still maintain my duties to the church, the village and the family but as far as business goes that's where I draw the line."
Mosese Saumaki continues to work with the village youth and encourages them to invest in the land.