November 2019
Meeting the Communal Obligations of the Church, the Village and the Family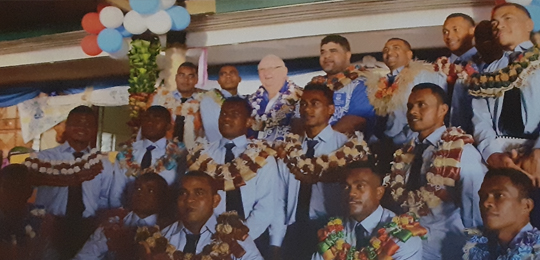 Recent Graduates of the Young Farmers Course with TRTC Principal Father McVerry
Young farmers are the future of food security.
However, social and cultural barriers including limited access to land remains a challenge for most.
Serenia Madigibuli of Fiji's Tutu Rural Training Centre (TRTC) says an integral component of their model is maintaining their relationship with traditional landowners of the Cakaudrove province.
"In traditional Fijian settings, land isn't owned by an individual but by members of a clan."
"Its' been the cause of conflicts where individuals wishing to pursue income earning agricultural endeavors are hindered by the view that the rewards will be shared among members of a clan," she said.
"And it can hamper the participation of youths in agriculture."
It's a struggle Iowane Lepani, a graduate of the Young Farmers Course knows all too well.
"People only see results; the house, the solar system, the trucks and the expansion of the farm."
"They're always surprised to learn that farming is paying the bills but it comes with a lot of planning, hard work and faith," he said.
"When I graduated from Tutu, I was ready to start but I never thought it would be hard to access the family land."
While land may be abundant in Fiji he says the permission of key members of the clan is non-negotiable for any young Fijian wishing to pursue their dream.
"It's competitive and without the support of the elders, you have nothing."
"If it wasn't for the existing ties between Tutu and the village elders, it would have been hard for me to convince them or receive the support that I have today," he said.
Serenia Madigibuli says the Fijian culture is communal based where food and wealth is shared.
"It's part of the traditional way of life but it also creates a culture of dependency which gives rise to over reliance on others and to higher authority."
"Attempting to be independent in the confines of a Fijian village setting can be perceived as not being ethical," she said.
Solomoni Vukitu, another graduate of the Young Farmers Course says it was a battle he had to fight more than once before finally succeeding.
"After graduating from Tutu, I had money in the bank and a 5 year plan mapped out ready to go."
But upon arriving home, the village obligations started to roll in and Vukitu felt obliged to support.
"My relatives took advantage of me and before I knew it everything was gone."
"The money I had worked hard to earn in my time in Tutu was spent in a matter of weeks," he said.
"I've never felt so low in my life, I had lost all sense of enthusiasm."
A visit by TRTC to check in on his progress gave Vukitu the support he needed to start once more from the beginning.
"The visit was unexpected and I'll never forget it."
"They motivated me and reassured me of my goals when I needed to hear it the most," he said.
Vukitu would set out again to focus on his plans, and this time with more caution.
"It's hard because if you're not careful, village life can drain your time and resources."
Father McVerry, TRTC's long standing principal says the rapid changes in today's world has blurred traditional boundaries and forecasts a challenging future.
"We're working in the area of change, tension between the development of the individual and their communal obligations, and our challenge is to work with those who are left behind and who are prepared to commit themselves to using their land resources to improve themselves and the quality of life."