November 2019
Tutu Rural Training Centre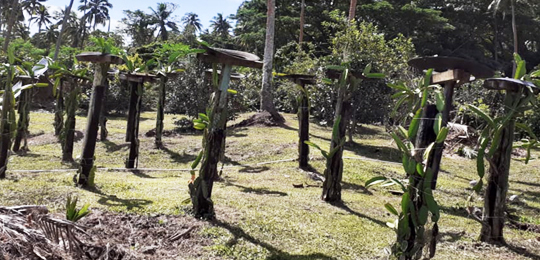 Dragon Fruit Orchard in Tutu Rural Training Centre
In Papua New Guinea alone, the population is young and growing at 7.5 million.
With an abundance of natural resources and geographic proximity to rapidly growing markets, youths continue to face limited opportunities in rural areas with over 3 million people living below the national poverty line – what are we missing?
"For many Pacific Island youths, farming is only seen as an option when nothing else is available," said PIFON's Lavinia Kaumaitotoya.
"So what we're seeing is an increased urban drift where youths are leaving the rural areas in search of employment in the urban areas."
First sighted by Abel Tasman in 1643, the Garden Island of Taveuni is home to Fiji's Tutu Rural Training Centre (TRTC) who specialize in non-formal education for self-employment in agriculture.
Established in 1969 by the Society of Mary, TRTC's Serenia Madigibuli says their training including the Young Farmers Course (YFC) is aimed at empowering the people of the Cakaudrove province.
"Our Young Farmers Course is helping shape young single men to take responsibility of their lives, to uphold integrity in their decision-making process and to be of service to their people."
Since opening their doors more than forty years ago, Tutu Rural Training Centre today offers 5 courses; Young Farmers, Married Couples, Young Single Women, Parents and Villages Courses.
"To enter the programme, students need to show an aptitude for farming and they must have access to land," she said.
Tutu Rural Training Centre is building a new wave of enterprising young minds and it's creating quite an impact.
"Most of the graduates have returned to productive lives and earning a livelihood from the farming of their land," said PIFON's Lavinia Kaumaitotoya.
"It's economic impact has been huge and we saw it in its total annual income earned by the Young Farmers who graduated in 2007 and 2011 which was estimated at $1.27million."
"Had it not been for Tutu, these young people would have largely been unemployed in the village or they would have migrated to the urban areas with limited employment prospects," she said.
Serenia Madigibuli says the experience of attending TRTC has shown that rural youth can earn good livelihoods from the farming of their own land.
"The programmes aren't for 'drop outs' from formal education or a substitute for formal agricultural training but rather, training towards self-employment," she said.
To date the educational model of TRTC has also been implemented in Tonga and Vanuatu.