b l o g
o c t o b e r  2 0 2 1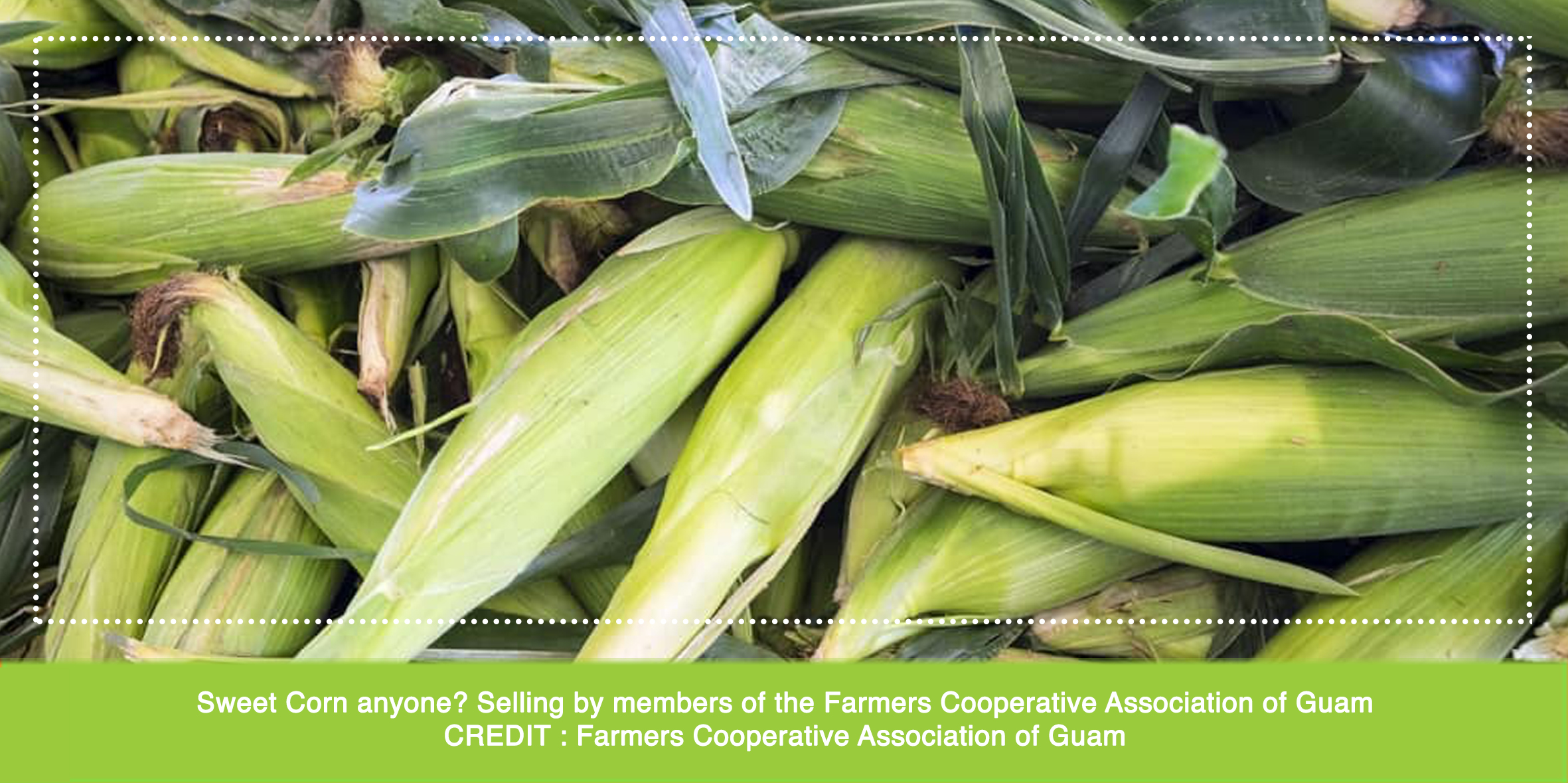 With Dr Craig Elevitch, Permanent Agricultural Resources (PAR)
Across the North Pacific, farmer organisations are emphasising the strengthening of local food economies, addressing issues around health and nutrition, and building resiliency to the effects of climate change.
Recent trends toward strengthening the local food economy, addressing issues around nutrition, and building resiliency to the effects of climate are reinforced by the collateral effects of the current pandemic.
Kosrae state does not currently have a distinct division of agriculture, as the other states of FSM do, as it was merged with another division of the government.
Leading farmer organizations in Kosrae
Kosrae Small Business Development Center
The Small Business Development Center of Kosrae is a government agency that provides training, advisory services, and business planning and development to all small business owners. The Center collaborates with other agencies in order to provide targeted training and advisory services specific to farmers and producers.
The Center works with farmer cooperatives and associations, as well as individual farmers. The farms typically range in size from one to fifteen acres, and the most commonly produced crops are bananas, taro, breadfruits, citrus, and vegetables.
The Center has been successful in helping farmers complete proposals and receive funding. However, lacking specialized training related to farming somewhat limits the Center's ability to assist farmers.
Guam
There is a mix of large, small, and subsistence production in Guam with the latter representing the largest number of the island's producers.
The U.S. Agricultural Census of Guam conducted in 2018 and released in July 2020, found 53% (139) of farms in Guam to be two acres or less in size.
The 2017 Production Agriculture Review by the University of Guam identified and surveyed 42 subsistence producers (< $1,000 in total revenue for 2017) and 34 small commercial producers (< $10,000 in total revenue).
The farms of subsistence and small commercial producers are primarily located in the villages of Barrigada, Dededo, Merizo, Mangilao, and Yigo.
Leading farmer organizations in Guam
Farmer's Cooperative Association of Guam
Based in the village of Dededo, Farmer's Cooperative Association of Guam (FCAG) aims to provide a safe place where farmers can sell their crops, market and wholesale crops, and engage in community activities.
FCAG currently serves 60 members with farms ranging from half an acre to 80 acres. Most of the member farmers grow year-round cash crops, including bittermelon, cucumber, eggplant, long bean, kangkung, hot pepper, pechay, tomato, and upo.
FCAG successful acquired $1.5 million to build its current multi-use facility, which opened in 2016 and houses the associations farmers market; the organization is currently reaching out to farmers to coordinate their planting schedule and create a harvest forecast.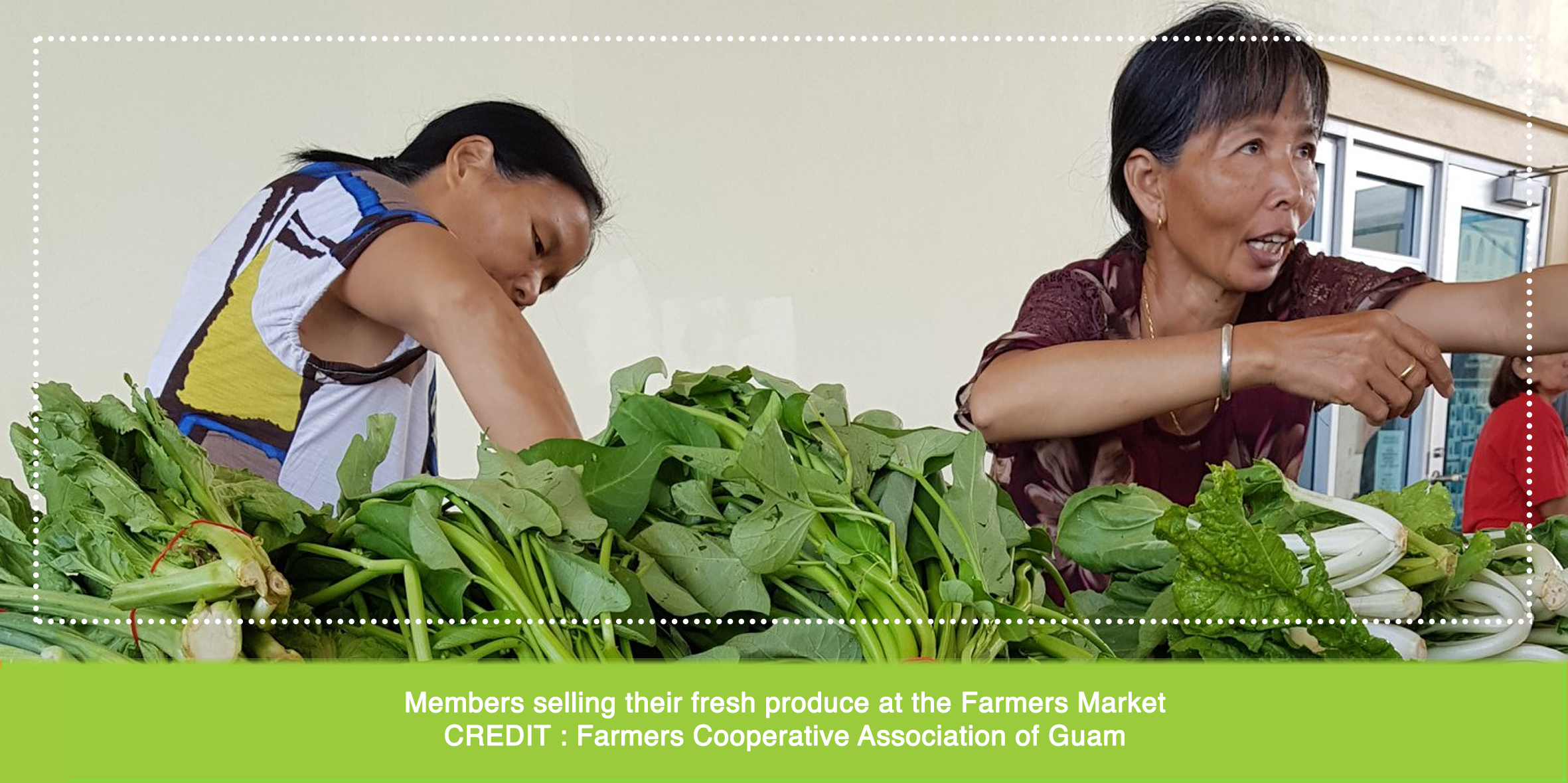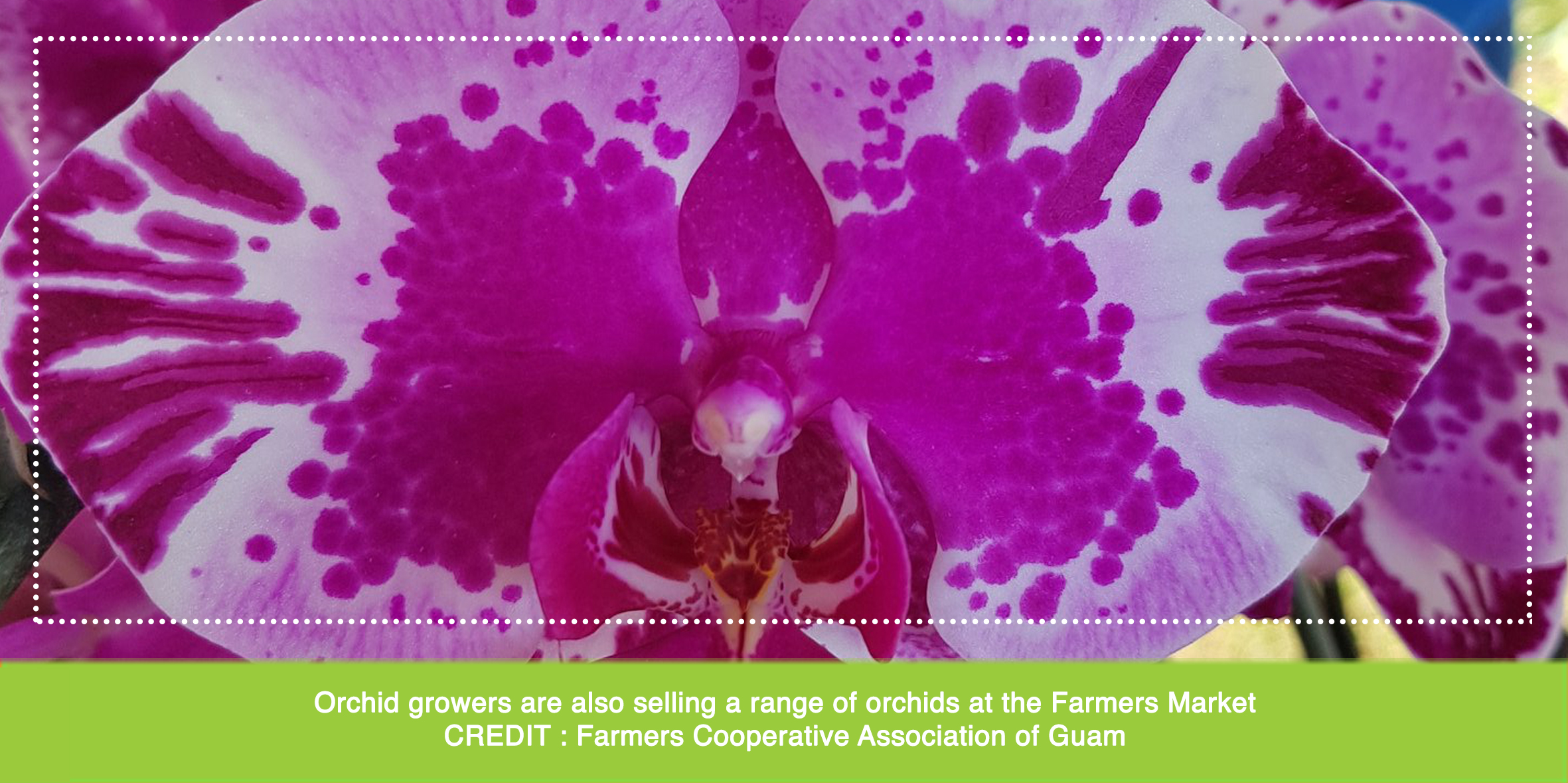 Farm to Table Guam
Farm to Table Guam (FTG) is an NGO based in the village of Yigo that is dedicated to advancing economic development for farmers in Guam.
To advance this goal, the organization provides farmers in with marketing, distribution, and promotional services, as well as business advising (e.g., required licenses, permits, certifications, record keeping, funding opportunities, tax prep).
FTG also sells fresh, locally grown produce at farmers markets three times a week and through its CSA subscription program. The produce sold is a mix of produce grown on FTG's model organic farm and that of other local farmers.
FTG has worked with over 80 farmers since its establishment in 2011. While some have been larger farms (over 5 acres), the majority are small farms (less than one acre), backyard growers, and beginning farmers. Some of the growers are seasonal and specialize is fruit only (e.g., avocado, mango, banana, soursop, dragonfruit, starfruit, papaya), while others focus on cash crops (e.g., cucumber, eggplant, okra, tomato, kang kong, and long bean). With an overabundance of these crops, FTG encourages farmers to diversify and has seen emerging interest in leafy greens (lettuce, kale, etc.) and microgreens.
FTG promotes heat tolerant specialty crops grown using organic methods. While their current efforts do not emphasize services to any specific groups of people, previous projects have focused on indigenous and disabled residents of Guam.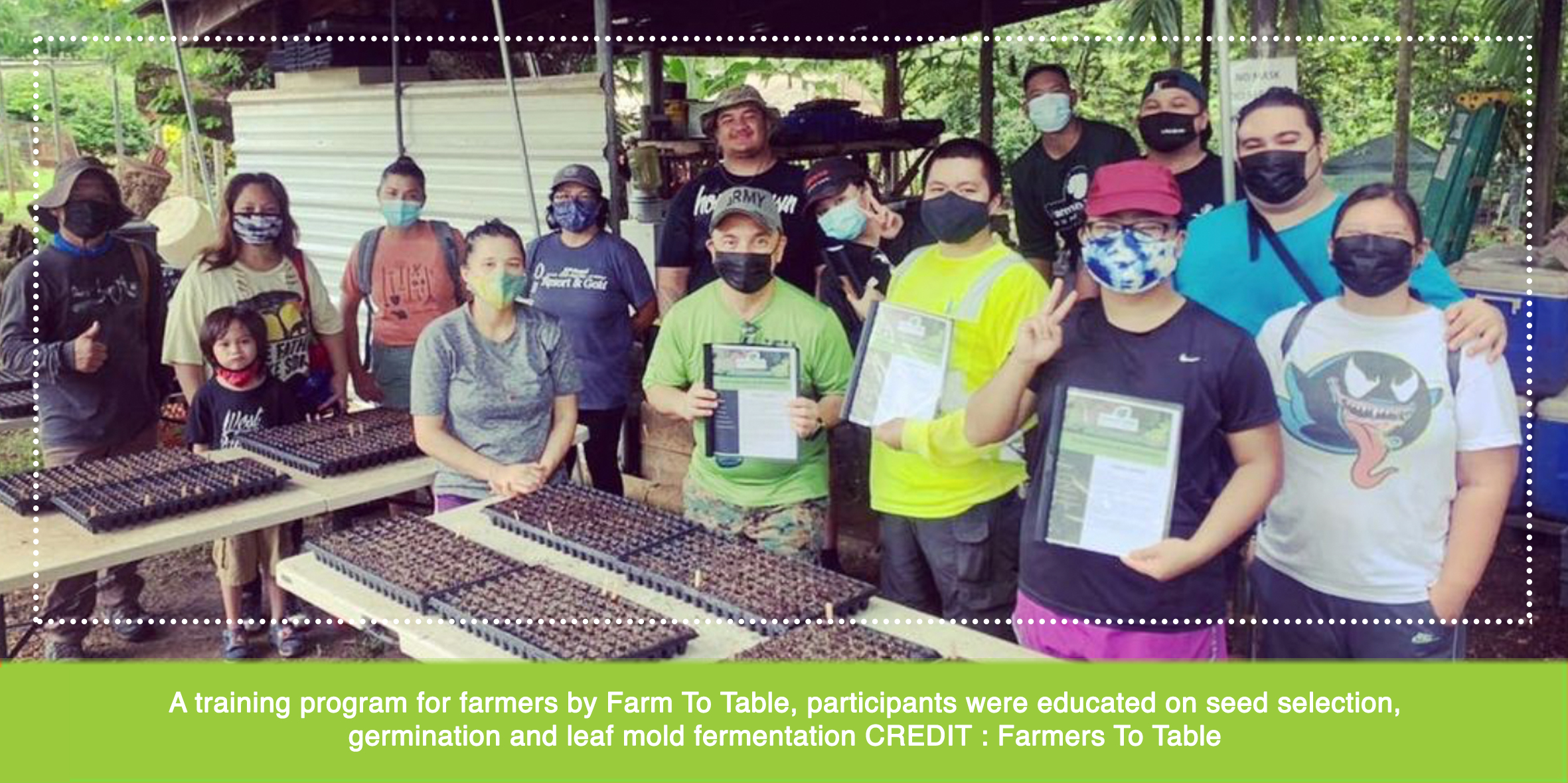 Pacific Farmers Together Cooperative
Pacific Farmers Together Cooperative works with farmers (primarily indigenous Chamorro women of Micronesia) for subsistence and commercial purposes. Cooperative president Marilyn Salas farms with the agroforestry techniques learned through ancestral teaching and readings from Hawaii, Japan, New Zealand, the U.S., and Europe. The cooperative is Guam-based and women- focusing on natural and organic local produce drawing on culturally appropriate food security approaches.