February 2020
Sustainable Agriculture and Soils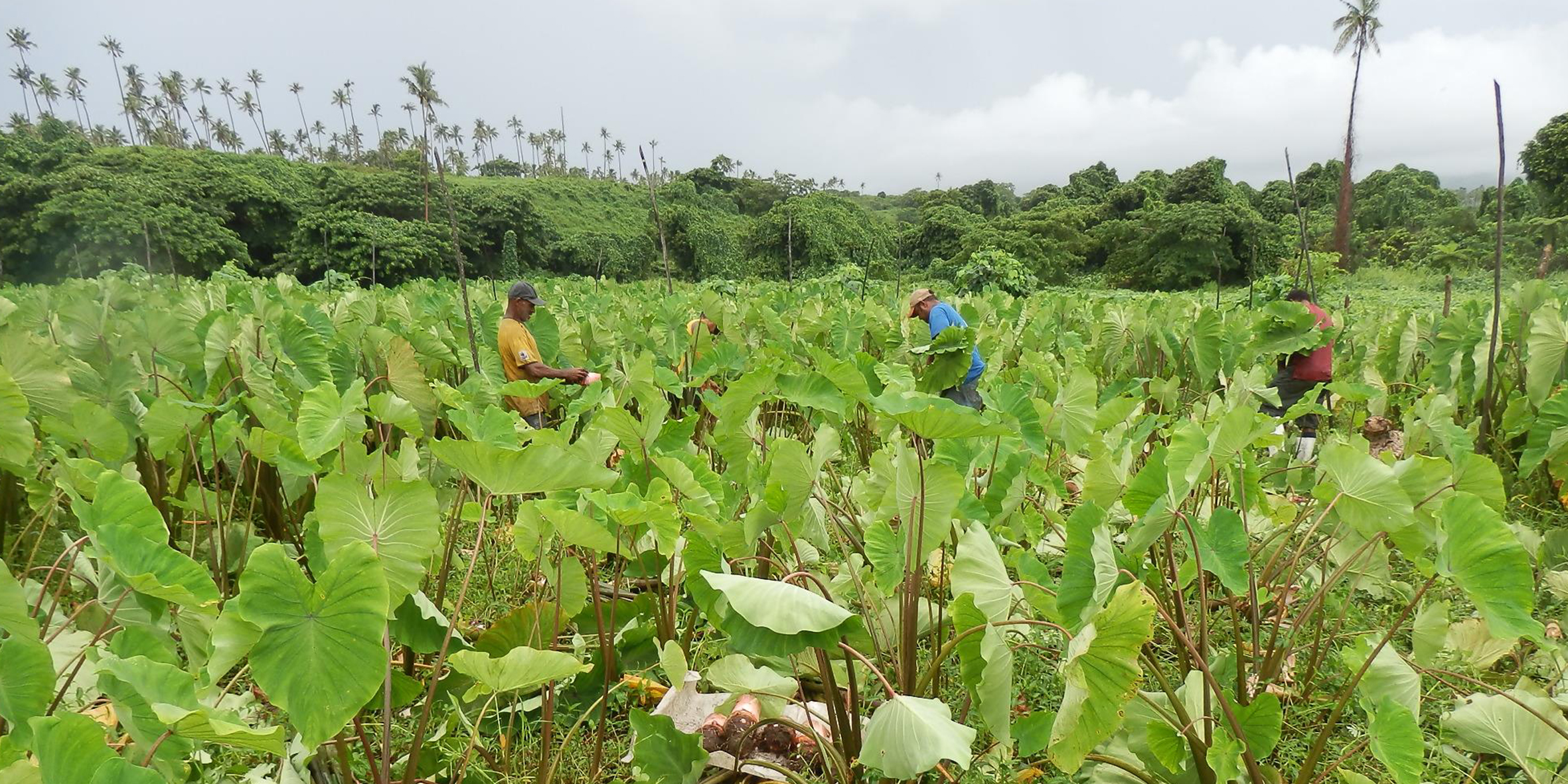 Taro farmers on the island of Taveuni, Fiji IMAGE: Tei Tei Taveuni
Climate change is increasing the vulnerability of the Pacific where land mass accounts for only 2 % of the entire region of 30, 000, 000 km2.
"It's unevenly distributed throughout the region, which together with the largely traditional land tenure system, places intense pressure on the available arable land to provide housing, food, waste disposal, fresh water and other resources."
The late and former Director of Land Resources Division of the Pacific Community Aleki Sisifa said land availability on small atoll islands is an overwhelming constraint.
"Systems of ownership, inheritance and use are complex and vary greatly across the region, but generally land is mostly vested in groups based on common descent, place of residence, and participation in social and economic activities."
Land he said, "means identifying with a family, a clan, a lineage, and is therefore valued for its symbolic value, not just because it meets most subsistence requirements."
While agriculture supports Pacific communities, Sisifa said the survival of many communities is linked to the state of freshwater resources and forests.
Managing the Emerging Impacts of Climate Change
Kokosiga Pacific (Fiji) Limited's Dr. Andrew McGregor says increasing the resilience of the regions' agricultural and forestry systems will buffer its' effects.
"Projected climate change for example is likely to increase the possibility of taro leaf blight (TLB) in certain countries currently free of the disease."
"The cultivation of TLB-resistant varieties now would help reduce sensitivity and, to some extent, exposure to the disease in that the presence of resistant varieties will reduce the level of disease inoculum available for infection," he said.
"Similarly with droughts, reducing its sensitivity could be achieved by cultivating drought resistant varieties within an agroforestry system."
As the focus turns from plants, trees and animals to individuals, households, communities and countries, McGregor says vulnerability to climate change has developed different dimensions.
"The physiological thresholds or limits of individual plants, trees and animals have vulnerabilities to changes in climate which can be assessed within different emission scenarios."
"The vulnerability of agricultural systems can be modified by changing practices, such as altering planting dates and changing the mix of varieties or species," he said.
Sustainable Agriculture and Soil
The island of Taveuni in Fiji is known as the Garden Island because of its lush vegetation, however unsustainable land use saw a sharp decline in soil fertility and crop yields.
"It forced farmers to work more sustainably which was also how we were formed almost eleven years ago," said Tei Tei Taveuni's Alan Petersen.
The experience he says has given members the confidence to advocate for sustainable agricultural practices and soils.
"Over the years we've been working together with Pacific Island Farmers Organisation Network, bringing farmers from around the region to Taveuni and sharing our experiences."
"The Pacific Soil Learning Exchange was the first step for many farmers across the region to care for their soils and farm more sustainably," he said.
The exchange has seen many benefits for farmers including Tutu Rural Training Centre's Serenia Madigibuli who says taking the long-term view makes good business sense.
"We've seen first hand the use of mucuna beans on taro farms and the difference is in the crop yields compared to the majority of the farms that did not use mucuna beans."
"Changing the mindset of farmers isn't always easy but with persistence and practical experience things can change for the better in terms of growing food and making an income from it," she said.