Agriculture Thrives Pre & Post COVID-19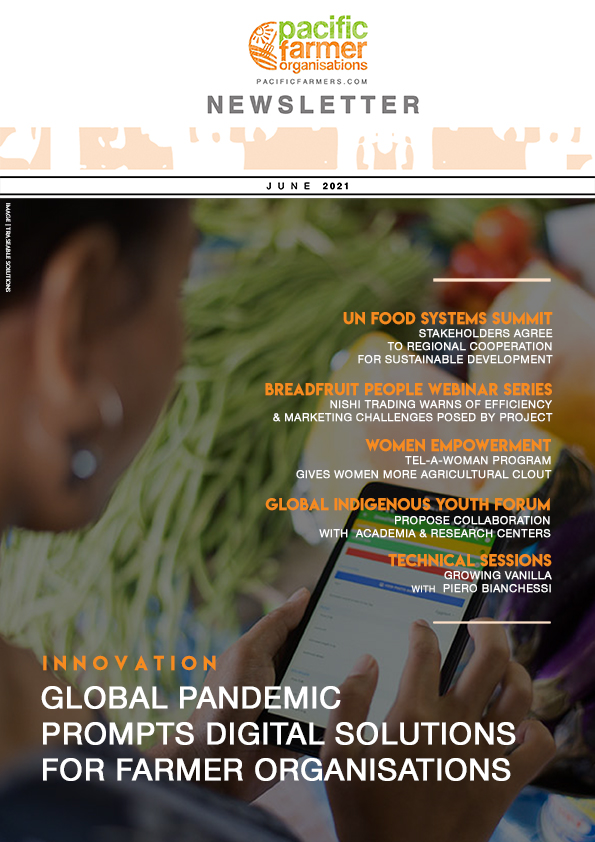 Innovation: Global pandemic prompts digital solutions for farmer organisation
The Pacific Island Farmers Organisation Network has contracted the services of TraSeable Solutions to digitize its monitoring and evaluation framework. The COVID-19 global pandemic has exposed a number of digital challenges in the Pacific and has prompted the adoption of digital technology. 
Stakeholders agree to regional cooperation for sustainable development
Stakeholders at the United Nations Food Systems Summit 2021 | Independent Dialogue Series in Asia-Pacific early this month agreed to work together in response to the COVID-19 global pandemic to achieve sustainable development goals. It comes as Tawfiq El-Zabri, the Country Director for the Pacific Islands at International Fund for Agricultural Development (IFAD) warned agriculture is reducing biodiversity and contributing to pollution and greenhouse emissions. 
Nishi Trading warns of efficiency and marketing challenges posed by breadfruit project
Agriculture leaders meeting for the Breadfruit People webinar series on Friday 4 June have warned of the efficiency and marketing challenges posed by its breadfruit project in the Kingdom of Tonga, saying current equipment and production is a "high cost". Current research, they said, needed to improve procedures and processes to achieve greater efficiencies and savings. 
Plus More
In addition to our Vanilla Technical Session with Piero Bianchessi, we share with you more of the work of our members currently in progress under the FO4ACP Programme and in response to the global pandemic including the needs of members and communities.