June 2021
Food and Agriculture Organization of the United Nations | Global Indigenous Youth Forum 2021 Leading up to the Food Systems Summit 2021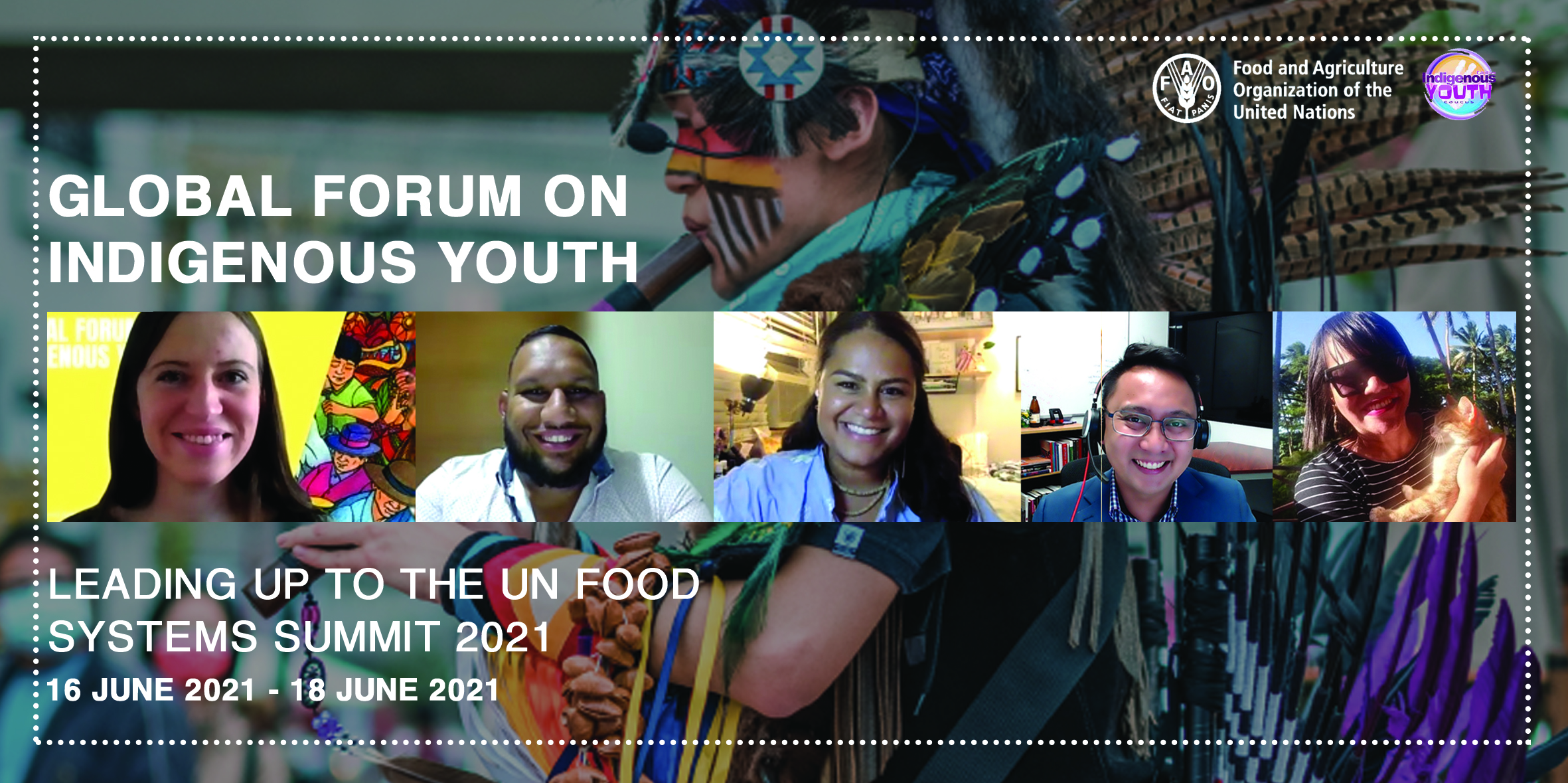 (L-R) Ida Stromso (Food and Agriculture Organisation of the United Nations), Malachi Johnson (Darumbal Enterprises Pty Ltd), Makanalani Gomes (Waiwai Collective), Ivan Ingram (Australian Indigenous Governance Institute) and Illeyah Draunidalo (Pacific Island Farmers Organisation Network) at last night's Pacific Regional Consultation Dialogue (17/6)
The global indigenous youth forum of the Food and Agriculture Organization of the United Nations  is set to propose a collaboration with academia and research centers to establish exchanges of knowledge.
It will welcome innovation between indigenous youth, members states and other stakeholders.
The international forum is held every two years where indigenous youth and member countries discuss food security, traditional knowledge and climate change contributing to the 2030 Agenda.
Their summary report outlining contributions between indigenous youth, member countries, United Nations, research centers and universities is primed to accelerate the 2030 SDG Agenda.
The forum is a demonstration of FAO's growing confidence in the global indigenous youths domain.
In 2017, FAO convened a meeting with the Global Indigenous Youth Caucus 3 in Rome to include their views into the organization's work, resulting in the "Rome Declaration" and saw the adoption of 2 key recommendations on traditional knowledge and climate change into FAO's work with indigenous peoples.
The prime objective of the Global Indigenous Youth Forum is to create a space for dialogue between indigenous youth, member states and other stakeholders to mutually learn from each other.
The Pacific Island Farmers Organisation Network last night pushed for the restoration of traditional food systems, technical knowledge and traditional food crops to mitigate climate change.
"We serve 23 farmer organisations across 9 Pacific Island countries and with a reach of 80,000 members of which 20% are youths," said Lavinia Kaumaitotoya, Manager of Pacific Island Farmers Organisation Network. "Agriculture is re-establishing itself as a pivotal tool for livelihoods in conversations amongst our youths. Under our current project – Farmers' Organizations for Africa, Caribbean and Pacific – 30% of our youths in agriculture are receiving on the field training, effectively contributing to their local food systems and economies. If anything, we need more of our youths to return to the land and in this pandemic it's the best way to serve your country."
The Global Indigenous Youth Forum opened on Wednesday 16 June and will conclude today, Friday 18 June.
The forum will offer policy and decision makers an opportunity to discuss issues affecting indigenous youth and contribute to the 2021 World Food Summit in September.