b l o g
s e p t e m b e r  2 0 2 2
As one listens to Joyce Zoti of Gizo Market Vendors Association (GMVA), one can only feel for the plight of the farmers who have to travel long distances to sell their agriculture produce. As the newly elected President of the GMVA, Joyce shared that her 250 members also face challenges once they arrive at market.Given the huge travel expenses, many farmers end up staying for up to 3-5 days to finish selling their produce and most will sleep by their market stalls until they do. Another concern is the freshness of produce as there are no proper storage facilities to keep the crops.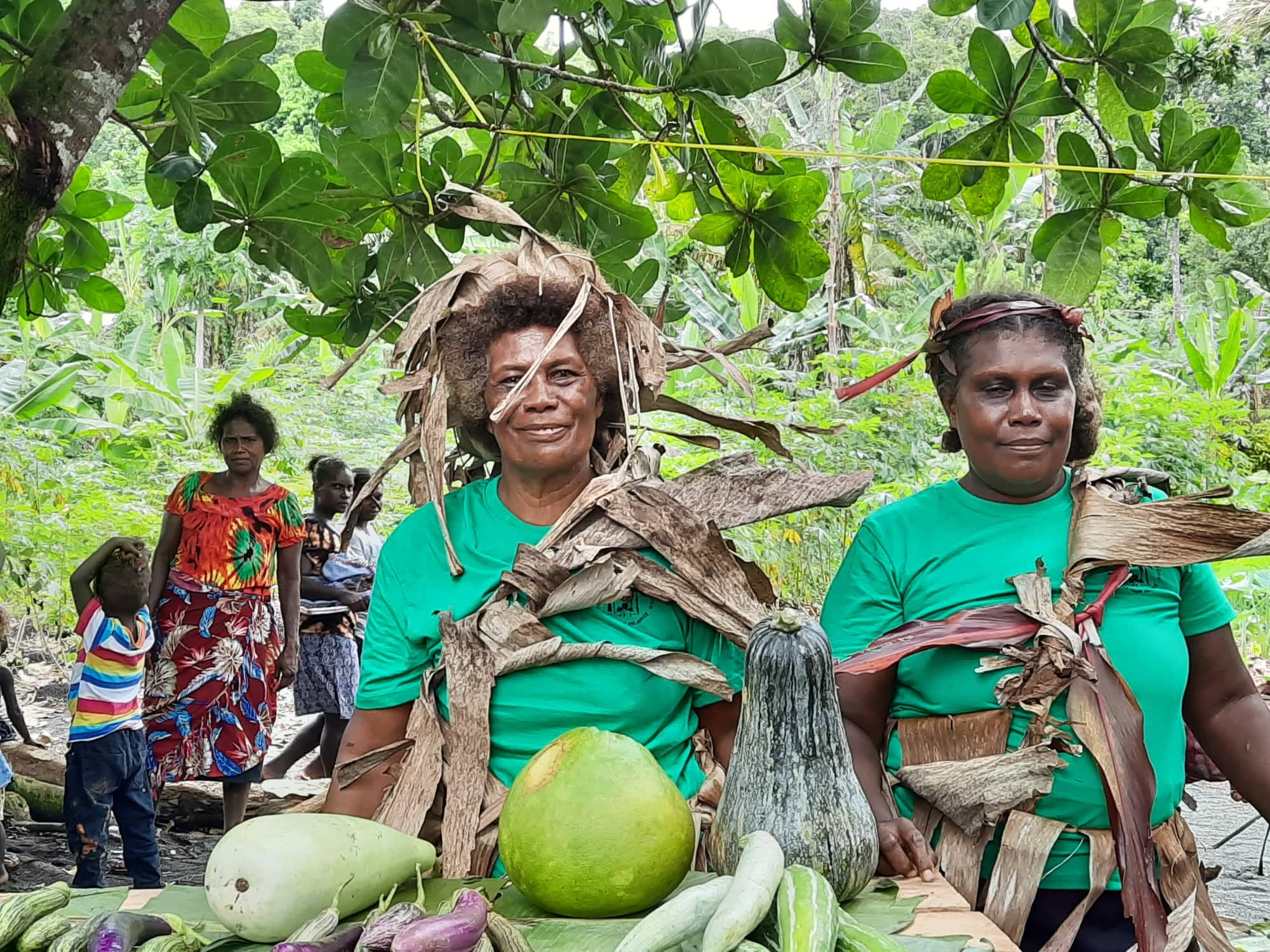 Sarah of Salem (L) with her produce
Through the project titled 'Farmer Organisations for Africa, Caribbean and Pacific (FO4ACP) which represents a partnership with the European Union (EU), IFAD, the Organisation of Africa, Caribbean, Pacific Secretariat (OACP) and PIFON, the GMVA's participation fee at the diversity fairs (organised by the project titled 'Pacific Islands Rural Agriculture Stimulus' (PIRAS) a partnership with the International Fund of Agriculture Development (IFAD), the Australian Department of Foreign Affairs and Trade (DFAT), the Asian Farmers Association (AFA) and Pacific Farmer Organisations (PIFON)), will help to build its membership and advocate for policy changes.
Some of the changes being sought include the GMVA advocating to:
(1) bulk buy produce from farmers so that GMVA can then on-sell the produce whilst the farmers return to their homes after delivering to market, or which the farmers send through without having to travel.
(2) organise accommodation facilities as the majority of the farmers who stay over are female, and it is not safe for them to have to sleep by their stalls. This involves seeking Government's support for land to be provided for the property to be built.
(3) keep the produce fresh, particularly in the case of the fish brought to market, by seeking support from the Government for storage facilities.
Whilst GMVA raised awareness at the diversity fairs, their members also had the opportunity to sell their produce. They earned approximately SID$300-400 (36-49 Euros) nett at the fair, whereas at market, they received SID$600-800 (72-98 Euros) gross, prior to having to pay expenses for travel and sleeping over. The market vendor members also enjoyed the opportunity to share information, where they gained technical advice and the like, whilst also being a position to share what they knew with the other farmers present.
READ | Farmer Organisation Perspective : Fair of Diversity, Fair to Many