November 2019
The Future of Agriculture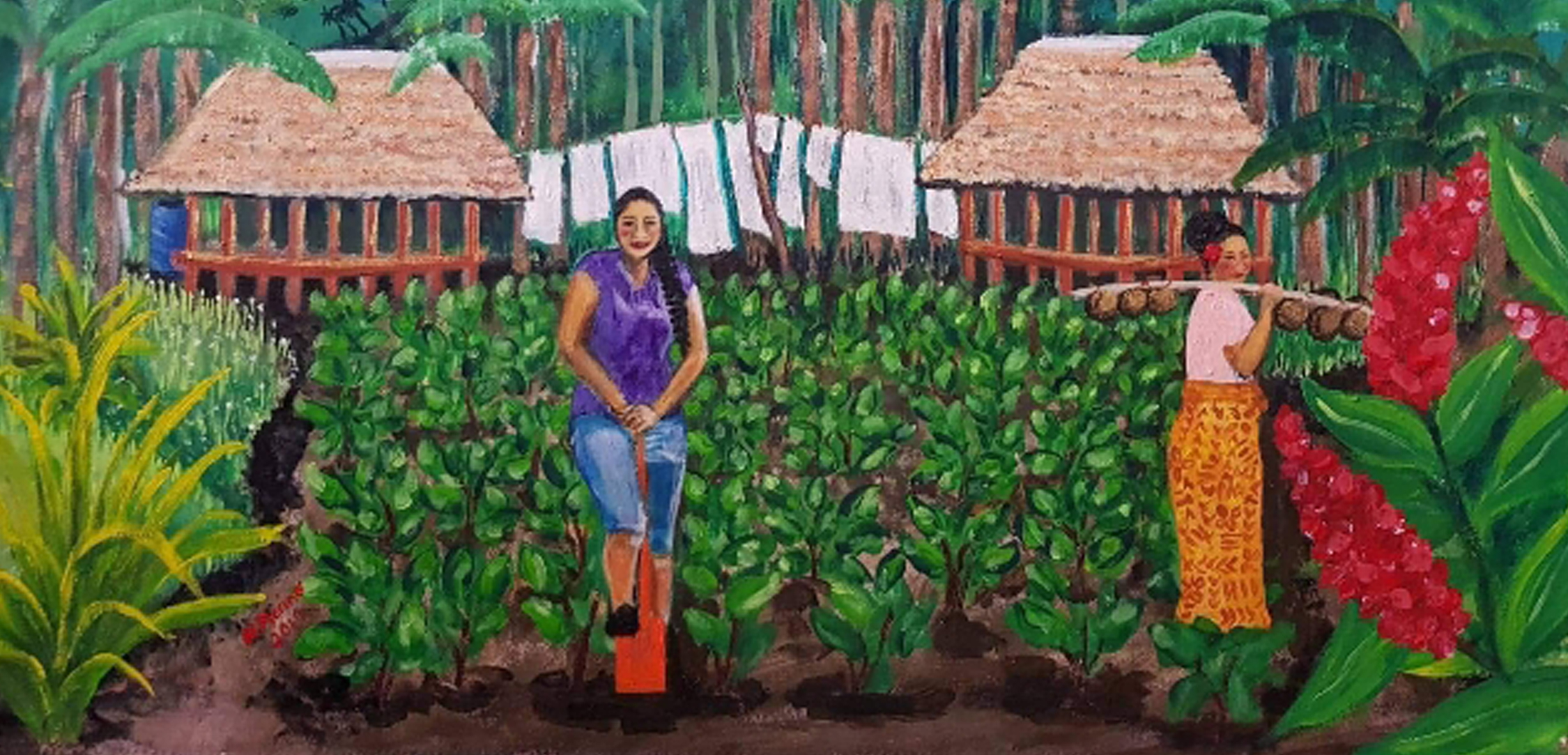 Young Samoan Farmers at Twilight by Samoan artist Nikki Mariner-Peseta IMAGE: Manamea Art Studio
Pacific island women are making substantial contributions to the agriculture sector.
A study by International Finance Corporation and AusAID in 2010 revealed in the Solomon Islands alone, the annual turnover at the Honiara Central Market is between US$10-16 million where women are responsible for 90 per cent of its earnings.
A 2011 report however by the International Labour Organisation and the Asian Development Bank has given strong indications that the Asia and Pacific region are not performing to their full potential.
"It is estimated that the Asia and Pacific region is losing up to US$47 billion annually because of women's limited access to employment opportunities."
Industry leaders during the week called for governments and donors to make critical changes.
"It's an opportunity for government to consider the role of women in agriculture and the impact it has on our families and communities which is often overlooked," said Papua New Guinea Women in Agriculture's President, Maria Linibi.
"If they can adopt a more proactive role towards gender equality in the agriculture sector, productivity levels will pick up nationwide."
"The impact of these contributions will not only be felt at homes but seen on the growth charts of our economic and social development goals," she said.
Samoan cacao farmer, Floris Niu has called for harsher penalties on gender-based violence in the agriculture sector, which Sahar Alnouri a senior gender specialist at Agrilinks has confirmed gender inequality as its underlying cause.
"One of the issues that was not widely discussed at the Pacific Week of Agriculture Conference (2019, Samoa) is violence against women on the land."
"It comes through the sexist, ageist prejudices that are swiftly swept under the 'fala' in our society," said Niu.
"My best friend was shot in January this year by another farmer, and she's left disfigured and loss of sight for life."
"There just isn't enough being done by governments to stop this blatant violence against women, young girls and most often witnessed by children," she said.
Unless governments and donors do not address the cause of violence worldwide, Alnouri believes commitments to help women in agriculture is futile.
"Gender-based violence is deeply rooted in gender inequality and it prevents women from fully participating in and benefiting from agricultural systems."
"It contributes to reduced food security and adversely affects individual, family and community health," she said.
Weighed against the battle of gender inequality, the future for many women in agriculture appears bleak but a painting exhibited at PIFON and PARDI 2's Art Exhibition, 'Women in Agriculture; Flowers Food & Art' for the Pacific Week of Agriculture in Samoa may suggest otherwise.
"A year ago I began working with an emerging artist named Angel who studies horticulture at university here in Samoa," said Samoan artist Nikki Mariner-Peseta.
"She knows the names of plants and how to care for them."
The painting titled, 'Young Samoan Farmers at Twilight' is a celebration of today's youth in agriculture.
"She's passionate about her pig farm and she takes on a major role in the plant nursery that her family owns," she said.
"She comes into the gallery with her overalls and work boots on."
"She is the inspiration behind my painting which is about the future of farming in Samoa: educated, independent and strong young women who love working the land."
Mariner-Peseta says the painting depicts a typical Samoan scene with basic fales, a taro field surrounded by banana and coconut trees with pandanus and native flowers growing nearby.
"I painted two strong happy young farmers, one with a shovel and one carrying coconuts, tasks usually associated with men, but it is important to create art showing that women do these roles also," she said.