November 2019
Floris Niu Call On Governments for Harsher Penalties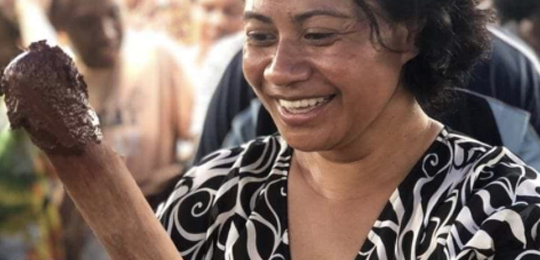 Samoan cacao farmer Floris Niu at a recent training she instructed in the Solomon Islands IMAGE: Supplied 
One in three women are affected by gender-based violence, yet it remains veiled in a culture of silence.
"Gender-based violence is deeply rooted in gender inequality and it prevents women from fully participating in and benefiting from agricultural systems," said Agrilinks Senior Gender Specialist Sahar Alnouri.
"It contributes to reduced food security and adversely affects individual, family and community health."
Unless governments and donors address the cause of violence worldwide, Alnouri believes commitments to help women in agriculture will remain futile.
"Most stakeholders now recognize women's empowerment and increased productivity in agriculture as essential to a sustainable global food system."
"Governments and donors have prioritized improving women's access to land, credit, technology and training but these efforts will be less effective if we do not simultaneously prevent and respond to gender-based violence in this sector," she said.
Samoan cacao farmer Floris Niu says despite the role women play in agriculture they are still under represented in positions of decision-making – so much so, the young mother of one founded the non-profit organization Samoan Women's Association of Growers (SWAG) with two of her friends.
"We're advancing the voice of women farmers in Samoa."
"It's not easy being a woman farmer in Samoa or anywhere in the Pacific," she said.
"We have to deal with so many issues that men don't encounter as often."
Niu was a presenter at the Pacific Island Farmers Organisation Network and Pacific Agribusiness Research in Development Initiative's Side Event, Women in Agriculture; Flowers Food & Art at the recent Pacific Week of Agriculture (PWA) in Samoa.
"One of the issues that was not widely discussed at the PWA Conference is violence against women on the land."
"It comes through the sexist, ageist prejudices that are swiftly swept under the 'fala' in our society," she said.
"Every day on our plantations we receive violent threats from male farmers, thieves, neighbors and even families."
"My best friend was shot in January this year, by another farmer and she's left disfigured and loss of sight for life," she said.
"There just isn't enough being done by governments to stop this blatant violence against women, young girls and most often witnessed by children."
Having fought and won some of her toughest battles including cervical cancer and the custody of her only child, little intimidates Niu and in fact, she has a message for those who inflict violence on women.
"We, women farmers and growers, are here to Stay. So work with us, not against us…"
"We are changing the climate of Farming, putting first our families and communities over exports and profits," she said.
Women farmers, Niu said, are creating positive effects in both the natural and business environment by creating quality produce and services through their farming operations, networking and training programs.
"For agriculture to fully thrive, it's important our governments and communities address the ongoing violence against women,  through meaningful actions, not just empty words and campaigns."
"If laws need to be changed to introduce harsher sentences then do it," she said.