August 2019
Understanding The Value Chain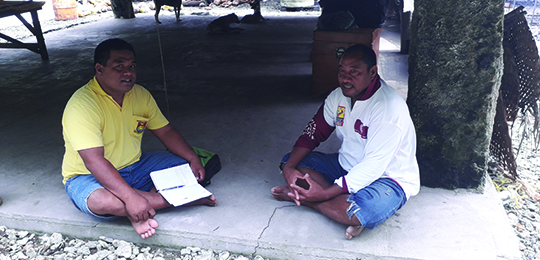 The Value Chain Training and Stakeholder Mappings workshops are currently underway for more than 120 participants and in more than 3 islands of Kiribati.
Co-Facilitator Routan Tongaiaba says the response from the communities have been very high and that farmers are learning the importance of their farmer association.
'They're starting to understand their primary role as a farmer, producer or processor as well as understanding the term farmer entrepreneur. Now they want to work as a team and get their produce into the markets of South Tarawa', he said.
He explained that prior to the value chain training, a large number of farmers did not understand the product pricing strategy involved at different stages of the value chain.
'They use to think they were wasting their time selling their produce to the middlemen or trader in South Tarawa but now they can see how the price of their products increase as it moves along from one actor to the next on the value chain.'
'Our farmers are learning the importance of how working with their farmer association is in their best interest and so now we're seeing a change in their outlook in forging new relationships with these associations as well as business and the relevant government ministries', he said.
Routan Tongaiaba achieved Co-Facilitator status for Value Chain Training in May of this year at the regional Cross Learning Workshop and the Pacific Mini-Optimising the Performance of Producers' Organisations (OPPO) Workshop, an extension of the project, Promoting Nutritious Food Systems in the Pacific Islands and its component on 'Building capacity of Pacific producer groups and development of prototype for change and scaling' a programme hosted by the Wageningen University and Research/Centre for Development Innovation (WCDI) for six Pacific Island nations in the Netherlands (2018).
The project was a joint initiative between CTA and PIFON.