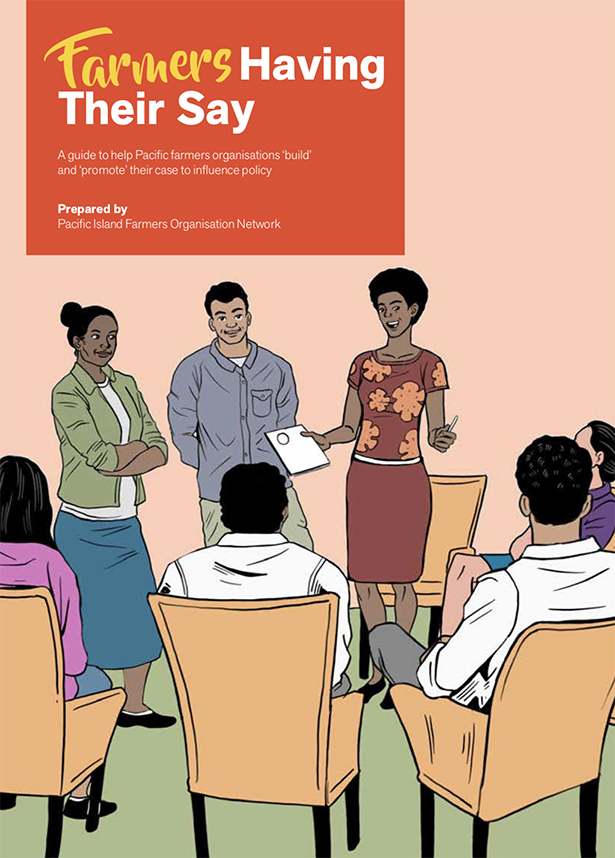 A guide to help Pacific farmers organisations 'build' and 'promote' their case to influence policy.
We would like to recognise the policy work already done by farmer organisations throughout the Pacific that provide good lessons and inspiration from which this document is prepared.
This guide builds on the work carried out over a series of meetings beginning with consultations funded by the World Rural Forum and the International Fund for Agricultural Development Medium Term Cooperation Programme. Participants reviewed a draft of this guide at a consultation workshop, which further refined the content.
A number of people provided important inputs to different parts of the guide, including Pacific Farmer Organisations staff members, Cheryl Thomas, Marita Manley and numerous people throughout the Network. 
This project is supported by the "Strengthening Non-State Actors Engagement in Regional Policy Development and Implementation Programme" (the NSA Programme) funded through the European Union's 10th European Development Fund (EDF10) and implemented by the Pacific Islands Forum Secretariat.