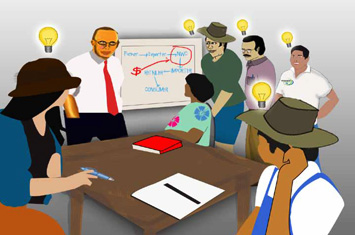 This value chain analysis guide is targeting farmers, traders and policy makers. It is designed to be practical and use-able and unlike many other value chain guides that exist, is directed primarily at actors in the value chain.
The guide, produced by Koko Siga Pacific (KSP) with support from the Technical Centre for Agricultural and Rural Cooperation (CTA) is the outcome of participatory consultations with farmers and the private sector to understand what it is that they want in value chains for export markets.
The guide has been used by the Pacific Island Farmers Organisation Network (PIFON) as a training tool in Vanuatu, with PIFON member Farm Support Association and, in Taveuni, Fiji, with PIFON members Tei Tei Taveuni and Tutu Rural Training Centre.