Nurturing Sustainable Agriculture: Updates from PNG Women in Agriculture Development implementation of the Pacific Breadfruit Project
In the heart of Papua New Guinea, the dedicated team at PNG Women in Agriculture (PNGWiA) Development is making significant strides in implementing the FORI Pacific Breadfruit Project. This visionary initiative aims to harness the potential of breadfruit as a sustainable food source while uplifting local farmers. In this blog, we'll take you through the recent developments in the incredible work done by PNGWiA.
Rootstock Material Collection and Propagation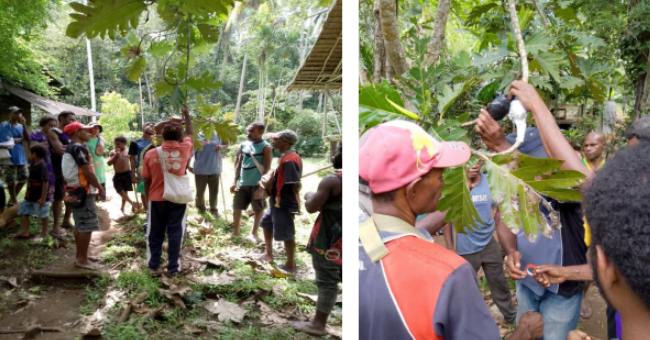 The journey begins with the collection, propagation, and multiplication of rootstock material. This crucial phase is currently underway in the Morobe and Madang Provinces, with local farmers actively involved. Under the expert guidance of the project team, traditional methods blend with innovative techniques like marcotting.
Marcotting, a grafting technique, has been successfully employed, and the resulting plantings are transferred to pots for the curing process. This meticulous approach ensures the availability of robust breadfruit trees for future cultivation.
Cultivating Innovation: The Formation of the Innovation Cluster
A cornerstone of the project's success is the Innovation Cluster, which has recently taken shape. This collaborative group plays a pivotal role in shaping the project's direction. Prior to its formation, an extensive scoping study was conducted to pinpoint the most promising avenues for breadfruit cultivation and utilization in PNG.
The Innovation Cluster boasts a diverse membership, including representatives from organizations like the National Agricultural Research Institute (NARI), PNGWiA, the Department of Agriculture and Livestock (DAL), Biomass, Lae Biscuit, Paradise Foods, Goodman Fielder, and regional stakeholders. This diverse collective brings together a wealth of knowledge and resources to guide the project forward.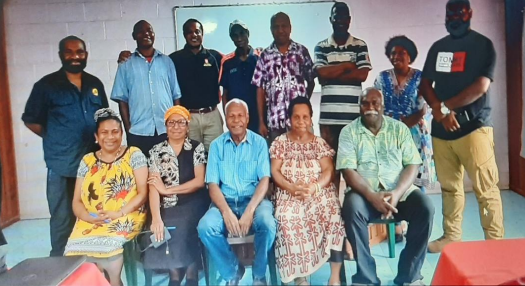 Empowering Farmers through Inclusive Action Research
In Morobe and Madang Provinces, the FORI Pacific Breadfruit Project is already yielding significant results. Local farmer organizations report increased capacity thanks to their participation in inclusive action research for agroecological innovation. This hands-on involvement not only enriches their knowledge but also empowers them to become champions of sustainable agriculture practices.
In Madang Province, Dr. Sim Sar and Kevin Gabriel have been actively collaborating with farmer participants. This collaborative effort has empowered individuals to jointly conduct inclusive action research and share their insights on agroecology. The attached pictures capture the dedication and enthusiasm of these participants as they work towards a more sustainable future.
Potential Project Partners
To ensure the success of the FORI Pacific Breadfruit Project, the team is forging partnerships with other key players. Two potential partners in this endeavor include:
1. PNG Biomass (SANTOS): This mining company actively participates in carbon trade and agroforestry partnership projects related to breadfruit in Lae's Markham Valley, Morobe Province. Their involvement promises to bring valuable resources and expertise to the project.
2. Ramu Nickel Mine: In Madang Province, the Ramu Nickel Mine is exploring opportunities for agroforestry collaboration with landowners. This partnership can lead to sustainable agricultural practices that benefit local communities.
The FORI Pacific Breadfruit Project continues to evolve, thanks to the unwavering dedication of the PNG Women in Agriculture Development team and their numerous partners. These recent accomplishments signal a promising future for breadfruit cultivation and sustainable agriculture in Papua New Guinea, a future that benefits both farmers and the environment. Stay tuned for more updates as this project continues to flourish.