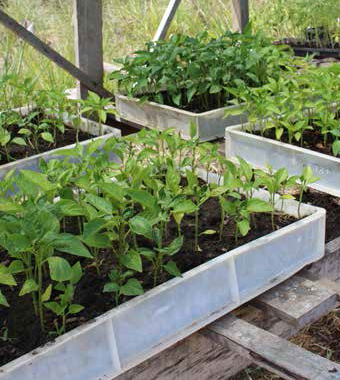 Kastom Gaden Association in the Solomon Islands has been promoting open-pollinated seeds and seed saving for almost 20 years. Through the Planting Material Network they supply approximately 100 varieties of open pollinated vegetables and root crops to around 3000 farmers across the country.
Much of the MTCP2 programme funding to the Solomon Islands over the past five years has been focused on strengthening this network so that it is more decentralized and community focused. While Kastom Gaden Association remains the focal point for the network, less dependence on Kastom Gaden means that more farmers and community groups are sharing seeds directly between themselves. This decentralization is part of a process to help address some of the issues around the limited volume of seed that can be produced from the relatively small plot of land Kastom Gaden has access to, and also the logistical issues that occur trying to distribute seeds across the many widely-spread islands that make up the Solomons.
Knowledge about seed practices in the Solomon Islands was almost exclusively passed on by word of mouth, limiting people's access to this information. Documentation of these practices for growing, collecting and storing seeds, funded through the programme, has enabled much wider dissemination of this knowledge. Upgrading of the facilities at Kastom Gaden Association has also meant better processing and storage of the seeds at their centre. The result of these two activities has been increased quantities of higher quality openpollinated seeds being available to Solomon Island famers, both through the Planting Materials Network and through farmers' own collection activities.
Up until recently, people in the Solomon Islands didn't think highly of open-pollinated fruit and vegetable varieties, preferring the hybrid commercial seeds. The past five years has seen a noticeable increase in the interest and understanding of the importance of open-pollinated seeds by farmers, the Solomon Islands Government and donor partners. The demand for open-pollinated seeds now far exceeds the local supply and this demand has largely been driven by the work of farmer organisations, such as Kastom Gaden Association, through activities funded by the programme.
This increased demand is what encouraged Dr Shane Tutua of Zar Na Tina Organic Farms to start producing and selling openpollinated seeds as an independent commercial venture. While he sells both hybrid and open-pollinated seed varieties, he has noticed an increase in the number of people coming to him for the open-pollinated varieties.
Dr Tutua is quick to point out that he wasn't directly funded through the programme and selling open-pollinated seeds is his own private business initiative. However, he recognises that by participating in the Pacific Open-pollinated Seeds Roundtable, which was organized by Kastom Gaden Association and the Pacific Island Farmers Organisation Network and funded through the programme, he learnt better seed saving techniques, particularly in regards to being more selective about where on his plots he collects seeds from.
Dr Tutua's story in many ways embodies one of the strengths of how the MTCP2 programme has developed in the Pacific. The funding has often been used to bring new knowledge and technologies into a country, or to identify and document existing practices and technologies within the country. Farmer organisations are then enabled to act as catalytic centres of innovation, to share these technologies and practices. Farmers and other actors in the value chain are then free to utilize them in their own way, completely independent from the funded programme.