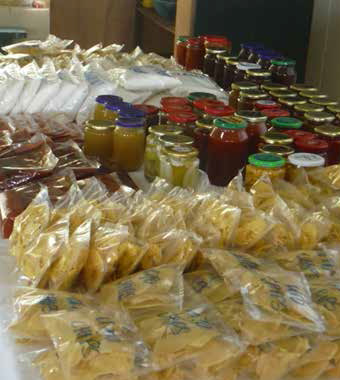 In the earlier Vanuatu section we were briefly introduced to the Tutu Rural Training Centre on the island of Taveuni (see the story A Tale of Two Training Centres). Tutu has embarked on a significant new innovation with the creation of a food development unit in the Centre and programs of training to encourage cottage industries on the island.
This undertaking addresses several issues, including:
• expanding Tutu's income generating capability and increasing its self-reliance;
• improved nutrition for the Centre's staff and trainees, as well as for local communities.
• additional opportunities and support for women entrepreneurs;
• better utilisation of fruit and root crops that were going to waste;
In 2013, Tutu began planting over 600 breadfruit trees at the Centre. By 2017 they were now producing large amounts of fruit and it had become important to find a use for the breadfruit supply. As there is no easy access to quarantine facilities for fresh fruit on Taveuni, other ways for the produce to be used had to be found.
The initial priority was to improve the nutrition of the 40 Young Farmer trainees studying at the Centre, by replacing imported wheat flour with the more nutritious breadfruit flour where possible. To assist the transition to breadfruit processing, Dr Richard Beyer, a well-known food technologist, provided technical advice and training. An initial week of intensive, hands-on training saw 14 new food technologists, not only producing breadfruit flour, but also producing a range of preserves, chips, chutneys and sauces from the full range of locally produced fruits and vegetables. Twenty-eight new products were developed in just four days, with many of these products being of international standard.
With the commissioning of new equipment and follow up visits from Dr Beyer, it has become possible to produce breadfruit flour in large quantities at Tutu. The flour is not only being used in the Centre's own kitchen, but is being retailed in stores on the island and in the capital Suva as well. Dr Beyer is also undertaking applied research into the qualities of breadfruit and breadfruit flour and identifying a range of innovative uses that are likely to lead to a new range of potential breadfruit products.
The local demand on Taveuni for Tutu's breadfruit and vudi (plantain) chips has been exceptional. These are sold at $1 for an 80g bag during sporting events and at other gatherings. Current production of chips falls well short of the local demand and there is plenty of opportunity for up scaling production. Chip production lends itself well to cottage industries and there are opportunities for increased production at the village level.
Complementing the training and research in processing breadfruit and other produce, and the purchase of new equipment, has been the exposure to new ideas in entrepreneurship. In 2014, Serenia Madigibuli attended a women's entrepreneurship event in India through the MTCP2 programme. Being responsible for the women's training programme at Tutu, she was able to incorporate much of what she learnt directly into their programmes, particularly in relation to the development of micro-businesses for women to become self-reliant. These improvements to the Centre's training programme have enhanced the ability of the women participants to take advantage of the developments in breadfruit products and technology, taking the skills back to their villages and using them to establish their own cottage industries.