May 2020
Fiji's Million Dollar Flower Industry Struggles With Logistics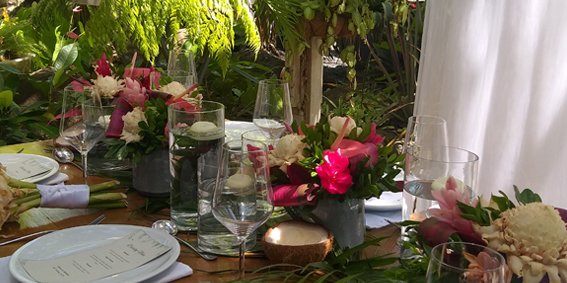 A wedding set up for the Pacific Week of Agriculture (2019) by Jerry Brunt and Emy Chan Mow of the Orator Hotel in Apia, Samoa
Fiji's million dollar flower industry is wilting.
The global lockdown is affecting florists who supply flowers to big events including birthdays, weddings and funerals country wide.
"We've found that while sales remain unaffected, its volume has dropped due to social distancing and self-isolation factors," says Mrs. Aileen Burness, the director of South Sea Orchids based in Nadi.
"The lockdown has also meant that flowers could not be delivered to certain areas. Our agribusiness which involves tours of our home & gardens by groups from cruise ships is currently non-existent."
While the government has lifted the lockdown in two of Fiji's major trading centers, Mrs. Aileen Burness says the containment of the virus is critical.
"The spread of the disease could result in lockdowns again and if that happens it will take us longer to recover."
"We're having issues with logistics but sales are also increasing for cut flowers and orchid plants because many of our buyers are turning to backyard gardening," she said.
"While we expect flower sales to continue, the tours will take a long time to start up again."
Mrs. Aileen Burness shared South Sea Orchids will be working with growers as part of key plans to mitigate the threats of COVID 19.
"We're communicating regularly with growers to ensure flowers are where they need to be for distribution, we're also working on activities for a project that will set the groundwork ready for further expansion of activities when things do normalize."
"It's really about strengthening our networks and outreach while also increasing communication and awareness with members," she said.
Mrs. Aileen Burness believes the response of governments and development partners will be crucial to the country's recovery.
"Some businesses have had to reduce staff hours if not staff numbers, and so they need to encourage and provide relief either by way of planting material, or subsidies. It needs to be distributed fairly with a focus on sustainability."
"We're encouraging the general public to utilise whatever land they have to grow plants, ideally food and flowers. Flowers not only brighten up the home but also provide a source of income for those looking for them," she said.