January 2020
European Union ACP And International Fund For Agricultural Development Partners With Pacific Island Farmers Organisation Network In $4.8 Million Euro Programme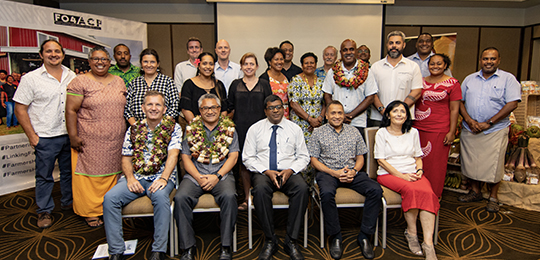 The Farmer Organisations for Africa Caribbean and the Pacific – FO4ACP Programme was officially launched at Suva's Holiday Inn (January 27) IMAGE: First Fighter
Three quarters of the Pacific population live in rural areas, largely reliant on agriculture and fisheries based livelihoods.
"Agriculture is the basic industry of most countries in the South Pacific and it is one of the main source of livelihood for rural communities," said Agriculture Minister, Dr.Mahendra Reddy.
"In most countries the largest proportion of the GDP is generated by agriculture as is most foreign exchange, in addition, the largest number of people in these countries are employed by the agriculture sector."
Speaking at the launch of the $4.8 million euro ACP European Union & International Fund for Agricultural Development Funded project – Farmer Organisations for Africa Caribbean and the Pacific – Dr. Mahendra Reddy said the role of farmer organisations is important to supporting agricultural development.
"I have been informed that ninety percent of the funding allocated to the national level will be used for 'boots on the ground' activities with farmers."
"In addition to the national level activities, the Pacific Island Farmers Organisation Network will organize activities at the regional level, such as farmer-to-farmer learning exchanges between countries; representation at regional and international meetings and forums; and the development of regional policy positions that represent farmers' interest," he said.
UN Resident Coordinator, Sanaka Samarasinha said the role of farmer organisations offered a new paradigm for partnerships in the Pacific.
"It is exciting for the Pacific as farmer-led enterprises look to improve technical and economic services along the value chains as well as influence policies and business environments."
"The transformation of family farming and the development of sustainable, adaptive economic initiatives and farmer-led enterprises is now within reach  for every Pacific farmer," he said.
In welcoming the partnership the Head of Cooperation at the EU Delegation for the Pacific, Christoph Wagner highlighted that the project, FO4ACP would benefit nine Pacific Island countries over five years.
"The farmers organizations in the Pacific region are increasingly taking an active part in rural economic development, tackling the challenges of reducing rural poverty, securing and improving access to development opportunities for smallholders – including market and agribusiness opportunities – and deepening engagement in agricultural value chains," he said.
"I am confident the project will help raise the capacity of Farmer Organisations to represent the interests of a broad range of producers from different socio-economic categories (including vulnerable groups such as women and youth), and will contribute to increase income and to improve livelihood, food and nutrition security and safety of the family farming".
"The EU and the Pacific Region shared common values related to the promotion of family farming. The European Union strongly believe in this type of farming as it is a key element of rural economies, as well as foundation for sustainable, market-oriented agriculture that meets society's expectations", said Mr. Wagner.
Vice Chairman of Pacific Island Farmers Organisation Network, Minoru Nishi Jnr said they looked forward to working with Pacific island farmers.