November 2022
"Academia and development partners are recognising the role of farmer organisations in addressing the big issues of food security and climate change adaptation"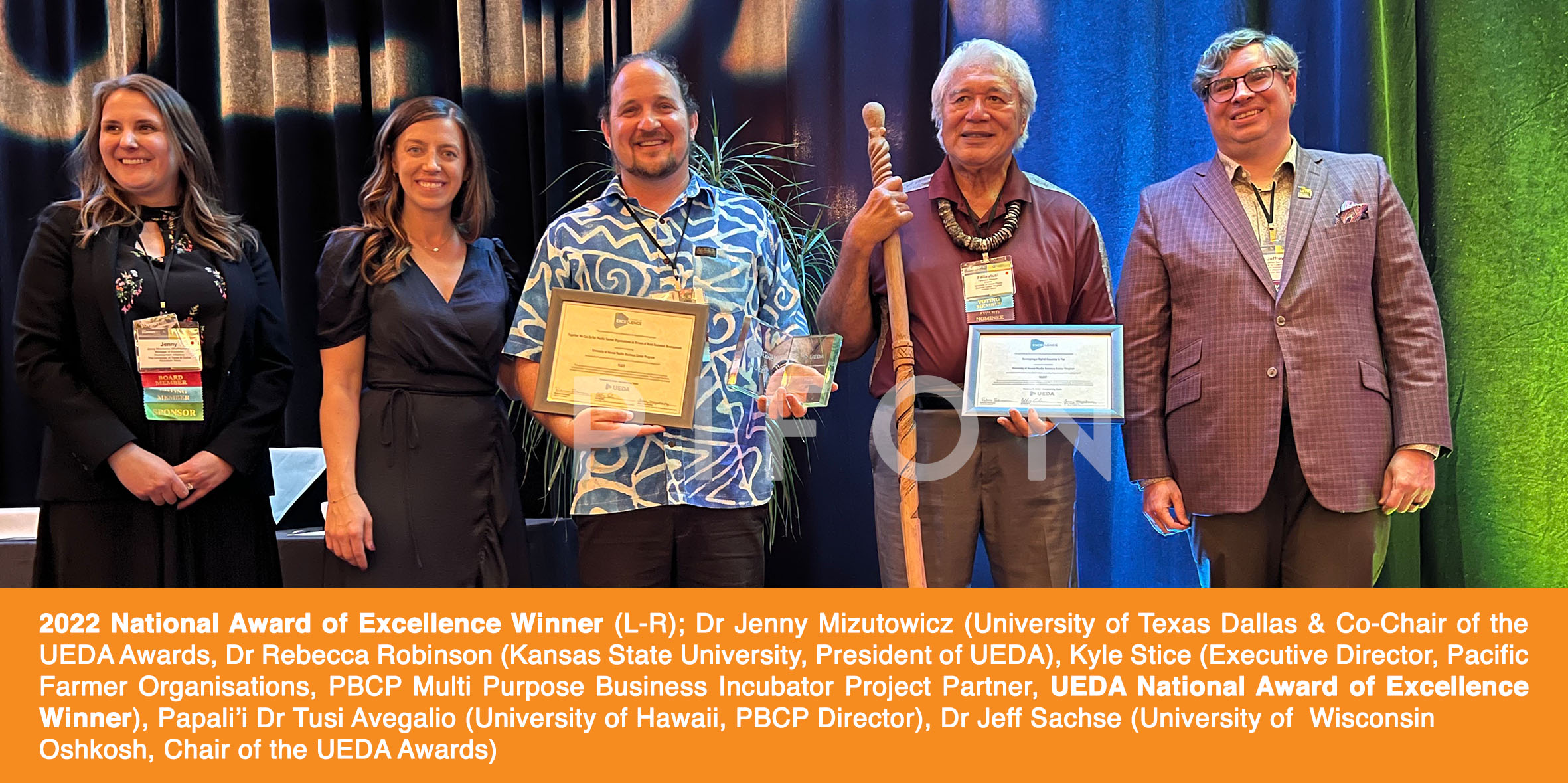 Pacific Farmer Organisations in partnership with the University of Hawaii Pacific Business Center Program have been announced as winners of the recent University Economic Development Association's [UEDA] 2022 Awards of Excellence. The submission recognized was "Together We Can Go Far: Pacific Farmer Organisations as Drivers of Economic Development"
The awards celebrate economic development initiatives, research or accomplishments that are building and innovating economic engagement in communities around the world.
Pacific Farmer Organisations Executive Director Kyle Stice represented the organization as a finalist at the UEDA Summit in San Antonio, Texas where awardees were selected by a panel of peers.  
"Farmer Organisations are leading some incredible initiatives in the Pacific that are resulting in real impacts and economic development in the agriculture sector."
"It's a remarkable achievement to be selected from amongst university programs around the United States. It's not so much about acknowledging our organization, as it is about validating the model of farmer organizations as drivers of economic development.  Academia and development partners are recognizing the role of farmer organizations in addressing the big issues of food security and climate change adaptation."
"We want to use this award as further evidence to encourage farmer organizations as well as governments and development partners about the legitimacy of this development model that puts farmers at the center and empowers them to solve their own problems through collaboration. We also hope that this award can attract more people from academia to engage with this model of economic development for our agriculture sector."
Director of the Pacific Business Center Program (PBCP) Papali'i Dr. Tusi Avegalio says the reognition is critical to the work of farmer organisations.
"Promoting Hawaii, US Island Territories, Oceania, global islands and geo-insular communities and solutions wholistically is best done through competitive awards of recognition at the highest levels and brings Oceania into the national conversation."
"PIFON as a National winner, does just that by amplifying the influence of grass roots farmer organisation networking and its power to influence change."
PBCP has placed five finalists consecutively from 2019 to 2022 with two national winners, making it one of the most award-winning US Department of Commerce, Economic Development Administration – University Center programs in the nation. 
UEDA was established in 1976 and brings together higher education institutions, private sector businesses, non-profits, government organizations, and community economic development stakeholders to create local and regional economic opportunities with membership of more than 160 organizations.