August 2023
Grassroots Guide Pacific Climate Adaptation Amid Regional Uncertainties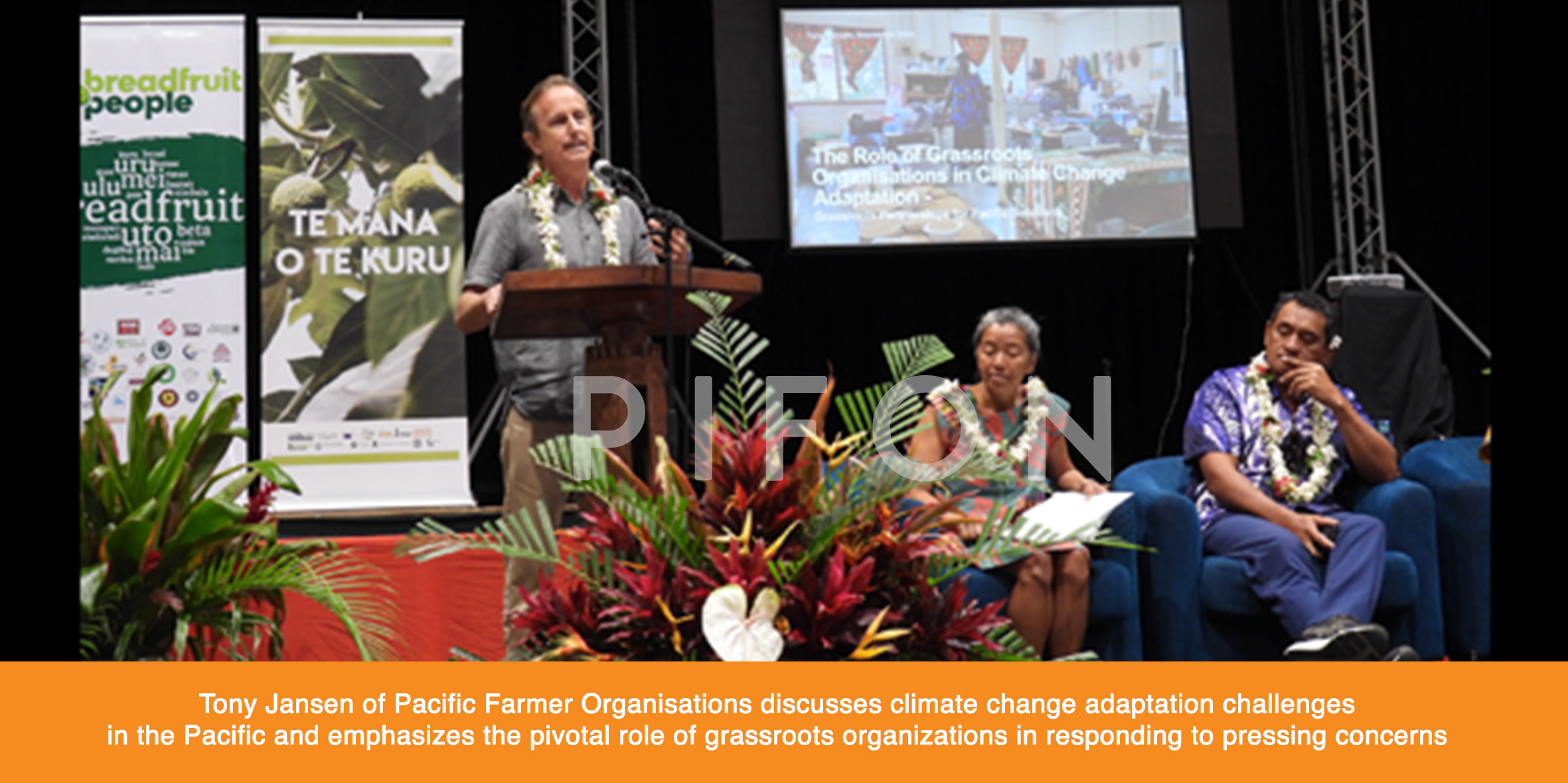 As global momentum behind addressing climate change intensifies, the Pacific region faces significant challenges that resonate across its communities and landscapes. In an insightful discourse on climate change adaptation, Tony Jansen of Pacific Farmer Organisations sheds light on the pressing concerns faced by Pacific farmers and the critical role grassroots organizations are playing in response.
Jansen emphasizes the far-reaching impacts of climate change on the Pacific region. "We are witnessing the reverberations of climate change across the Pacific, reshaping our environment and influencing lives in multifaceted ways," Jansen states. The reality of achieving the Paris Agreement's ambitious 1.5-degree warming limit seems increasingly challenging, casting a shadow over the region's aspirations.
Extreme weather events, including floods, droughts, cyclones, and storm surges, are growing more frequent and intense, contributing to the urgency of the situation. Rising ocean temperatures have led to higher sea levels, causing inundation in coastal areas. Additionally, ocean acidification poses a grave threat to the coral reefs and marine ecosystems that are the foundation of the region's biodiversity.
The ramifications of these changes are significant on two main fronts. Local food systems and natural resources are being perturbed, while economic ties to the global arena face disruption. Adaptation and preparedness, as Jansen points out, must address both aspects with equal determination.
To this end, Jansen outlines various adaptation strategies tailored to the Pacific context. These strategies involve diversifying crop varieties, providing better access to climate forecasts for farmers, disseminating resilient agricultural technologies, and conducting vulnerability assessments. Importantly, Jansen highlights the potential to integrate traditional and indigenous knowledge, a valuable resource that can contribute to the region's resilience-building efforts.
Jansen further explains, "On the economic front, we can fortify our resilience by diversifying value chains, broadening market access, and reducing reliance on imports." Encouragingly, many of these strategies are already being embraced by members of Pacific Farmer Organisations (PFO), illustrating the proactive approach taken by grassroots entities.
Jansen emphasizes that successful adaptation initiatives require a comprehensive approach. This involves nurturing organized farmer groups, expanding networks, conducting practical trials, and acknowledging gender-specific disparities and the needs of vulnerable segments. Additionally, cultivating value chains that directly benefit farmers and tailoring responses to local contexts are essential steps to navigate the intricacies of social, economic, and ecological landscapes.
In the face of these multifaceted challenges, Farmer Organizations are poised to play a pivotal role in shaping the region's adaptation outcomes. Their proactive efforts hold the potential to pave the way for impactful and effective solutions that address the unique challenges posed by climate change in the Pacific.
Tony Jansen is in the Cook Islands attending the Pacific Farmer Organisations Grassroots Partnership Symposium, which was inaugurated by the Cook Islands' King's Representative, the Honorable Tom Marsters.