October 2022
'The Crop of the Future'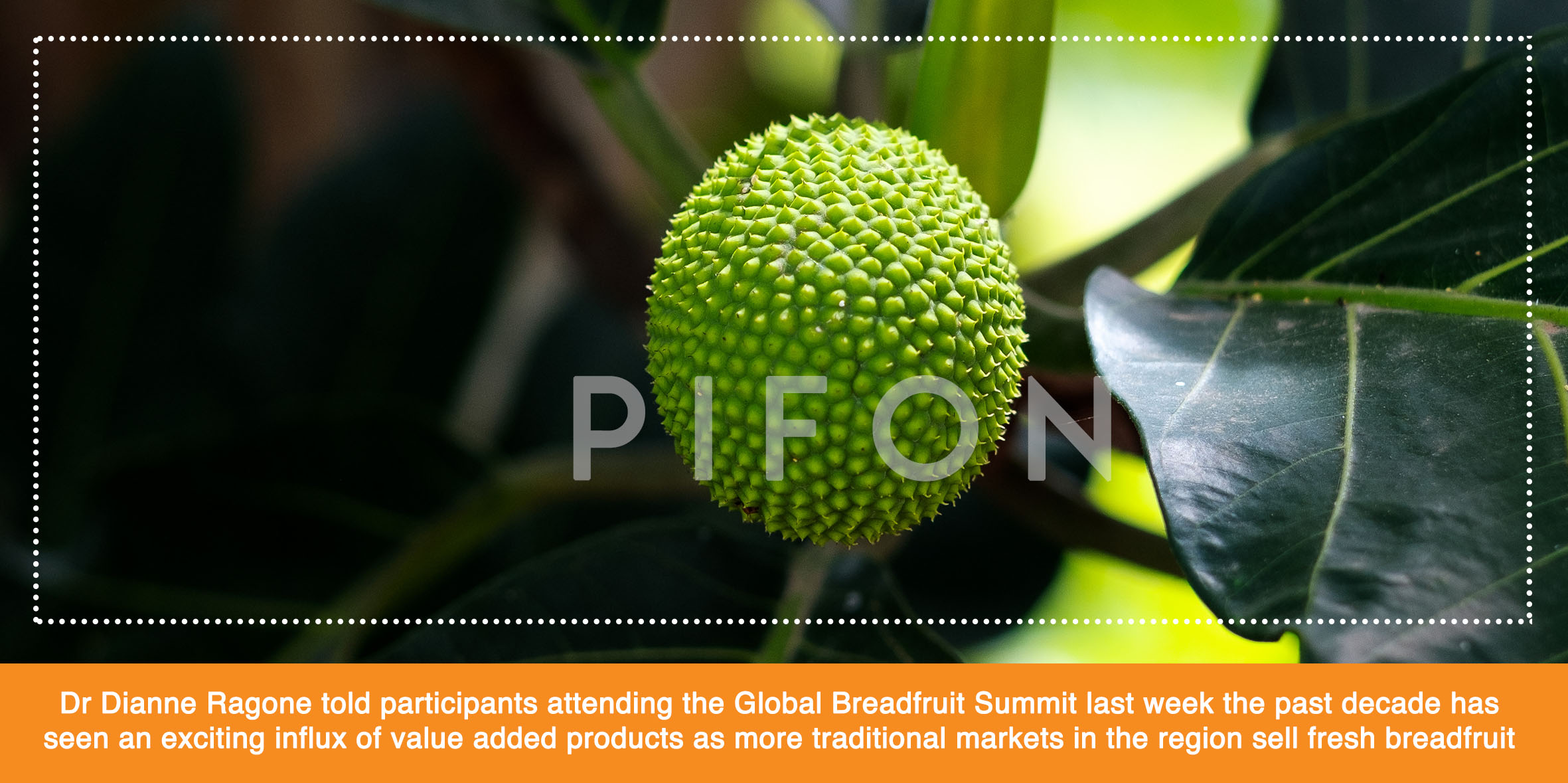 Knowledge acquired through more than 30 years of conserving and studying breadfruit is being used by the Breadfruit Institute to plant trees in tropical countries for food and reforestation from Chuuk to the Caribbean and Cameroon.
Researchers say breadfruit not only provides a critical food source for countries identified as not having enough to eat but also provides a means to improve local economies.
"Breadfruit as you know is an abundant and productive long lived tree, there are numerous varieties in the Pacific and it connects people across all the islands in the region," said Breadfruit Institute Director Dr Dianne Ragone.
She said that despite its abundance and health benefits people appeared reluctant or unable to use them.
"Breadfruit is an easy to grow staple food that's high in many essential nutrients to childrens health and wellbeing and to adults health and wellbeing."
"As many people in Pacific Islands know our diets are killing us and so adopting or readopting traditional diets and traditional foods is so important."
In countries like Haiti and Bahamas where deforestation is widespread due to storms and changing lifestyles, the Breadfruit Institute is committed to teaching its global community the vital role of breadfruit in its bid to increase food security and improve environmental sustainability.
"Craig Elevitch and I along with Aunty Shirley have been working together since 2010 to really help revitalize breadfruit and bring more awareness to it and a lot of the work that has come out of it is really exciting."
"In 2009 the Breadfruit Institute wanted to distribute and identify some good varieties out of our collection and we wanted to distribute them because of the profound issues of hunger on the planet and over a billion hungry people have micronutrient deficiencies and so through collaborations we distributed over 100,000 trees to more than 47 countries."
However, Dr Dianne Ragone acknowledged that there were challenges that had to be addressed in order to move forward.
"There have been projects and gatherings of people over the years with the first one  in 2007, the first international symposium on breadfruit in Fiji – that was really an inspiring meeting that brought people together from the Pacific, Caribbean and Africa and it laid a blueprint for us on what to do going forward and it's interesting now to see Breadfruit People embracing so many of those ideas and programs. It took a while but it's happening."
"And then there was another conference in 2015 where we continued this discussion in Trinidad where 40 people came to talk about breadfruit."
"Here in Hawaii we've had regional programs and over time there have been so many things that have happened over the past 10 to 30 years that has seen breadfruit bring us all together but there has been one big challenge and it has not been our will or our commit and desire but the short-term nature of funding."
"So how do we finally continue moving forward so that it perpetuates and benefits everyone?"
Another challenge she added was the maintenance of the 150 varieties held by the National Tropical Botanical Garden calling it a 'tremendous responsibility' in addition to the documentation of information for various countries: "We've extensively studied and evaluated breadfruit and it's why I think it's important to look forward. It's wonderful to see people attending today's Summit involved in this work."
Dr Dianne Ragone told participants attending the Global Breadfruit Summit last week the past decade has seen an exciting influx of value added products as more traditional markets throughout the region sell fresh breadfruit.
"This is what I implore all of you, the commercialization and development of breadfruit as a food crop as a product, hopefully, regenerative agriculture will continue."