September 2020
Assessing the Impact of Covid-19 on Agriculture, Food Security and Nutrition in Fiji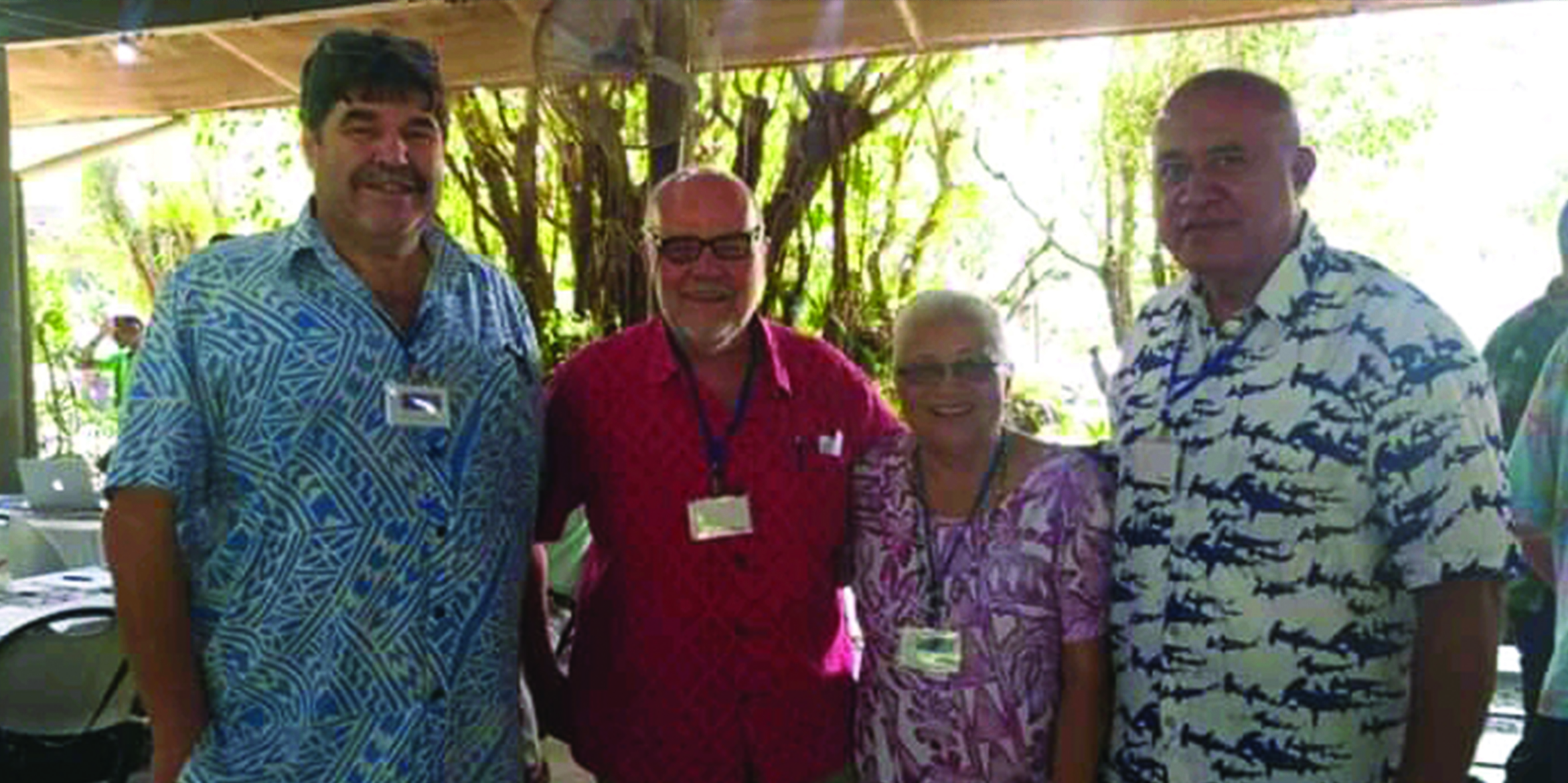 (L-R) Mr. Simon Cole, Dr.Andrew McGregor, Mrs. Aileen Burness and Mr. Ioane Naivalurua at the FO4ACP Fiji Farmers Forum at Nadi's South Sea Orchids last week
As efforts continue to rise in keeping agriculture safely running as an essential business, experts warn the very survival of the exports sector is now threatened.
"The industries most severely impacted by the pandemic are fresh produce export industries that depend on airfreight, products that can be sea freighted have not faced the same severe marketing issues, and products that depend on tourist buyers for their market."
Speaking at the FO4ACP Fiji Farmers Forum 2020:Seizing Opportunities in Nadi last week, Agriculturalist Economist, Dr. Andrew McGregor highlighted the severity of the impact on agriculture, food security and nutrition in Fiji.
"The main consequences for the domestic food markets has been the fall in demand resulting from job losses and declining income and the absence of tourists."
"The main consequences for marketing are the loss of hotel markets for traders who are now going out of business but we're also seeing the numbers of road side sellers increase including emergence of micro food processors."
Unlike many countries, Dr. Andrew McGregor said Fiji's ability to produce food and agricultural products have not been directly impacted.
"While there's been an increase in labor supply due to the reversal in rural urban migration and the stop of seasonal labor schemes, we are also experiencing a rise in theft, land disputes and the adoption of unsustainable farming practices."
He explained amongst some of the biggest impacts is the loss of income and the decreased ability to purchase nutritious food.
"Despite positive food security and nutrition developments –  food gardens, cottage industry scale agro processing and the emergence of bartering of food and planting materials using mobile phones –  over 50% of the population live in urban areas and most of them don't have the option of returning to rural areas."
"Inadequate quantities of locally produced food were being consumed due to poverty and preferences for imported food as they're often more convenient and cheaper. Imported food consumed generally has higher levels of sugar, salt and fats – a major cause of the high and high increasing rates of NCDs."
"The situation has now significantly deteriorated."
Dr.Andrew McGregor said a 'reset' of public sector policy is crucial to ensure the survival and expansion of horticultural exports.
"More public sector investment is needed in appropriate and sustainable agriculture, we need more public sector investment in appropriate industry-led research and extension."
"The development of appropriate policies to encourage increased consumption of local foods is important, as well as the development of appropriate measures to contain agricultural theft."
"There needs to be support for the development of value-added processing for locally grown food including support for community outreach network and initiatives."
Dr. Andrew McGregor said the 'reset' required coordinated action to ensure its success.
"The public sector policy 'reset' requires a withdrawal of Agro-Marketing from horticultural export value chains and Fiji Airways to play a lead role in facilitating horticultural exports development."
"It requires the adoption of the public private sector partnership proposals outlined in the 5-year development plan for Fiji's quarantine treated export commodities including a concerted effort to obtain market access for new products and markets."
The FO4ACP Fiji Farmers Forum 2020 : Seizing Opportunities was organised by Tei Tei Taveuni and funded by the Farmers' Organizations for Africa, Caribbean and Pacific – FO4ACP Programme, a joint partnership between the European Union, Africa Caribbean and Pacific (ACP), International Fund for Agricultural Development (IFAD) and Pacific Island Farmers Organisation Network (PIFON).