April 2019
FIJI'S FATHER OF FLORICULTURE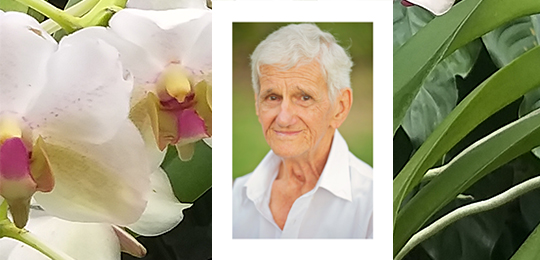 On Friday 26thApril at 10am, family and friends gathered at South Sea Orchids to celebrate the life of Donald David Burness, Fiji's Father of Floriculture.
Born to Thomas and Harriet Burness on 18 November 1933 in Suva, Donald's family were among the early European settlers to come to Fiji from Scotland in the 1840s and settled in Ra. He was the second of four boys; Bob, Donald, Ian and David.
Donald was educated at the Suva Grammar School before attending Gatton University in Queensland where he gained a general degree in Horticulture. It is thought his interest in agriculture came from his family who were agriculturalists on both sides.
'No one is quite sure just where his interest in orchids came from, but he did tell me on several occasions that in his early days he had seen a cattleya in full bloom and that this had captured his imagination and he was hooked from there,' says long-time friend Ross McDonald.
Upon returning home from University, Donald married Aileen and together they had five children Amanda, Fiona, Debra, Donald and Robert, the latter who is adopted. Donald worked at the Coconut Pest & Diseases Board for 20 years before resigning to work on landscaping at Pacific Harbor when it was established in the early 1970s, where he did the initial landscaping work at the hotel, cultural center and golf course.
'Don gave freely of his knowledge on horticulture, and orchids in particular, and was an early and long-time member of the Suva Orchid Circle. He was also a keen supporter of the annual Suva Flower Show which continued after their later move to Nadi as he and Aileen came to Suva to act as judges for many years after the move'.
Donald and Aileen moved to Saweni in Nadi to work with Raymond Burr (the actor famous as Perry Mason in the TV series) to re-establish the Garden of the Sleeping Giant, then owned by Burr, also an orchid enthusiast. A strong friendship would develop between the men over the years.
'They purchased their Saweni property in Nadi in 1984 and along with his work on the Sleeping Giant, Don was establishing his own orchid garden at Saweni. In 1988, they sold the property and purchased their larger existing property where they established South Sea Orchids which has become the only commercial orchid farm in Fiji'.
Donald Burness was a great mentor for many including Managing Director of Pacific Island Farmers Organisation Network, Kyle Stice who he says imparted valuable lessons that have stayed with him since the beginning of his career in horticulture fifteen years ago.
'The power of sharing information and inspiration is probably one of the most outstanding attributes about Mr.Burness. He authored numerous training manuals on growing anthuriums, orchids, gingers and heliconias, this was all original work based on his own experience'.
In 2011, these training manuals were compiled into the first 'Fiji Floriculture Handbook' and with these training materials Donald and Aileen travelled around Fiji training and helping growers from all walks of life.
'I helped organize the 'Pacific Regional Ornamental Horticulture Study Tour to Fiji' in 2008, where participants from 8 different countries came to open doors here at South Sea Orchids. No bit of information was kept secret but shared freely and with passion'.
Through the Pacific Island Farmers Organisation Network, whom South Sea Orchids is a founding member, Donald and Aileen Burness have travelled around the Pacific conducting trainings in the Solomon Islands, Tonga, Samoa and Vanuatu.
In his book, Donald shared with readers that it was a blessing to watch many growers and particularly women develop and become motivated to grow and sell flowers, 'When we started with our first group of 30 village growers in 1998, we were able to work with the Ministry of Agriculture to purchase and construct small shade houses, with orchid and anthurium planting materials. We then got them excited to produce quality cut flowers and grow it into a business. Seeing these marama's with their flowers in the market today is such a delight because it's putting money in their pockets and giving them autonomy in their homes'.
Donald Charles Burness, the youngest son of Donald and Aileen described his father as a very hardworking man and where everything had to be done exactly right.
'Dad was a perfectionist. He loved nature and as children he would take us orchid hunting in the bush just to look at them because he always felt these native orchids belonged in their natural habitat.'
Donald Charles Burness shared his father was quiet and kind but did not tolerate bad behavior, 'Honesty was of paramount importance to him as an individual and he made certain that we all knew this – I remember being caught driving without a license on the dirt road in Saweni. When the police escorted me home, he told them to escort me to the station. They of course found this quite amusing and let me off with a warning'.
Donald was also concerned about the environment and particularly with climate change in the recent years that it would later see the installation of solar panels on the 12 arce property of South Sea Orchids, 'it was one of the last projects that made Dad really happy'.
Long-time friend, Ross McDonald said Donald had all the traditional qualities and values that have stood the test of time that build good character, honesty, integrity, discipline, courage and compassion for all.
'These are all those great qualities that make a good person, a good friend, a good husband, and a good father. Don had them all. And most importantly, he left behind a legacy of family values, of love, care for others, affection and memories.'
Farewell Donald and Rest easy.