b l o g
j u l y  2 0 2 1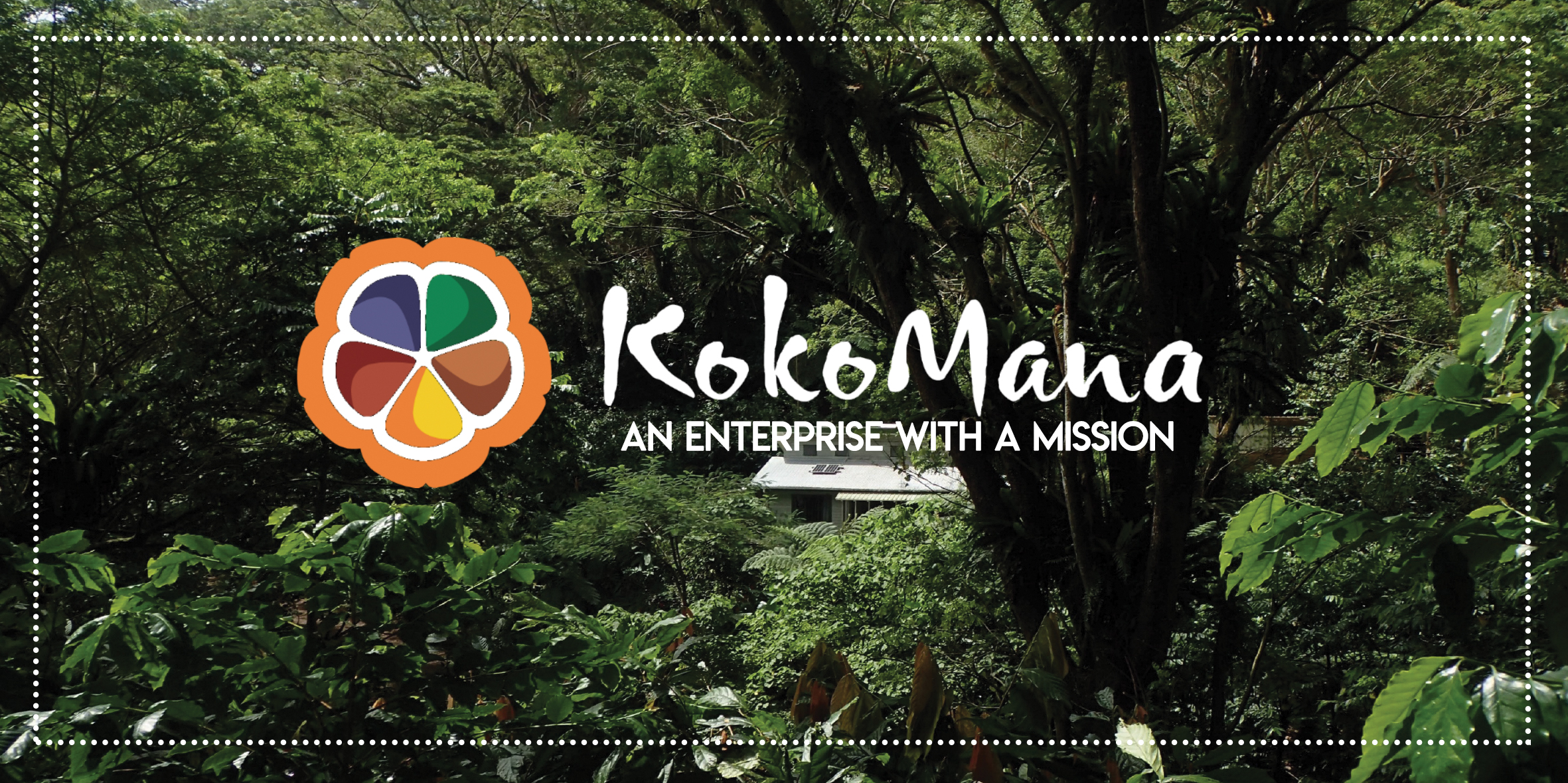 With Richard Markham, Owner & Founder of KokoMana 
Hello and welcome to KokoMana – the chocolate factory in a forest – in Savusavu, Fiji's hidden paradise. We are an agritourism micro-enterprise – but also business with a broader mission that I'll try to explain as we go along.
First, I'd like to introduce our team: on your left, my partner Anne and myself – the foreign investors who set up the business; and, on your right, the Fijian team to whom we are handing over the day-to-day running of the business – and we hope, eventually, the business itself.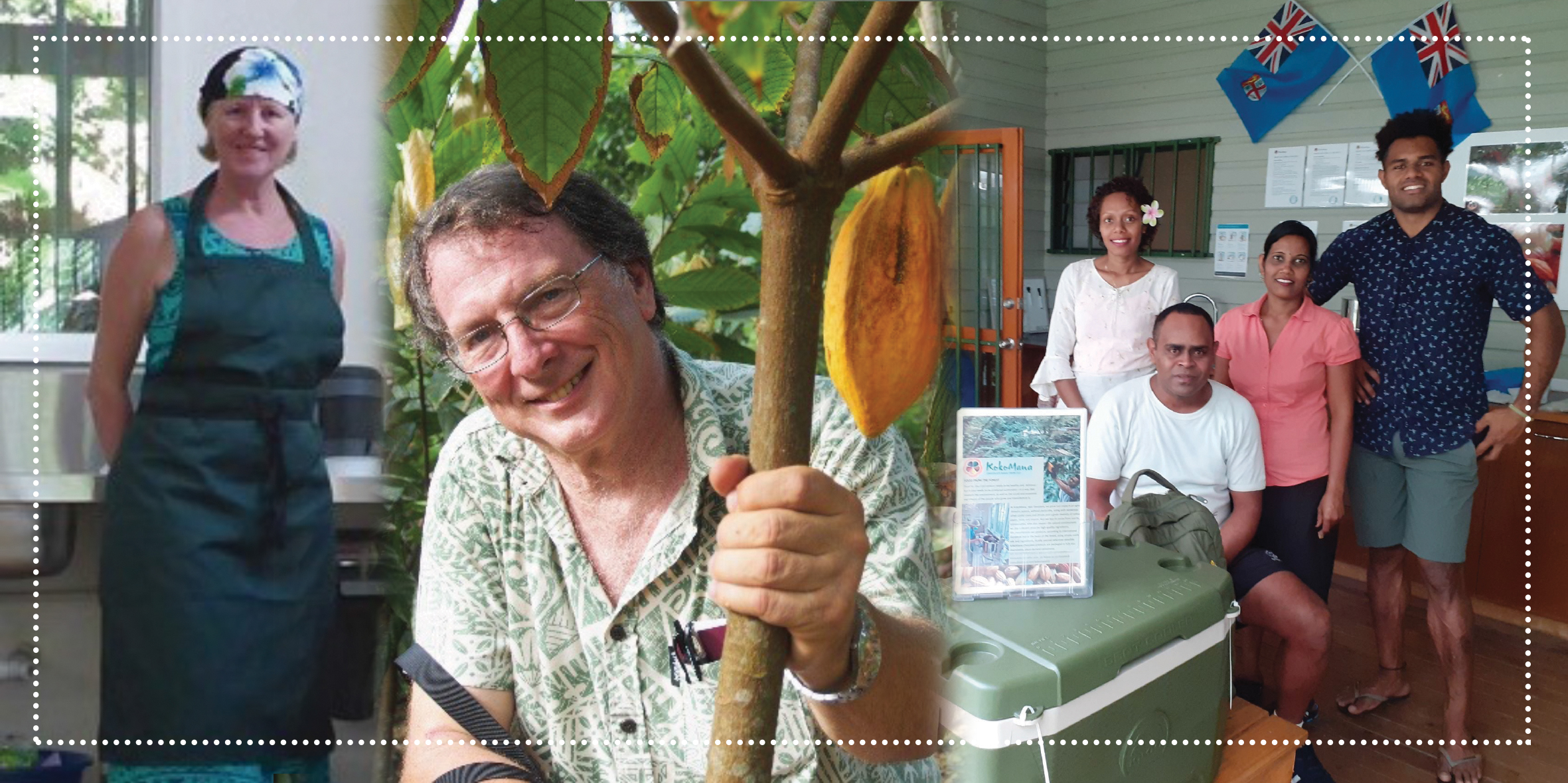 Our team at KokoMana
My professional background is in the international public sector, in sustainable agricultural development – and this enterprise can perhaps best be understood as an experiment in using private sector mechanisms to achieve sustainability. I was, initially at least, the cocoa farmer.
My partner, Anne, has a background as a science writer and professional communicator – communication skills which, of course, have been very useful to developing KokoMana as a business; however, her primary role has been as our pace-setting and standard-setting chocolate maker.
The guidelines for this talanoa provided by PARDI assume that we started as an agribusiness and branched out into tourism … whereas our business plan was actually for a fully integrated three-part business, right from the beginning.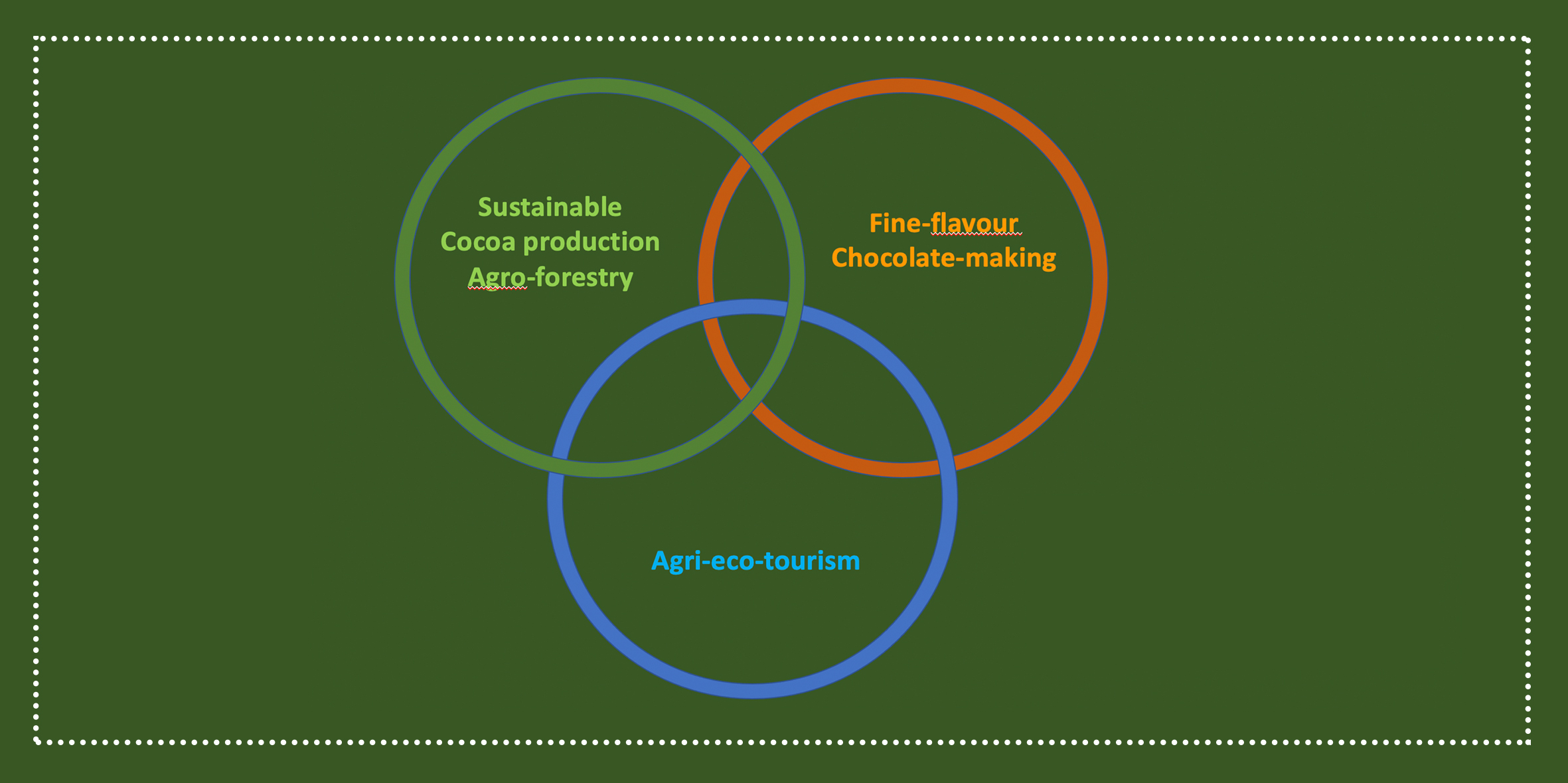 Our business plan
I have worked enough with cocoa in my earlier career to know that even fine-flavor cocoa sold at, say, $5 per kg is not profitable enough to sustain a significant business (unless at a much bigger scale); adding value by making chocolate certainly helps – probably takes the value up to at least $50 to $100 per kg – but can you sell enough product at that price to sustain a business?
Our business plan, with financial projections, as submitted to Investment Fiji stated that the business would only be financially viable with all three components. They thanked us for our submission and granted us only two activities: producing and selling cocoa and chocolate.
We protested, pointing out that, as per the application submitted, that would not be a viable business; but they just said "those are our rules" – take it or leave it!
As it turned out, it took some fifteen months to get all the permits and papers necessary to start our business – more of those frustrations later – but the good thing was that, after only twelve months (of having no income whatsoever), we were allowed to file a progress report to Investment Fiji and our precious third activity, tourism, was granted.
We opened on 1st July 2019 and, after about six months of operation, we had basically proved the soundness of our plan by breaking even… But then Covid struck (and the end of tourism was NOT a risk that we had identified in our business plan).
Anyway, before Covid, our signature product was our tree-to-bar tour of farm and factory – culminating in chocolate-tasting and the chance to buy chocolate.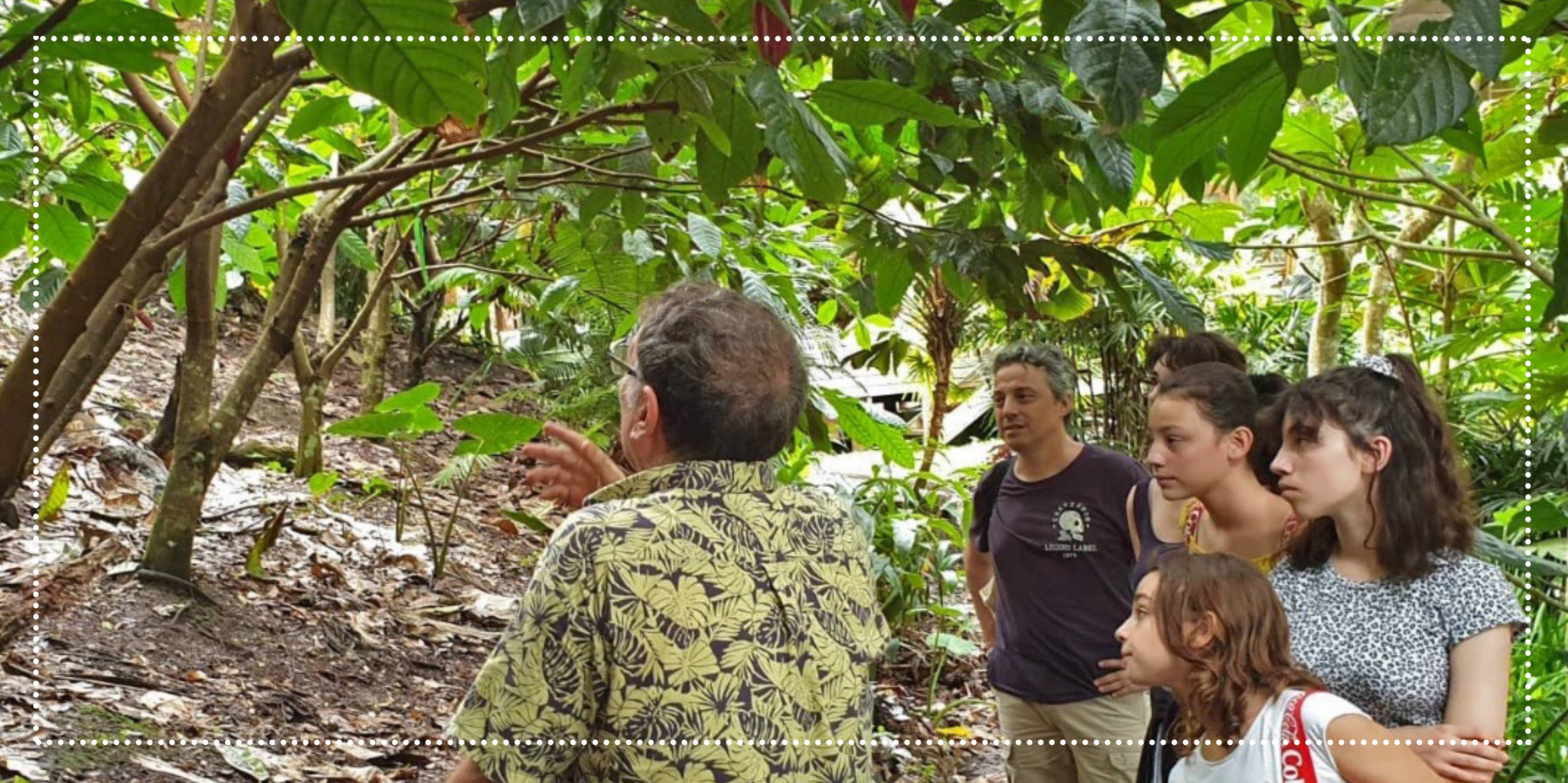 Our first tour – a family from France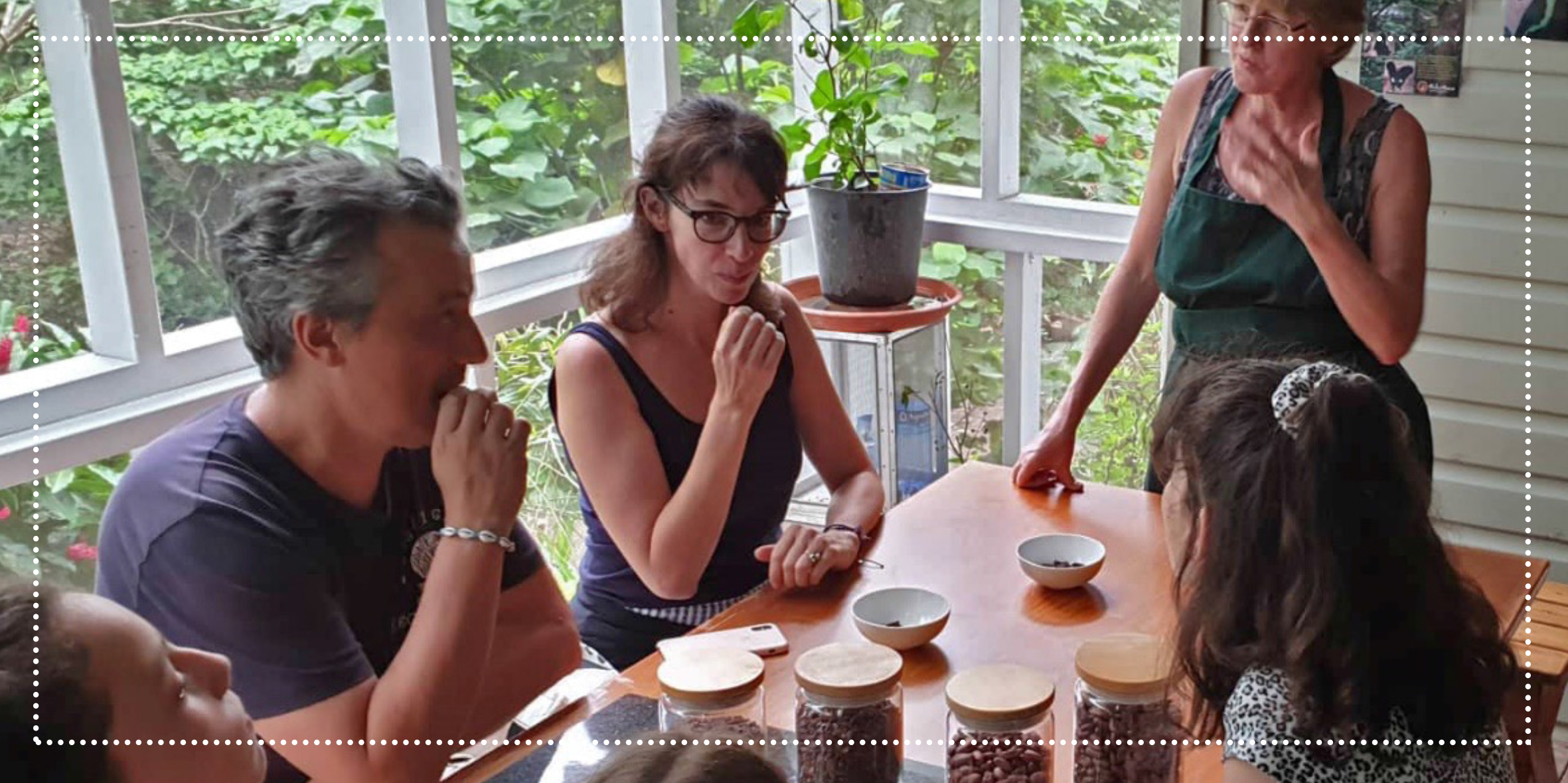 Get to know your visitors, find out what they are interested in, and tailor your offering accordingly
These pictures are actually of our very first tour: a family from Toulouse, in the South of France. And since I had lived in the south of France, before moving to Fiji, we were able to conduct this tour mostly in French … which was an example of tailoring our product to suit the audience!
More seriously, it's very much part of our philosophy to get to know the visitors on arrival and try to respond to their interests – some are interested in the trees and plants, or in herbal medicine, or in bird-watching or other aspects of biodiversity – and of course some are interested mainly in chocolate and the food aspects. We have enough material to keep people informed and busy for hours – so we try to select material to keep them engaged and amused for about one-and-a-half to two hours.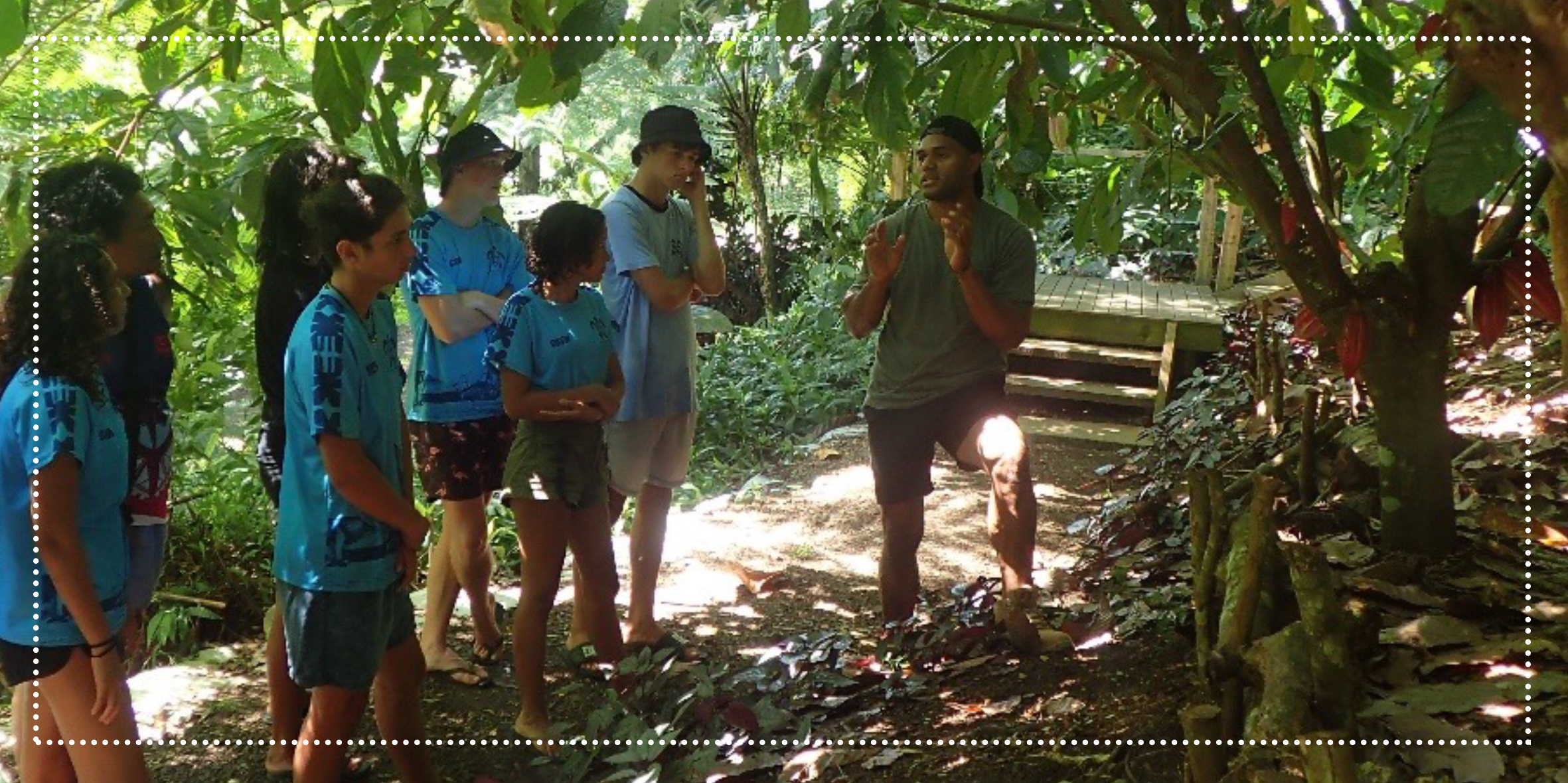 Sustainable farming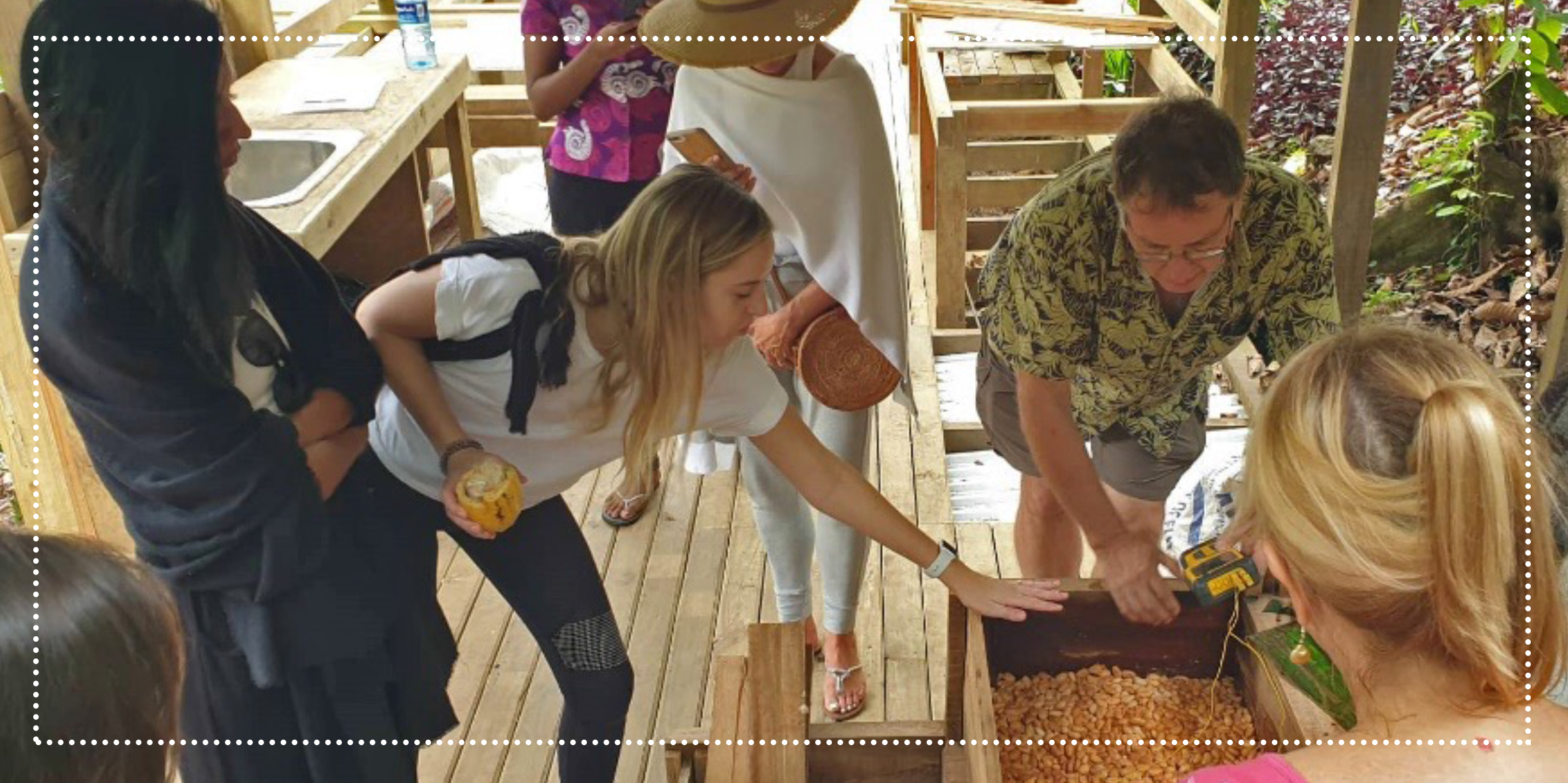 Processing for fine flavour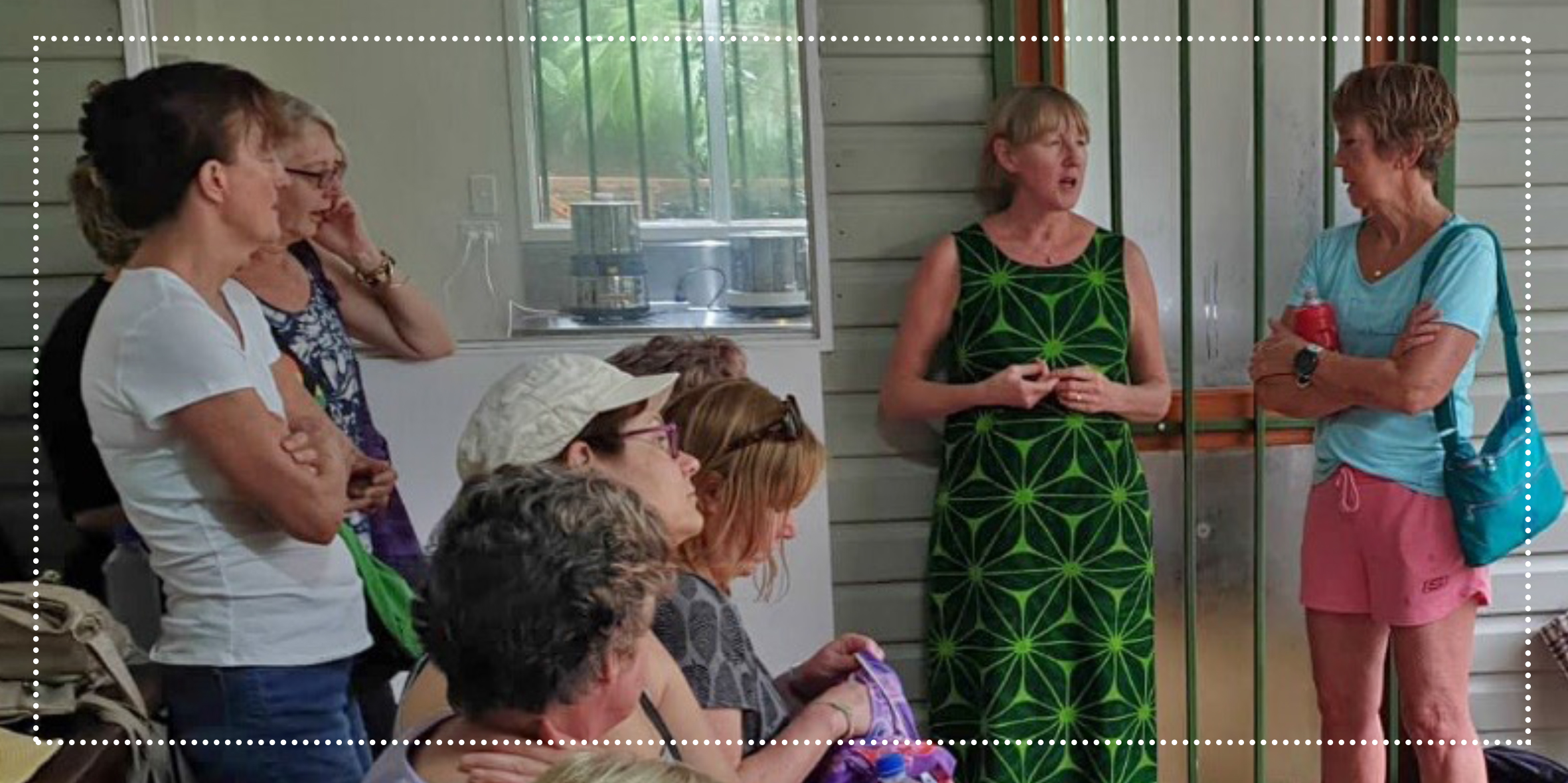 Making chocolate in a food safe kitchen
Basically, we take them on a walk around the farm, then through the processing shed and back to the factory. We explain, as our basic messages:
(1) the key role of agroforestry in sustainability (as contrasted with slash and burn agriculture – that drives deforestation) for short-term cash crops like kava, dalo and ginger;

(2) the importance of fermentation and sun-drying for cocoa flavour and quality; and

(3) the fine art of making really good chocolate, from simple, high-quality ingredients.
As you can perhaps see in the the photo (Sustainable farming), we have invested in steps and walkways to make the farm tour safe in all weathers; and the kitchen is kept food-safe partly by keeping out the visitors – letting them watch the chocolate-maker through double-glazed observation windows. We work hard to make the whole experience interactive – encouraging people to ask questions, taste things, take photos etc.
And although there is a lot of information on offer, we try to make it fun. We tend to pitch the material towards adults, rather than kids – but 'kids of all ages' seem to enjoy different aspects of the tours. Even if it's just playing with the cats – who also have a serious agricultural role as rodent management officers and embody a serious environmental message about non-chemical control of pests.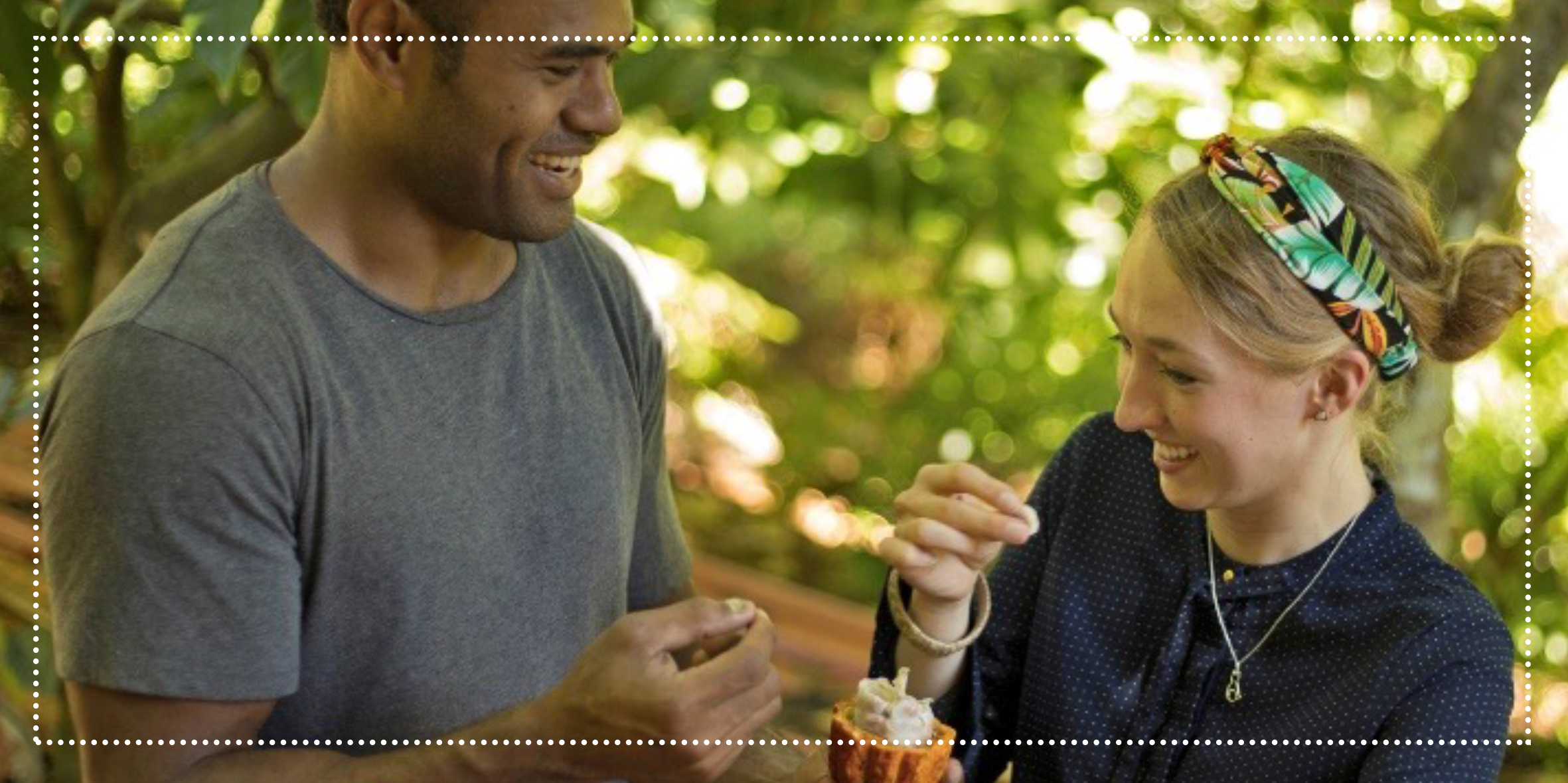 Make it fun!
As per our business plan, we have branched out into chocolate workshops (showing small numbers of people how to make their own chocolate) – though we haven't really figured out how to make those financially worthwhile. And we occasionally have spontaneous events, like our one-day Fiesta, celebrating all sorts of aspects of cocoa and chocolate.
We have also received – though not really sought out – attention from the media. We've been on Japanese television – in what we gather is a very popular travel program called Travel Salad.
We've been on French TV – indeed, on what we understand is the single most-watched program on French television – KohLanta – which is their version of the Survivor franchise. And some of you may have seen us on FBC – where we have featured on the morning magazine program, on John's farming program and a couple of times on business programs.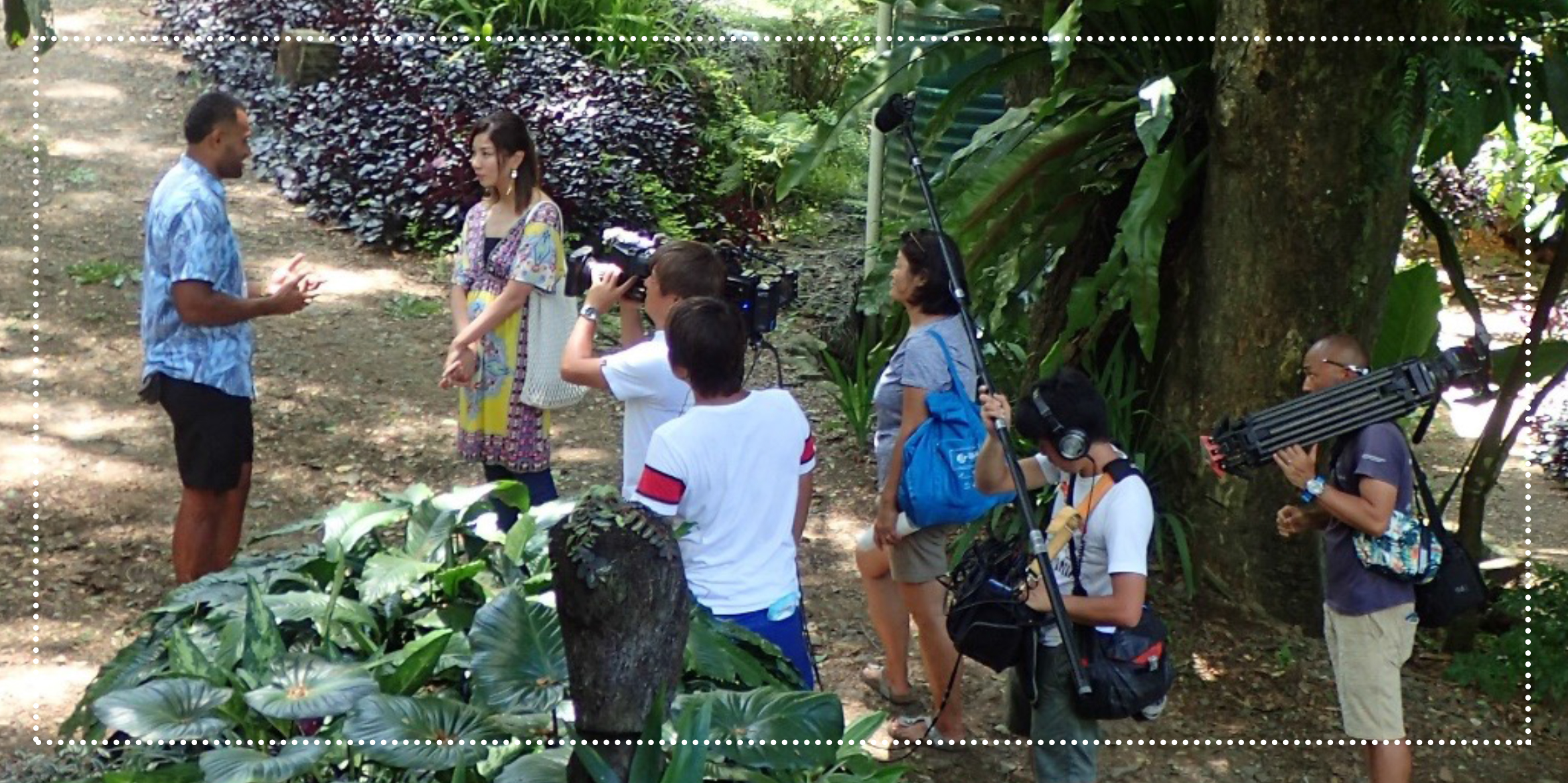 Travel Salad – Japan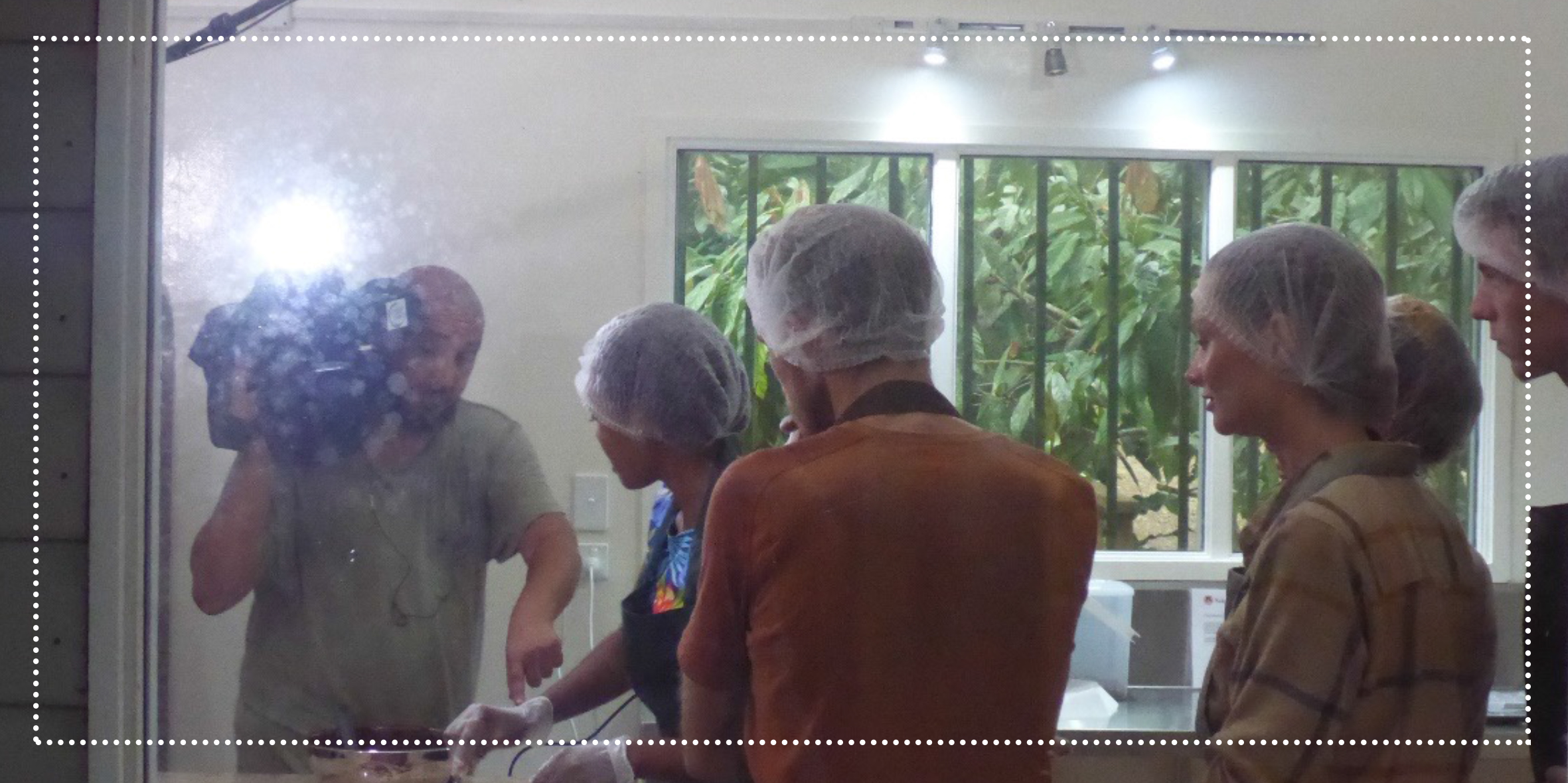 KohLanta – France
I'm not sure whether this exposure helps to generate business. As I mentioned, we have not really courted this attention – they have come to us. Interestingly, KohLants reached out to us because our message of 'environmental responsibility' had, somehow, reached all the way to Paris. You may also have seen us in various articles in the Fiji Sun.
Turning briefly to our 'mission': we always wanted to be part of the effort to develop the cocoa sector in the Northern Division of Fiji – in line with what was then the government's Look North policy – so, for that, we have worked with the Ministry of Agriculture, especially the Wainigata Research Station, and SPC. And then we have really tried to get the word out about agroforestry as a more sustainable way to produce high-value crops – a message which we push with our suppliers and share with anyone who comes near the farm. 
More recently, as our own business has become established, we have put more and more time into trying to help build community-based and nature-based tourism, which we believe offers a more sustainable foundation for tourism development, especially in the Northern Division of Fiji.
These pictures are from a project with the community of Vusaratu in the Natewa Peninsula that we are developing in collaboration with NatureFiji/MareqetiViti, and with support from Ministry of Forestry and SPC.
Again, this is a rather closely integrated effort with ecotourism and agroforestry helping to support reforestation and the conservation of endemic species in a ridge-to-reef approach … but that probably merits a Talanoa all to itself!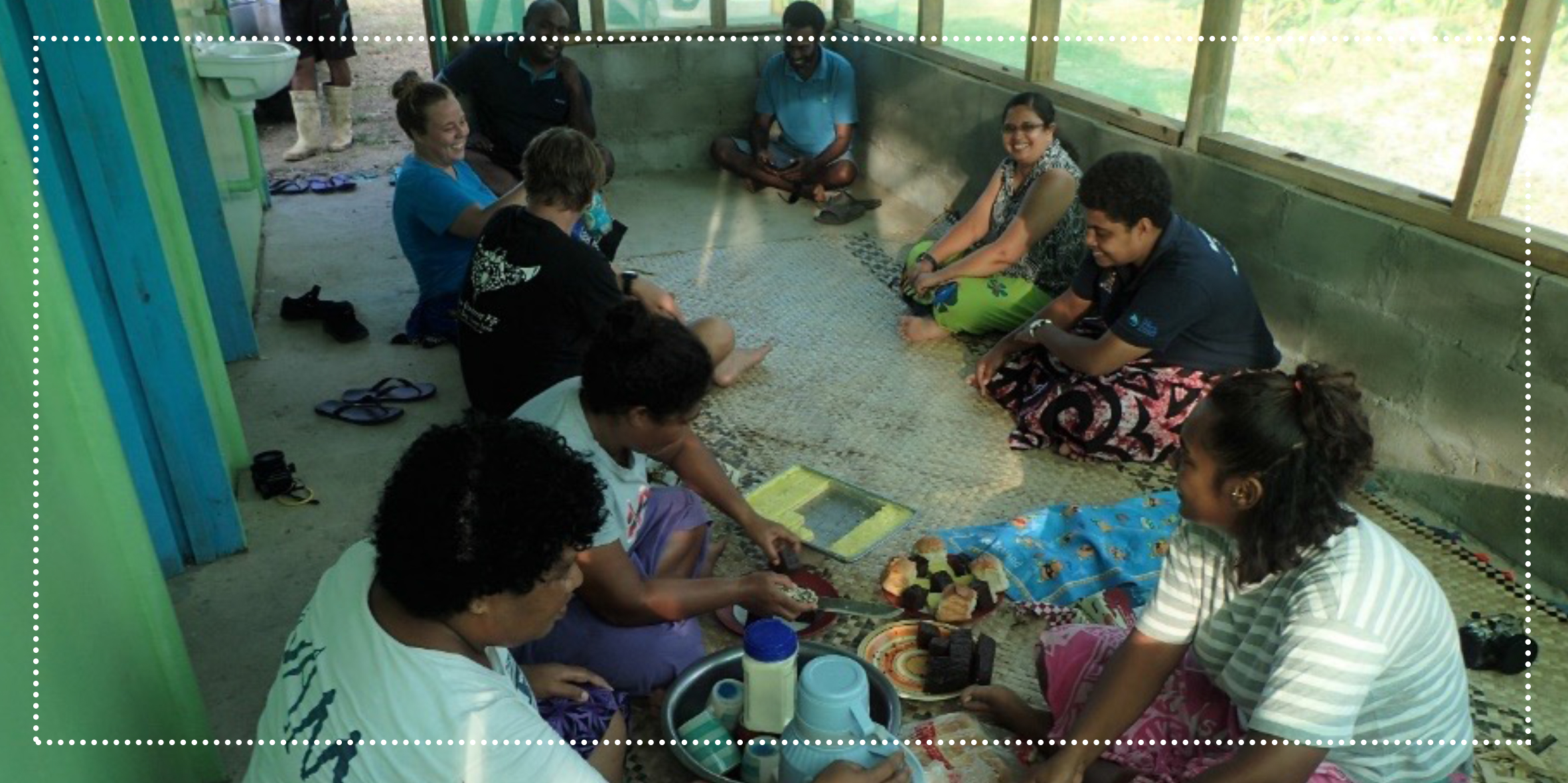 Reaching out with the mission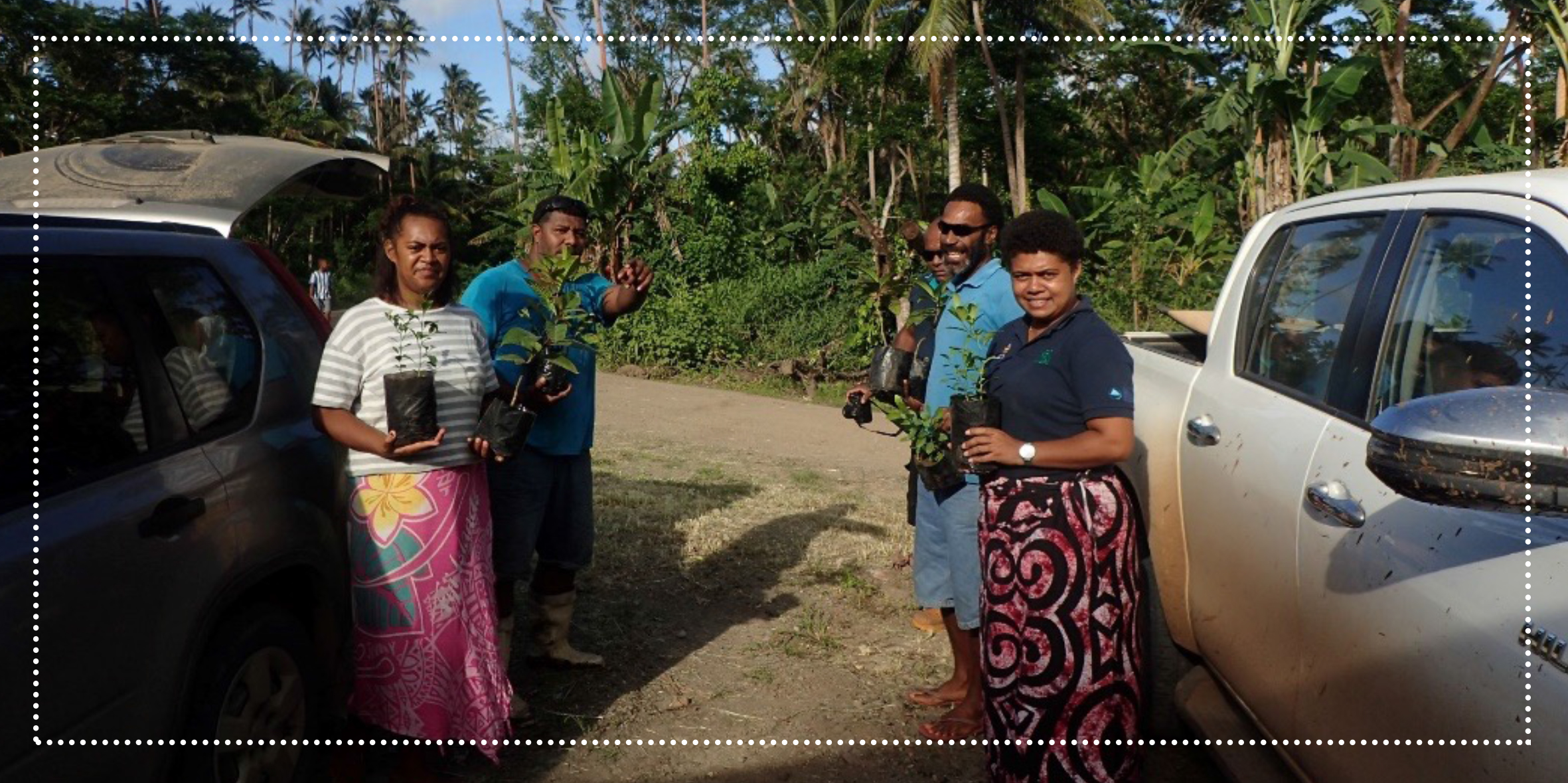 Working with NatureFiji/MareqetiViti, Ministry of Forestry and SPC, to develop community-based tourism at Vusaratu
When Covid took hold, we took what we felt was a moral decision to stay open, keeping our staff on part-time (at least three days per week – currently at least four days a week – even if we were not selling any chocolate).
In what may seem like a slightly paradoxical decision, we decided to accelerate the recruiting and training of a (paid) chocolate-maker… and he has subsequently vindicated that decision by helping us to deliver a number of lower-priced products that seem to appeal to the local market – chocolate fudge (which is our best-selling product in Savusavu) and increasingly chocolate-coated coconut bars and chocolate-coated ginger that sell really well in Suva.
This is a direct-delivery market that we have been able to open up only through the help and support of Talanoa Treks and fellow businesses in the Duavata Sustainable Tourism collective.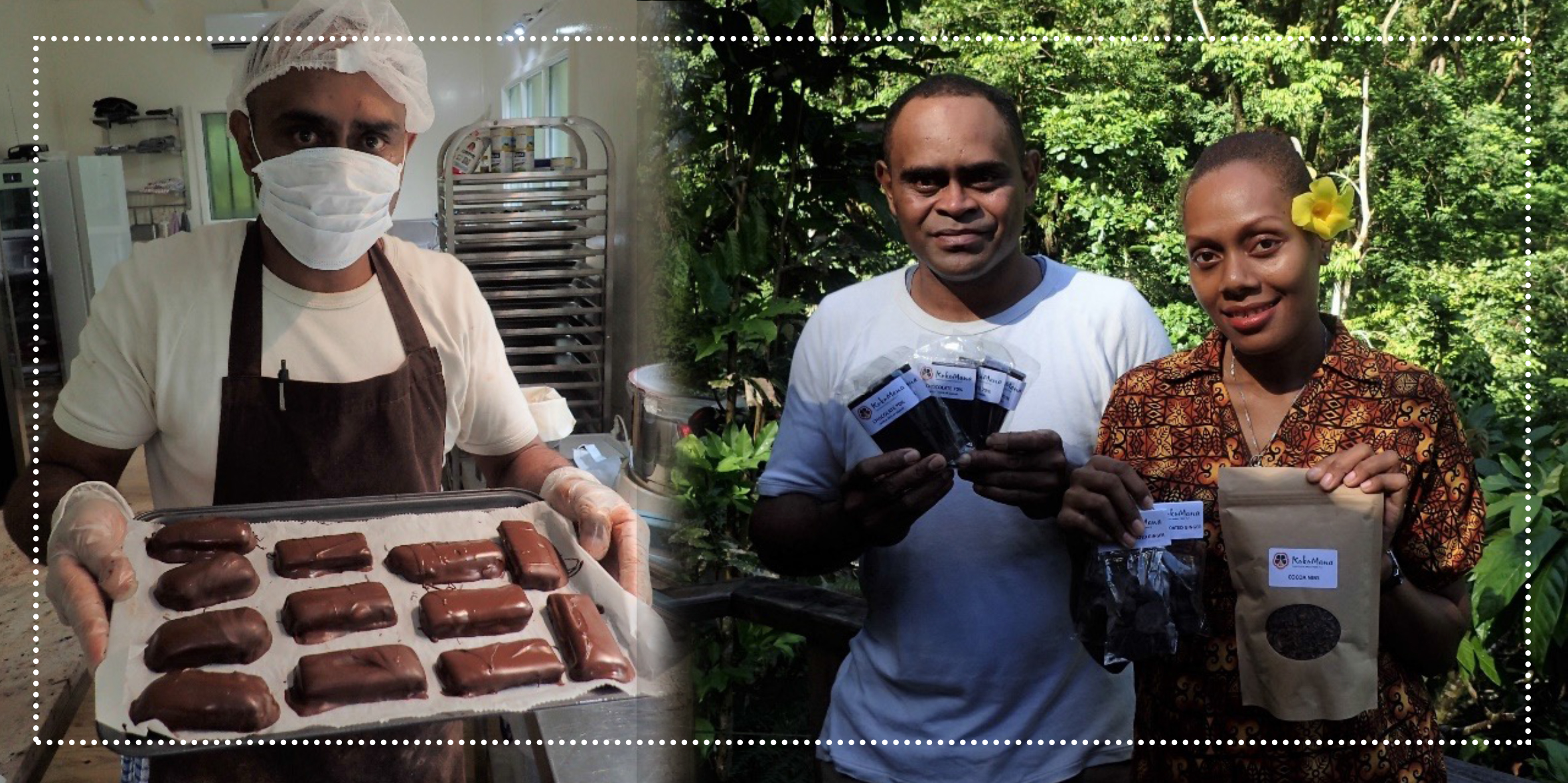 Accelerated training; new products, new markets
A grant from the US Embassy, again through the Duavata Collective, has allowed us to redeploy our staff for a while into capacity-building activities for the community-based tourism initiative that I mentioned earlier.
And, more recently, the opening of the Blue Lane for yachts, combined with training for our staff under Tourism Fiji's CareFiji Commitment has allowed us to start offering Covid-safe tours.
With these various activities, we have covered our costs in two or three weeks out of the last six months… for the rest of the time, we have just tried not to let our debts spiral out of control.
Another Covid-coping strategy: another element in our business plan (also ignored by Investment Fiji) was the offer to deploy our skills, via consulting, for the development of the cocoa sector and sustainable agriculture in general in northern Fiji.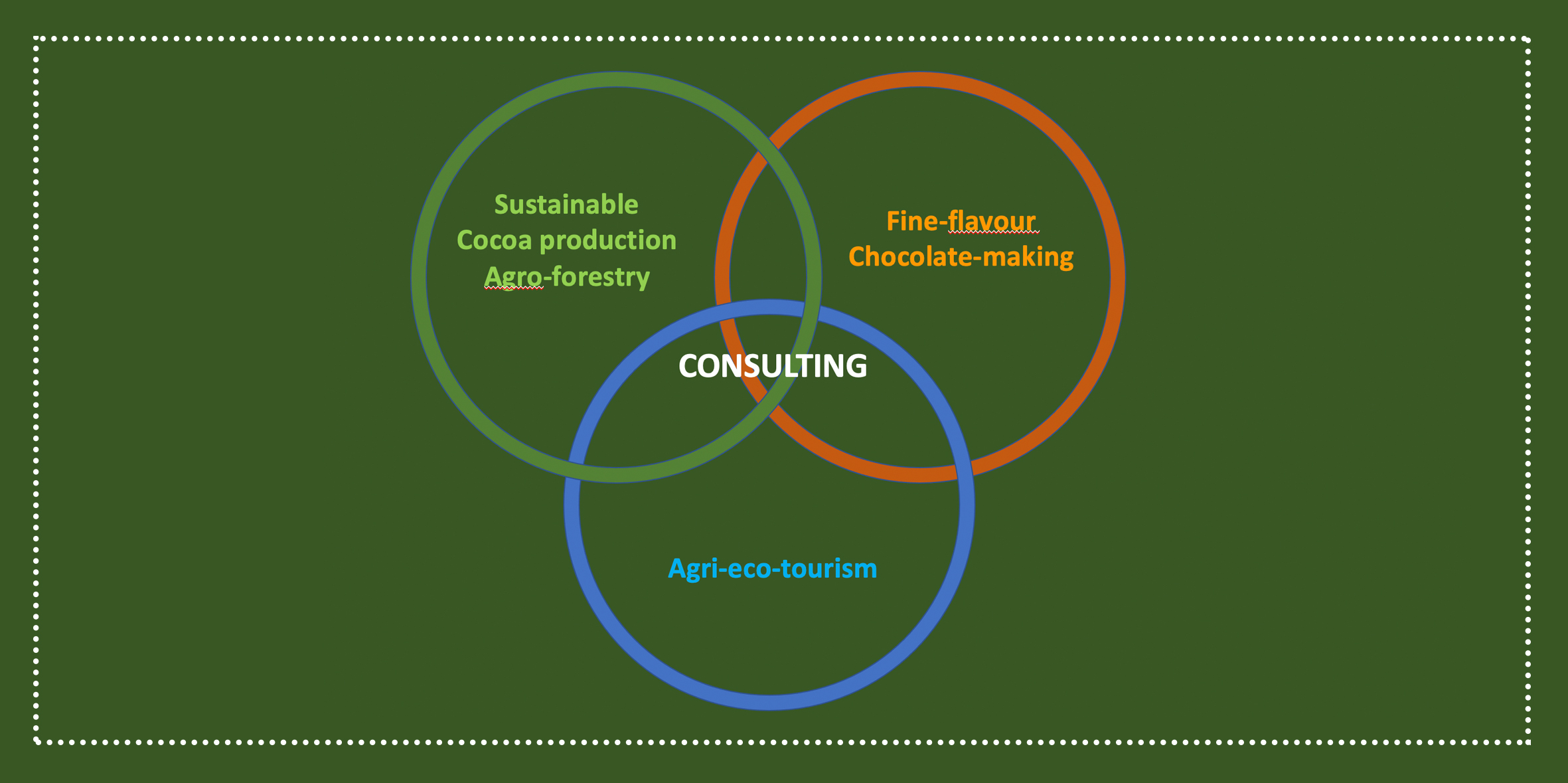 Adjusting to COVID
We are currently assembling the necessary paperwork to apply (or, rather, re-apply) for this activity, now with more emphasis on eco-tourism – which may just help us to balance the books and stay alive until tourists return.
By far the greatest challenge has been the disproportionate weight of bureaucracy and regulation – and I use disproportionate in the sense of excessive for the size and profitability of the business.
When you first read their website, InvestmentFiji used to promise a 'one-stop-shop' for incoming businesses to complete all the necessary paperwork – whereas the reality is that you are on your own, trying to understand the interlocking demands of Immigration, the police, Town and Country Planning, the Town Council, Occupational Health and Safety, the Health Department (Town and Rural), and the Fire Department.
Of these the most expensive and hard to understand was Planning (for re-zoning our land from Rural Residential to Commercial), the most unpleasant was the Health Department (despite the smiles in this picture, the inspector has just delivered the memorable line: "Remember, I am not just the Inspecting Officer, I am also the Prosecuting Officer; you can go to jail for this!" (the exact nature of 'this' not being specified).
But this particular visit, based on their having lost all our papers, failing to send our samples for analysis and failing to keep repeated appointments for visits, resulted our business being arbitrarily closed for ten days – equivalent to an extra-judicial fine of some $1,500 – whose only purpose, that we could discern, was to intimidate us and distract attention from their failure to follow their own procedures. On a more positive note, the clearest, simplest and most efficient was the Fire Department!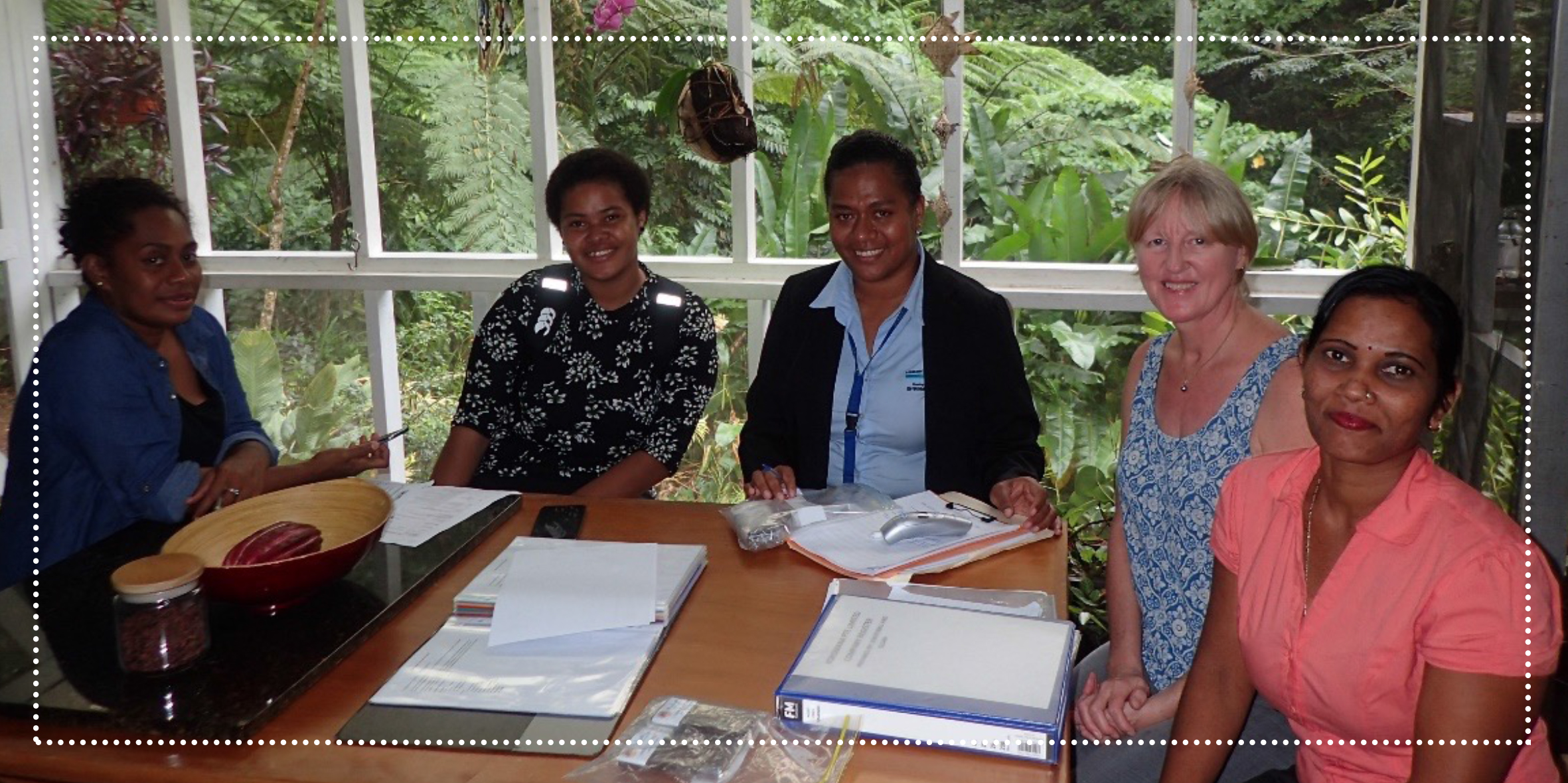 Bureaucracy and regulation
The second challenge has been more of our own making; we were unwise enough to join others internationally in thinking that maybe the Covid interlude might provide an opportunity to move tourism in Savusavu and surroundings towards a more sustainable footing – less damaging to the environment and local culture – and bringing more of the benefit derived from tourism to local communities and the local economy.
Time does not allow us to go into the details – but we were rudely awakened to the discovery that most of the industry is not enthusiastic about 'building back better'.
They are actually just interested in getting back as fast as possible to the status quo ante – with an emphasis on numbers, not quality.
Many people in the industry see 'sustainable tourism' as implying lots of threats to their business model – rather than an opportunity.
As to suggestions on how to tackle these challenges… For sustainable tourism – I think that needs a higher-level policy discussion – because a narrow discussion of the economics of the industry, as currently constituted, indeed argues for 'bring back the boozy bogans', as many and as quickly as possible.
Profound strategy changes, from the top down and from the grass-roots up, would be needed to really change the way that Fiji thinks about and engages with tourism.
Perhaps the current study (and policy discussion) supported by IFC and the World Bank will help in that direction. For the bureaucracy problem, in the absence of much hope of profound changes in the way government operates, perhaps some local workshops might be helpful.
These could bring together small businesses and the regulatory agencies, so that at least all parties understand one another (and could get rid of the most obvious contradictions). Such workshops could perhaps be brokered by MCTTT, working with chambers of commerce in some of the tourist towns.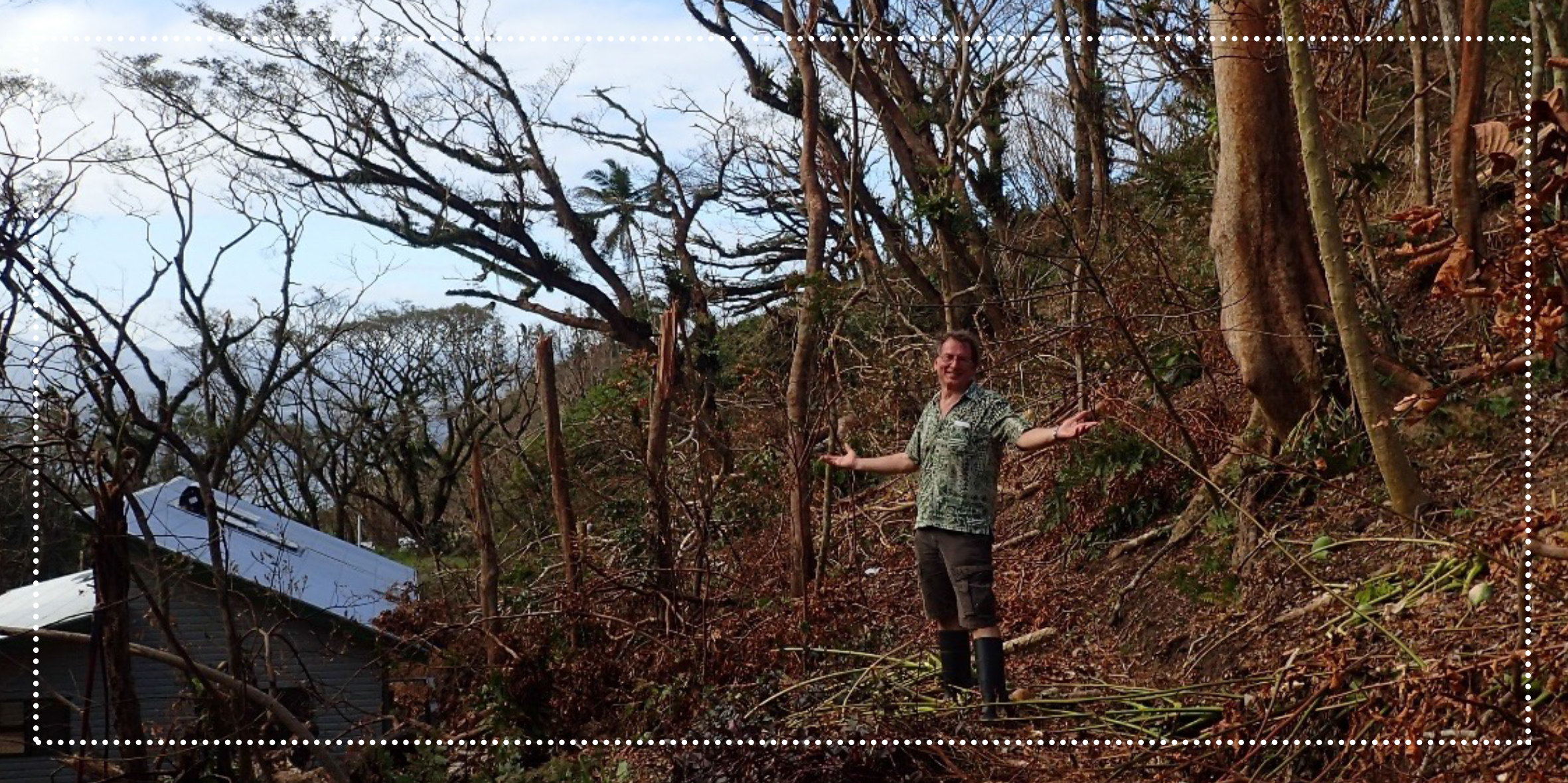 Do something you are really passionate about … because it's going to be hard sometimes!
For  those who might be starting out along this road or thinking of doing so, firstly, only do something that you are REALLLY PASSIONATE about. Because it's going to be very, very hard sometimes – and a purely rational commitment to a business plan or some theoretical principle probably will probably not be enough to keep you going through the inevitable dark days.
The picture shows me in the aftermath of Cyclone Winston. I had started planting cocoa some three years before, in 2013, and quite a number of the trees were just bearing their first pods – and, as you can see, the Cyclone, in February 2016, did not leave much standing in its wake.
And the second piece of advice: don't try to 'go it alone'. You might think it will be quicker and more profitable that way … but you will need the support of good partners and partnerships, especially when times are hard.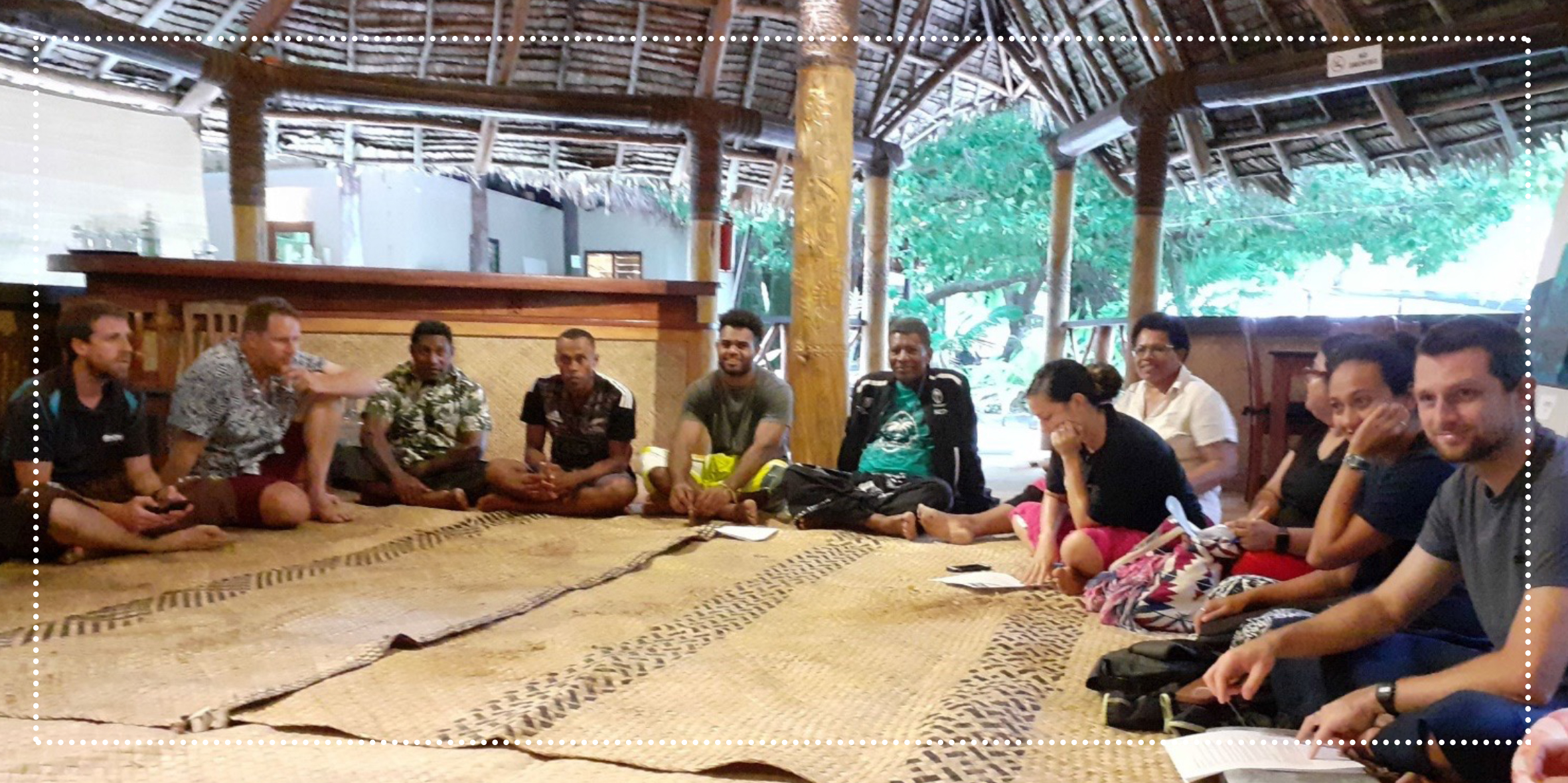 Working closely with partners and partnerships
The group picture is the wider membership of the Duavata Collective, meeting at Leleuvia to discuss how to keep the dream alive through the time of Covid. We need that kind of support to stay alive and keep hoping.