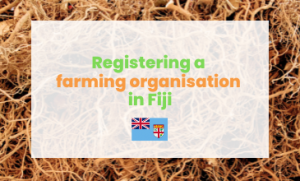 This leaflet summarises the options for registering different types of farmer groups in Fiji. It aims to help farmers decide which option is the most appropriate for their organisation.
WHY REGISTER A FARMER GROUP?
Farmers can work together informally, without registering the group. However, many groups choose to register themselves so that they are legally recognised. Benefits of formalising a farmer organisation include:
easier access to government and non-government assistance, such as grants or training
able to open a bank account, and hold assets such as property, in the name of the group
a registered organisation has more status, giving farmers a stronger voice on industry platforms
protects the members from certain kinds of legal and financial liability.
HOW DO WE DECIDE THE BEST OPTION FOR REGISTERING OUR FARMER GROUP?
The best registration option for a group is usually driven by the purpose of the group, and its activities.
Purposes and activities might include:
working together to increase trade and profits for the individual members
working together to support the development of the industry, following shared ideals and values
working together to strengthen knowledge on good practices, through training and information sharing
working together to advance the shared interests of the group members within the wider industry.
Click on the link below to view the full leaflet which includes additional information on the registration process, types of organisations and the bodies and support organisations for Fiji.
Read the full guide here: Farmer registration – Fiji