November 2019
A Powerful Collaboration Between Women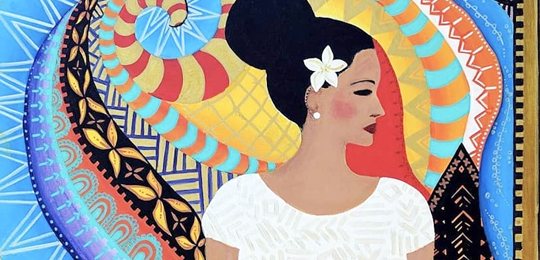 Paddle Me Tausi by Samoan artist and co-founder of Manamea Art Studio, Nikki Mariner-Peseta
Amazing things happen when the paths of talented women cross.
The visual identity for the Pacific Island Farmers Organisation Network's (PIFON) Side Event at the Pacific Week of Agriculture was recently unveiled as the book cover of Afakasi Women by Lani Wendt Young.
The painting Paddle Me Tausi by Nikki Mariner-Peseta of Manamea Art Studio was originally commissioned by a client in Milan.
"We're so thrilled!"
"To have authors and artists who work and live in Samoa working together is a proud moment for all Samoan creatives," she said.
"I've been lucky to preview the book and it was riveting and unforgettable, Manamea Art Studio is so proud to be associated with Lani's work."
Published by OneTree House Press New Zealand, the book which features a revised collection of short fiction stories will be released this month in Australia, New Zealand and Samoa.
"I've followed Nikki's work for a long time and admired the fiercely unapologetic Samoan feminist that she is, as well as the richly complex and varied themes she explores in her art; of identity, love, relationships, culture, heritage, tradition, gender and more," said Lani Wendt Young.
The author said she was honoured to feature the painting on the cover of Afakasi Women as it complemented the collection of short stories.
Paddle Me Tausi was the visual identity for the art component of PIFON's Celebrating Women in Agriculture: Flowers, Food & Art  at the second Pacific Week of Agriculture held in Samoa this year.