b l o g
m a r c h  2 0 2 1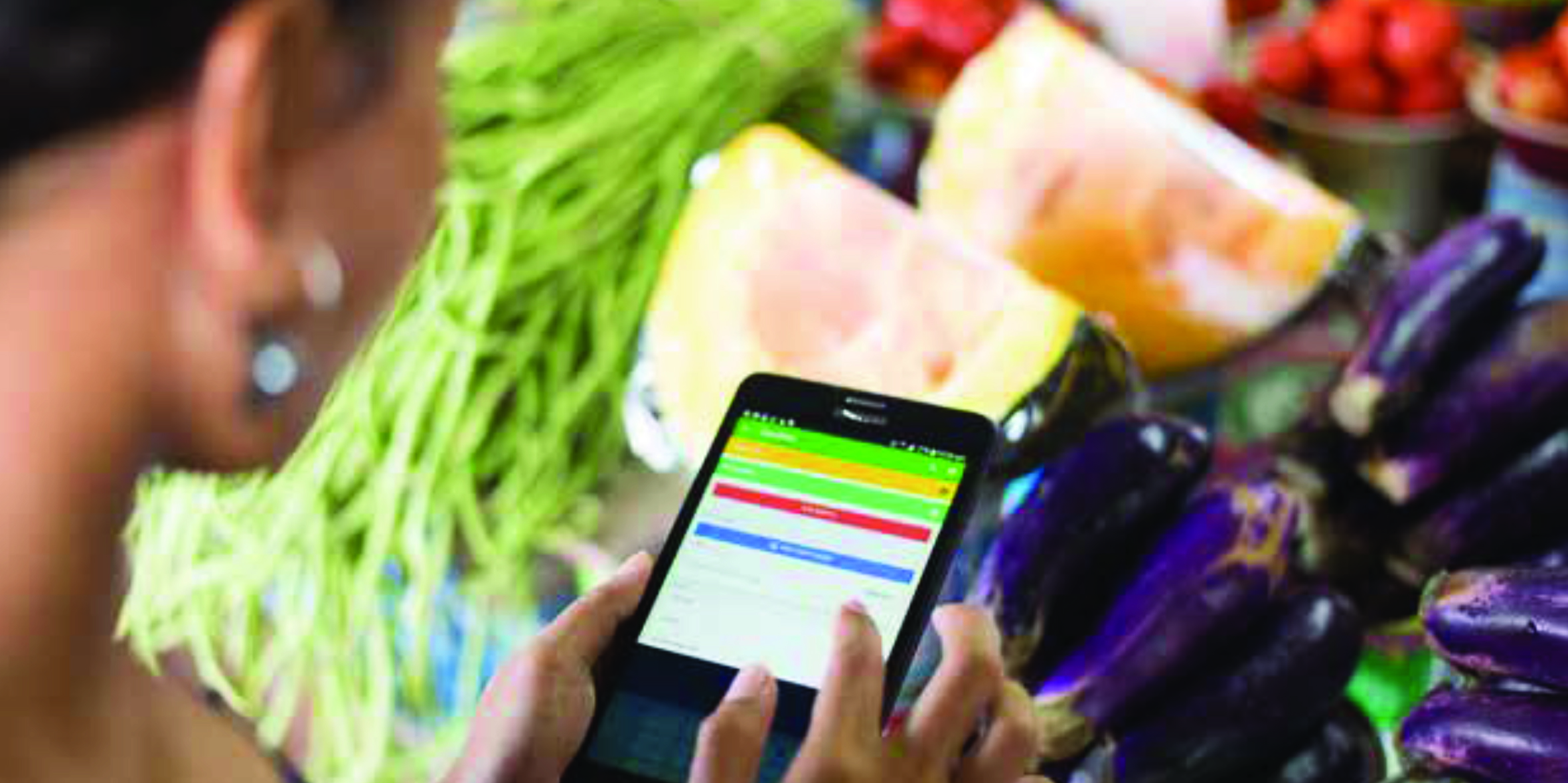 Close up of the TraSeable Farms app in use IMAGE: Traseable Solutions Pte Ltd
By Angela Orlando, Freelance Communications Consultant
No one could have predicted that the small EUR 5,000 ICT seed grants would have such a large impact. Kenneth Katafono, founder of TraSeable Solutions, had successfully won one of the grants awarded to three finalists of the 2018 regional Pacific Agrihack Lab. His idea? TraSeable Farms. The innovative app is integrated with a web platform that together form a one-stop-shop for Pacific farmers and agribusinesses. The app offers technical content on farming practices, timely agricultural information on weather and events, recordkeeping tools to manage and track farm activities and market price information, like pricing trends, so farmers can see which markets offer the best prices for their products. The app also includes a simple online marketplace to help producers find new buyers.
The Agrihack competition was part of the Promoting Nutritious Food Systems in the Pacific, or Innov4AgPacific, regional grant funded by IFAD and the EU/CTA. The award bundled a seed grant with mentorship and incubation coaching that emphasized consultation with end-users to build a sustainable business model. Katafono used his to conduct market research and build a solid business case for the app and web platform, then, in 2019, won another pitching competition at the Innov4AgPacific Investment Readiness workshop. TraSeable Farms was launched in Fiji in June 2020, just as the negative socio-economic impacts of the COVID-19 crisis were becoming increasingly apparent.
Fit For Purpose
The crisis elevated the strategic value of ICT4Ag innovations as the Fijian government and NGOs, like FRIEND Fiji, moved to quickly mobilize urgently needed food and nutrition support. TraSeable partnered with FRIEND leveraging the TraSeable Farms digital platform to monitor & evaluate FRIEND's food security program—tracking requests for food and medical assistance, its seed distribution program, and home garden training initiatives.
As the pandemic continued, it was imperative to have real-time data about its impacts on domestic food markets and prices. Because its app was already designed to track market prices, TraSeable Solutions was uniquely positioned to pilot a rapid assessment using TraSeable Farms to crowdsource market prices in Fiji, Samoa and Solomon Islands. Sixty-eight participants were trained to use the app to gather price information for a basket of 20 common food items sold in municipal and informal markets and supermarkets. In the month of July 2020, a total of 30,184 market price data points were gathered across 21 locations in the three countries. The impressive experiment provided a reliable indication of domestic food costs and proved the viability of crowdsourcing market prices. The crowdsourcing, done in collaboration with country ministries, piqued the interest of government staff who think an app like this might make their data collection tasks more efficient.
Scaling Up Community Action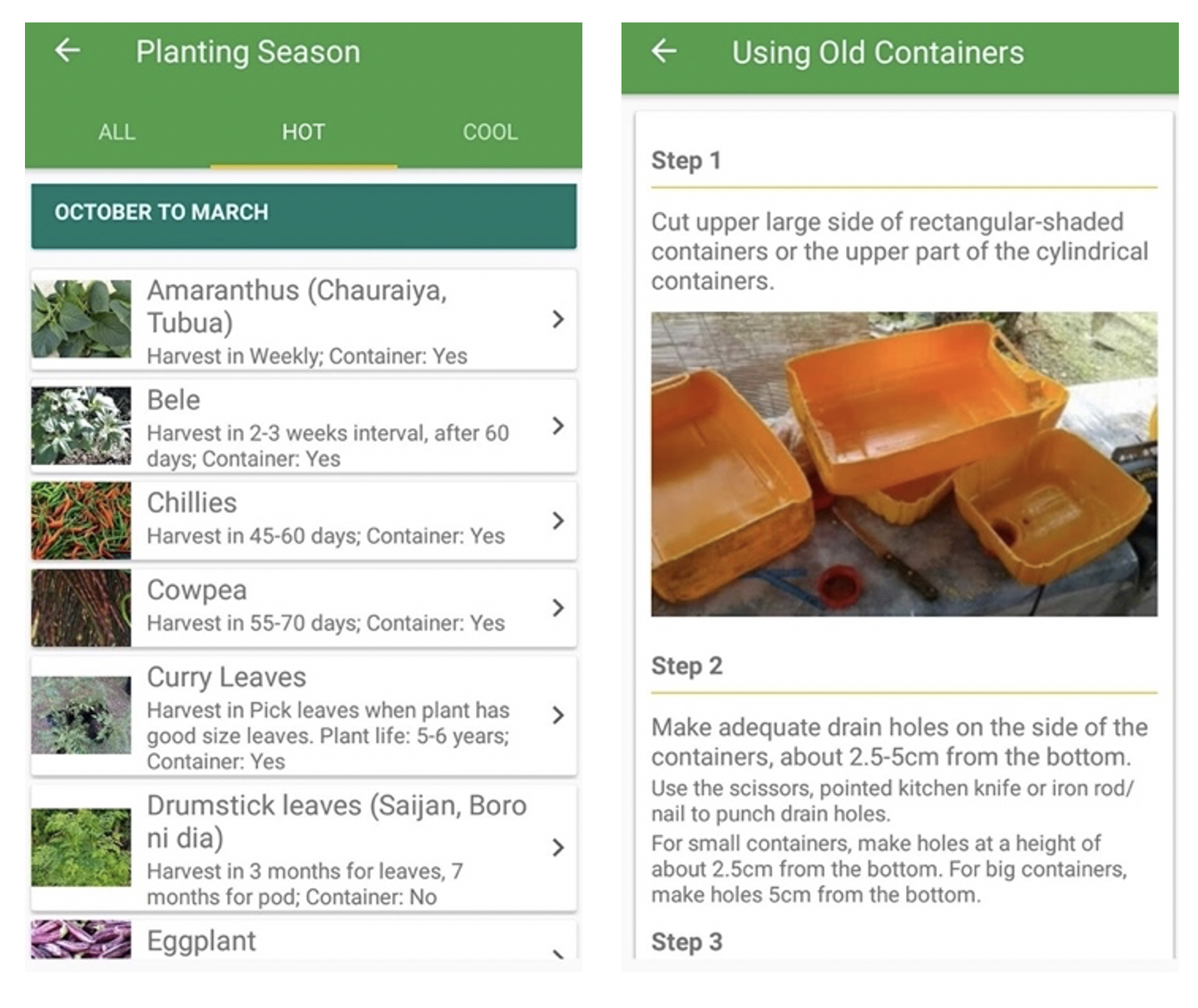 Step-by-step planting guide in MyKana app IMAGE: Project Kakana
MyKana, another award-winning Pacific Agrihack app, was born out of a collaboration between the University of the South Pacific and the National Food and Nutrition Centre (NFNC) of the Ministry of Health and Medical Services in Fiji. Its aims: to improve dietary diversity and nutrition and promote home gardens to grow healthy foods.
The app's My Garden component includes information and step-by-step videos on planting, cultivation and managing garden pests, container gardening for urban and peri-urban residents, techniques for food preservation and recipes using local produce. The app, released in January 2020, and promoted vigorously on FaceBook, began receiving hundreds of "likes". Then, as lockdowns commenced and job losses increased, many Fijians turned to home gardening to save money and improve their food security.
"The important role of the MyKana home garden app became even more apparent during the COVID-19 outbreak," said Ateca Kama, manager of Fiji's National Food and Nutrition Centre (NFNC). When the Fiji Ministry of Agriculture began promoting home gardening as a national response to the pandemic, MyKana complemented scaling up the response. In April and May the uptick in "likes" for the app was significant. By the end of June there 1,111 active users. To date, there have been more than 5,000 downloads and over 200 gardens established thanks to the app.
ICT4Ag is catching on in the Pacific. Since the 2018 Agrihack Lab competition, the number of agriculture apps developed by and for Pacific islanders is rising. Innovations like TraSeable Farms and MyKana can help modernize food value chains and build resilient food and nutrition-sensitive systems.
The current climate has prompted a shift that is likely to continue: farmers and fishers need access to up-to-date information to improve their livelihoods, businesses are looking to ICTs to diversify their marketing strategies, development practitioners are increasingly demanding the use of technologies for remote assessments and surveys, and consumers are relying more on e-commerce to purchase goods and services.
As Katafono aptly observes, "The scale of the challenges faced by our communities due to the pandemic demands collaboration, creativity, and the use of the best available tools and technology." ICTs are most definitely part of the solution.
Read Innov4Ag's Case Study on Pacific ICTs here.