J A N U A R Y  2 0 2 1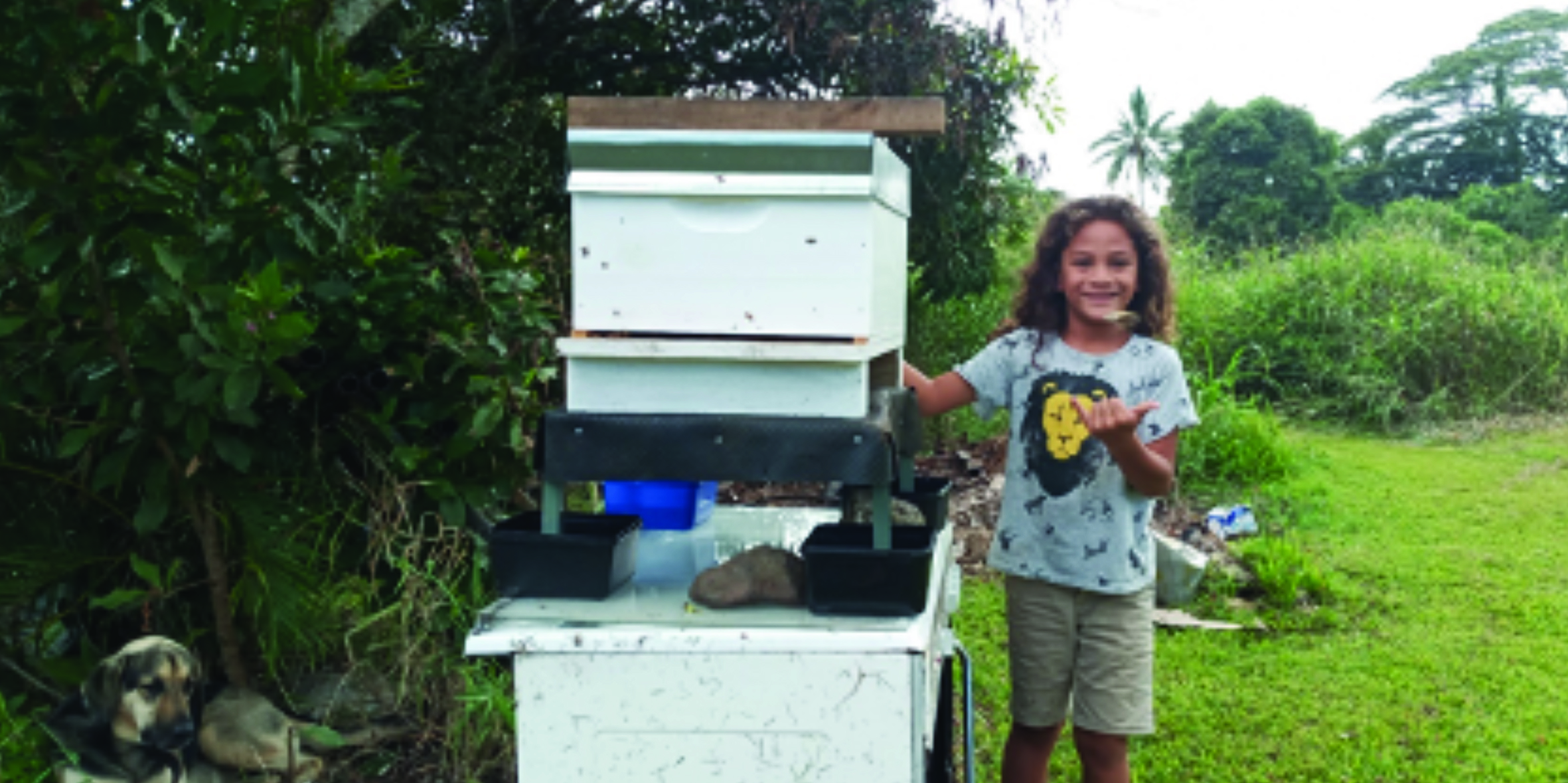 Te Tango Enua's youngest beekeeper, six-year old Amon Kelly
Monday 25
Rarotonga, Cook Islands – Hives planned for 2020 by Te Tango Enua has been moved to 2021 following delays brought on by the COVID-19 pandemic and unseasonal weather – factors Heather Webber of  Te Tango Enua says are beyond their control.
"There have been importing holdups with the beekeeping suits because of the limited arrival of ships to Rarotonga. In September last year, an order for 29 beekeeping suits was placed with Ceracell in Auckland through the Ministry of Agriculture Cook Island."
"It keeps beekeepers safe while harvesting wild bees to fill hives, and so after being informed that these suits would arrive in 4 weeks from receiving the order, it was disappointing to receive only 6 of the 29 Ceracell beekeeping suits in November."
"Along with not having enough suits, we were experiencing very unseasonal constant wet weather in Rarotonga. To harvest bees three days straight of fine weather was required to enable harvesting to continue."
"This has had an impact on limiting what could be done to harvest bees and as a consequence of this delay, the harvesting target of having 10 hives fully functional, was not met."
Despite the setback, Heather Webber said bee harvesting has begun for the Solomona, Safotu and Teremoana families.
"We're moving to have 20 hives fully operational by June 2021; bee harvesting needs to progress at pace so that all the hives have bees in them."
"We've also calendared for February 2021 a practical workshop for the Te Tango Enua 17 beekeepers who completed their theory in August last year."
An order for beehives, smokers, scrapers, gloves and an electric honey extractor has been placed to help Te Tango Enua members process their honey.
The beekeeping progamme is funded by the Farmers' Organizations for Africa, Caribbean and Pacific – FO4ACP Programme, a joint partnership between the European Union, Africa Caribbean and Pacific (ACP), International Fund for Agricultural Development (IFAD) and Pacific Island Farmers Organisation Network (PIFON).