July 2019
Farmer to Farmer Learnings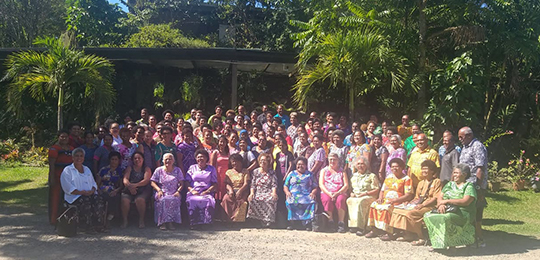 The 1 day workshop saw floriculturists from around Fiji elect their very first executive committee 
'The key to being successful is in being organized and at PIFON, we encourage our farmers to work together and share information freely because this is how we get things done and its become a core strength of ours across the region.'
PIFON's Kyle Stice and Lavinia Kaumaitotoya last week (Thursday 4 July) welcomed flower growers from around Fiji (Taveuni, Labasa, Suva, Tailevu and Naitasiri) at South Sea Orchids, Nasau, Nadi.
The 1 day workshop, 'Floriculturists Have Their Say' is the first of its kind and brings together for the first time Floriculturists Cluster representatives from around the country.
'The Farmer to Farmer Learnings is structured to learn from other farmers during the workshop. We also invite you to learn from South Sea Orchids, you will be given time to tour the venue.'
It is expected that representatives will report back their respective clusters the proceedings of this workshop on their return, which Kyle Stice says is a responsibility that we impress on our farmer leaders.
The second session of the workshop opened with a minute of silence in honor of the late Don Burness as the second session of the 'Floriculturists Have Their Say' workshop got underway.
PIFON's Lavinia Kaumaitotoya says the workshop will identify the strengths, weaknesses, opportunities and threats for Floriculture farming.
'We're looking to develop strategies that will form the basis of an initial Floriculture Farmers Strategic Plan and nominate representatives to be part of the Floriculture Farmers Association committee.'
Watermelon Farmer, Jimaima Taliga of Dratabu Village in Nadi says the workshop has been an eye opening experience and looks forward to forming a cluster on her return home.
'Flowers aren't seen as a source of income in the village but I can see its value each day I'm selling my produce at the markets, there is a market for it and I will be looking to form a cluster in the village and start planting these flowers.'
In her presentation for the Ministry of Industry Trade and Tourism, west official Rusieli Mua highlighted the need for floriculturists to graduate from informal to formal business settings where florists can register for 'Buy Fiji Grown' branding which also includes the proper set up of paper work for grants.
'As recognized producer clusters, the Ministry of Agriculture can recommend floriculturists for grant funding. These clusters can graduate to become co-operatives and can operate as formal business entities, they could have producer co-operatives and consumer co-operatives that supplies their input material.'
Echoing similar statements on the importance of Floriculture growth, Perina Susu of the Ministry of Agriculture said there was a desperate need for more research on pest and disease as well as new varieties where plants can be tissue cultured.
'Tissue cultured is important because it's a technique of breeding new plant varieties that can address the market during low season because there's a demand for it, just like any other commodity on the market.'
The 1 day workshop also saw floriculturists from around Fiji elect their very first executive committee at South Sea Orchids.
'It's the first we've seen at PIFON, where the participants of our workshop have met for the first time, elected an executive committee and achieved their first AGM!' Lavinia Kaumaitotoya of PIFON said.
Newly elected member of the executive committee, Mrs Aileen Burness says the news was welcoming having being in the industry for over 50 years.
'It's wonderful news for floriculturists in Fiji, hopefully our work becomes recognised as a commodity by the government instead of the cottage industry.'
The next AGM has been set for July 2020 in the town of Labasa.