December 2019
Partnering with Pacific Farmer Organisations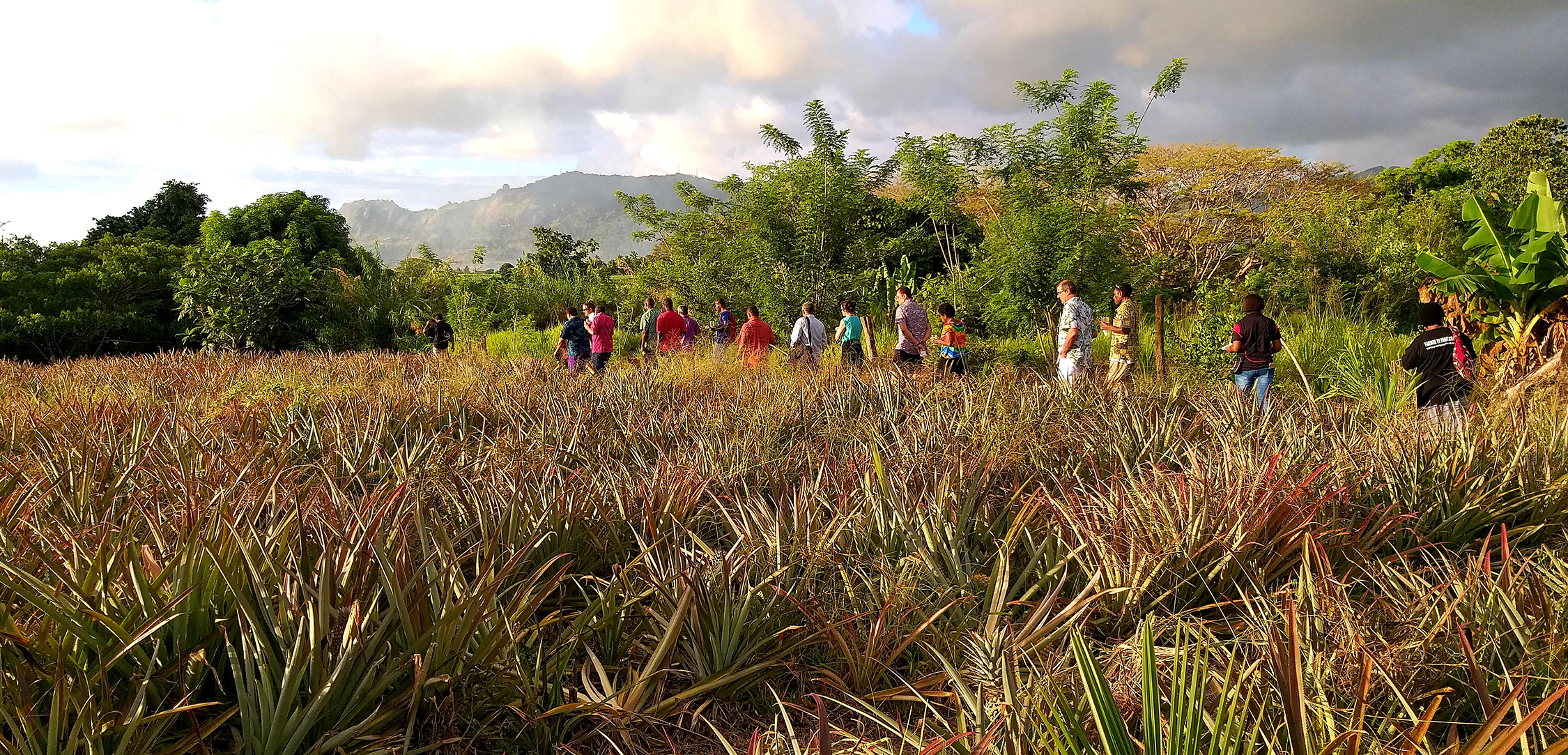 Members of PIFON yesterday took a tour of Fruits of the Earth Farm in Nadi, Fiji 
Poverty is prominent in Africa, Caribbean and Pacific countries where 65-70 percent of the population live in rural areas and practice farming at subsistence level.
With an implementation period of 54 months, the Farmer Organisations for Africa Caribbean and the Pacific (FO4ACP) Programme is expected to directly benefit 150 000 farmers in the Pacific region.
PIFON Manager, Kyle Stice says this will comprise of 72 000 men, 64 000 women and 14 000 youth involved in Pacific Farmer Organisations.
"In order to reach 150 000 farmers and improve the income and food and nutritional security of small holder farmers, the Pacific has been given $4.8 million euros in nine countries including; Fiji, Tonga, Vanuatu, Cook Islands, Papua New Guinea, Timor Leste, Solomon Islands, Samoa, and New Caledonia."
"The next few days will be about taking the Pacific context, taking the activities our members want to do and then taking this global project including a logframe and its design and work them together, that's  the challenge," he said.
In his presentation to members of PIFON at Nadi's Tokatoka Resort, Stice outlined the concept of FO4ACP.
"What is FO4ACP about? (1) FO4ACP very critically is about Partnering with Pacific Farmer Organisations, this is really a project about farmer organisations."
"So the very end beneficiaries is the farmers but also the mechanism of partnering with farmer organisations, that's the essential part of the project," he said.
"(2) Farmers Helping Farmers, (3) Linking Farmers to Markets and (4) Farmers Having Their Say."
 With an overall goal of increasing income and improving food and nutritional security for small holder farmers, Stice says PIFON will not only make it their mission but actively engage with various value chains in the Pacific.
"We want to place an important emphasis on increasing incomes, improving the food and nutritional security of the farming communities that we are working on."
"It's also about getting farmers involved in value chains and lot of our members are involved in them but we also have a lot of farmers in our countries who are not very involved in direct marketing or value chain activities," he said.
"They're growing things for subsistence making a little bit of money so we want to get them involved."
Stice says PIFON's Learning & Planning Meeting will identify key steps for members.
"Every project has an initiative, most agricultural projects have the same goal but not everybody has the same approach."
"The next few days we'll be working with our members to formulate an identity for our project here in the Pacific; what do our members want for this project to achieve? And what is the impact of these goals?," he said.
"One of the main initiatives is to help the farmer organization deliver better services both technical and economic so the focus is on the farmer organization."
The FO4ACP Programme presents three core initiatives which Stice explains is working with Pacific Farmer Organisations.
"We believe one way to improve the income, the food and nutritional security is to work with farmer organisations."
"We want to help farmer organisations so that they're delivering technical services like training or access to information on markets which also extends to economic services where farmer organisations are involved in buying and selling something in providing inputs in doing service provision," he said.
"One of the ways that FO4ACP believes we can help achieve that overall goal is by working with the farmer organisations to strengthen them to deliver better technical services and deliver better economic services, so the focus is on the farmer organization."
Empowering farmer organisations to influence policy and decision making is also a core initiative of FO4ACP.
"In order to achieve that overall goal we believe the farmers themselves through their farmer organisations need to be able to have some say on the policies that are being developed within their country and for us within our region."
The programme which is in partnership with the European Union, ACP, IFAD and PIFON will also focus on strengthening farmer organisations to grow and better serve its members.
Stice says this will be important to achieving the goals of FO4AACP.
"We all want to make an impact in our communities, we all want to be able to do trainings and workshops and maybe even sell or buy things for our members or co-ordinate certifications."
"But we have to make sure that the farmer organisations of our members is strong; it's about things like governance, transparency, financial management and representation," he said.
"When we stand up in a meeting and say, 'I represent 80 000 farmers in the Pacific', do I actually represent 80 000 farmers in the Pacific?"
"The only way I can represent them is if I have some mechanism from actually hearing from them, to have that voice to hear from and then to be able to flow back information," he said.
Stice said this was going to be fundamental in helping national governments recognize farmer organisations in both their respective countries and at a regional level.
The meeting concludes tomorrow.