September 2014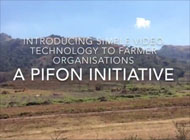 PIFON is currently exploring the potential benefits of simple movie making applications that can be installed on inexpensive smart phones and tablets. As the saying goes "A picture is worth a thousand words".
PIFON through this new initiative is using videos in various ways including:
Visually demonstrating a new technology;
Visually describing standards;
Showcasing a successful farmer etc.
Through the making of simple movies using tablets, farmers and even extension officers can make their own videos by shooting and editing, all on one device. One does not have to be a professional film producer with expensive equipment to make a video worth watching. These videos can then either be projected onto a wall or screen using a small projector connected to the tablet or even uploaded onto YouTube for public viewing.
As an introduction to this concept of making simple videos, click on the image to view our very first production using a tablet with video editing software installed.