April 2015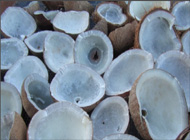 Coconuts have a unique potential to sustain healthy rural livelihoods throughout the Pacific islands and can provide a key driver for employment, incomes and growth in the region.
A regional consultation entitled "Coconut Industry Development for the Pacific" was facilitated by the Secretariat of the Pacific Community's (SPC) EU funded Pacific Agriculture Policy Project (PAPP) at the Novotel Nadi on 30th March – 1st April, 2015 to review a prepared concept paper on the current status of the coconut sector in the Pacific and to begin groundwork for a new Pacific Regional Coconut Strategy.
The European Union (EU) is allocating a donor sum of 3.5 million Euros through its 10th European Development Fund to assist the growth of the coconut industry in the Pacific through an Action called the "Coconut Industry Development for the Pacific" (CIDP).
The CIDP's main focus is strengthening the competitiveness of small producers engaged in coconut value chains throughout the Pacific region, through strengthened national and regional integration of related markets and intensification of production, diversification of coconut processing and marketing.
Moses Pelomo of Kastom Gaden Association in Solomon Islands represented PIFON making a presentation on the potentials and opportunities for participation in the coconut industry development by farmer organisations (FOs) taking into consideration PIFON's overall objectives and how they would contribute in helping address the issues currently hindering the coconut sector from achieving its full potential.
Farmer organisations interested in this project can submit their Expressions of Interest (EOI) to their Ministry of Agriculture (National Focal Point) upon formation of a working committee with a copy to the SPC LRD helpdesk lrdhelpdesk@spc.int and PIFON info@pacificfarmers.com.
Members are kindly requested to consider their respective activities under the MTCP2 Project Design Document Four component areas identifying which ones best fit prior to discussions with their national focal points.