J U N E  2 0 2 0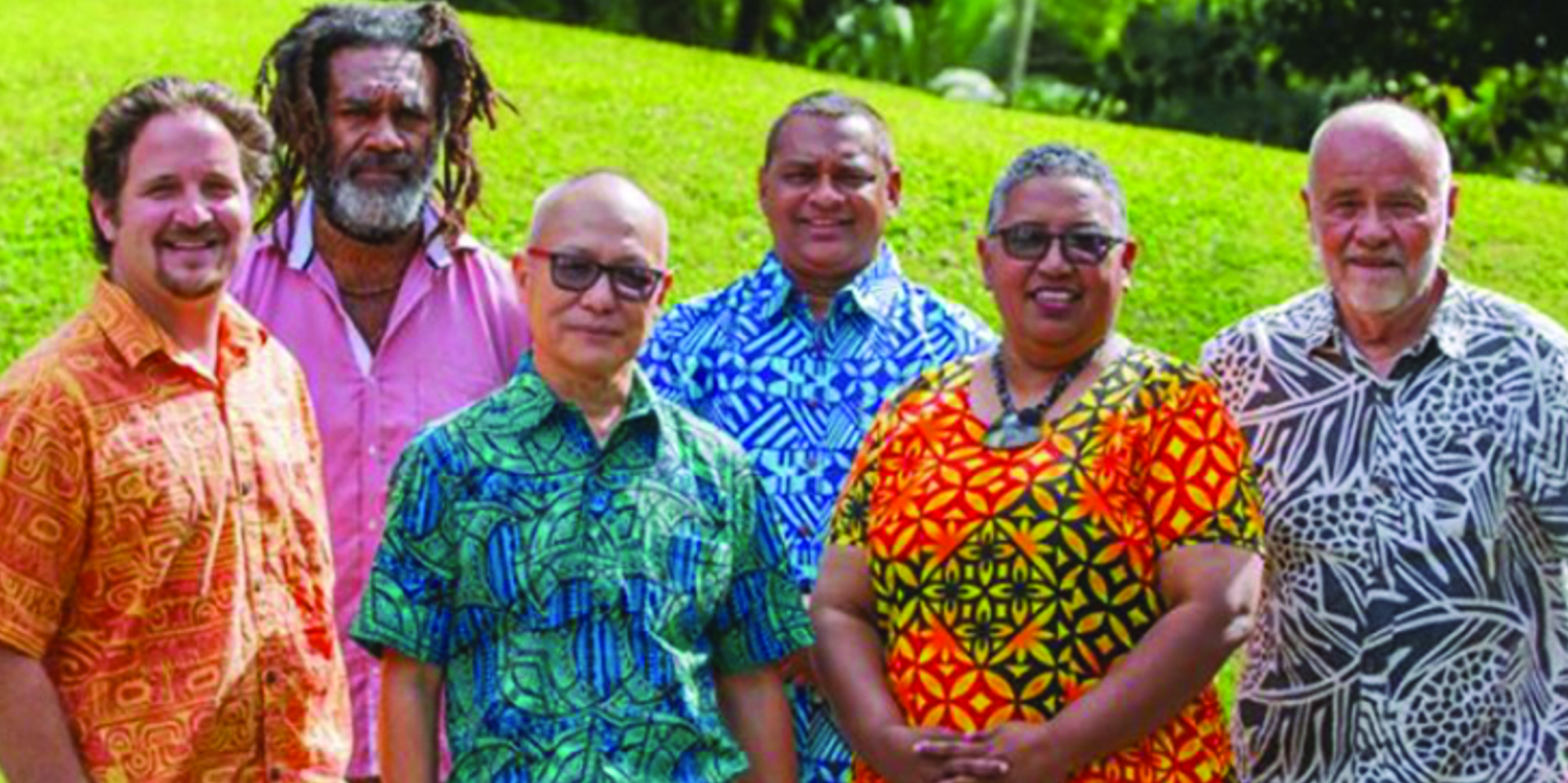 (From left to right) General Manager Nadi Bay Herbs Kyle Stice, Chair of Nature's Way Cooperative Commercial Farmer and Farmer Leader, Ratu Livai Tora, Agriculturist, Wah Sing Yee, Reset Fiji host, Stanley Simpson, Farmer and Programme Manager Pacific Island Farmers Organisation Network, Lavinia Kaumaitotoya and Agricultural Economist, Andrew McGregor. Photo: Reset Fiji Facebook
Monday 22 >> Fiji Sun > Jennis Naidu
As the tourism industry has now collapsed, there is a need to be able to generate foreign exchange, and agriculture can provide some of those opportunities for Fiji.
This was one of the points shared by the renowned Agricultural Economist Andrew McGregor while speaking at the second episode of 'Reset: Fiji- A People's Post COVID-19 dialogue series' that aired on MaiTV last night at 8pm.
Mr McGregor said that previously air freight was just a subsidiary of tourism, and that needs to be relooked now.
He said that the national airline needs to increase freight capacity to be able to support all the other local developing industries.
"The national airline, essentially built up to ramp up access to a country for tourists, but since the collapse of the tourism industry, we have to relook that," he said.
Mr McGregor said that there has been a growth of many industries with potential for expansion due to the pandemic.
"The main area where we do have real opportunities for growth is indoor areas; horticultural type products. A whole range of others and some of them directly or indirectly involved, things like ginger, turmeric, basil, and of course, kava."
The other four panelists at the episode were Ratu Livai Tora, Lavinia Kaumaitotoya, Kyle Stice and Wah Sing Yee.
Ratu Livai Tora
Chair of Nature's Way Cooperative Commercial Farmer and farmer leader Ratu Livai Tora said that the agriculture sector is in need of a super budget of $1 billion.
A super budget will ensure there are plenty of resources available for the sector which are now lacking and provide solutions for all the pending issues.
"The ministry is always complaining of being under-resourced. No vehicles, no fuel, lack of extension officers.
"This figure will roll out through the year, and provide solutions for all this," he said.
Mr Tora was a representative of the fruit and vegetable industry among the agricultural panelists.
He is a commercial sugarcane farmer who has diversified the horticultural crops into agritourism, a farmer leader, and chairman of Nature's Way Property.
Lavinia Kaumaitotoya
Farmer and Programme Manager Pacific Island Farmers Organisation Network Lavinia Kaumaitotoya said that there needs to be more scholarships available for agriculture.
"I think there are not enough scholarships for agriculture and we need to invest more in agricultural scholarships."
Ms Kaumaitotoya said that children and student do not see the potential of agriculture, and in order for them to fully see the potential of it, it needs to be made more digital.
"We need more botanists, vets, plants scientists, soil scientists.
"When children or students think about agriculture, they think it is about getting their hands dirty, but there are actually exciting jobs.
"We need to make cooler and sexier for youths; to have digital platforms, and make it smart for them," Ms Kaumaitotoya said.
Ms Kaumaitotoya shared a personal experience of showing the benefits of farming while harvesting watermelons to her children.
She highlighted the need for a different marketing strategy for farming.
"I showed my children the gross margins for farming.
"We planted watermelons, trying to get them to plant them and it was not until we were harvesting, they saw the benefits.
"They started asking questions like, how many did we plant? How much did we make? How many kilos?" Ms Kaumaitotoya shared.
"When they see the money, they get excited.
"So we need to package it differently, it is all about marketing, not the punchline aspect, but the monies."
Kyle Stice
General Manager Nadi Bay Herbs Kyle Stice has said that to grow in order to make more money, domestic markets are very risky whereas exports provide more sustainability.
"We have all seen in the last couple of weeks, the price of leafy vegetables and cucumbers have dropped rapidly and will continue to drop. So if you are planting Chinese cabbages and cucumbers to make money, you will be severely disappointed," he said.
He said with exports there is more stability since there are no huge increases or decreases to prices.
"Prices do not have these huge increases and decreases so livelihoods, for income-generation, exports provide a really good opportunity for farmers to grow and sell the excess."
View the article: Fiji Sun