June 2014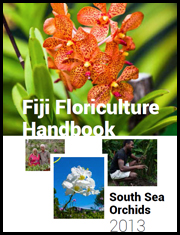 South Sea Orchids (SSO), a Pacific Island Farmers Organisation Network (PIFON) member and who has been the driving force behind Fiji's commercial floriculture industry, launched its Floriculture Handbook on March 20th 2014, the first day of one of its two-day workshop held at their premises in Nasau, Nadi.
This new handbook builds on earlier publications also produced by SSO with funding from CTA (Technical Centre for Agriculture) and will be used as the basis for training programs across Fiji to enhance the viability of small floriculture businesses.  The handbook enables the Burness's, the owners of SSO, to better serve their growers, as it provides a ready reference on how to grow and harvest Fiji's cut flower and flowering potted plant varieties such as anthuriums, orchids, guzmanias, gingers and heliconias.  In addition to methods of growing and harvesting, the handbook also provides tips on making floriculture a successful business venture.
The workshop proved successful with a total of ninety people attending, comprising of mainly women representing small floriculture groups from within the Nadi region and from as far as Koroipita and Hart in Lautoka.  A few more workshops are due to be held in the coming months where the Fiji Floriculture Handbook will be made available for sale.